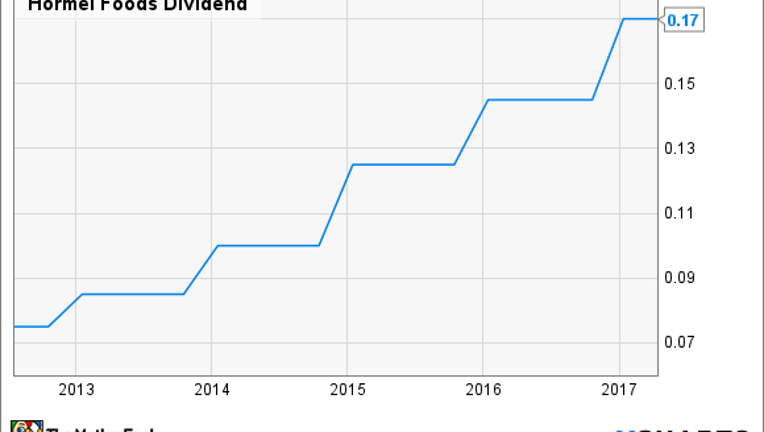 Hormel Foods(NYSE: HRL) may not ring a bell to some investors, but chances are you know some of its brands. Through its 126-year history, this dividend stock has come to own a wide variety of household names, including Skippy, Spam, and Muscle Milk.
Hormel Foods is a favorite of income investors seeking a recession-proof stock, as many of the products in its portfolio sell in good economies and bad. The stock has been a steady winner over the past 40 years, returning more than 22,000%, and that's without including dividends.
Image source: Hormel Foods.
With a track record like that, it's easy to see why the stock continues to attract investors. Here are three things potential investors should know about Hormel Foods stock.
1. It's a dividend aristocrat
Hormel Foods is among the exclusive group of stocks in theS&P 500dividend aristocrats.These are S&P 500 stocks that have raised their dividend every year for 25 years or more. Hormel has been paying increasing dividends for 51 years in a row, longer than all but a handful of stocks. And it hasn't been a slouch with its recent dividend boosts. Last November, it raised its dividend 17% to $0.68 per share, and before that lifted the payout 16%. The payout has more than doubled over the past five years:
HRL Dividend data by YCharts
Hormel's status as a Dividend Aristocrat shows management's commitment to returning capital to shareholders, and the company's payout ratio, or the percentage of income it spends on dividends, is just 34.5%, meaning there's plenty of room to raise the quarterly payouts even if profit growth subsides.
2. The stock is cheap
On a P/E basis, Hormel Foods shares are the cheapest they've been in four years, at an earnings valuation of 21.4:
HRL PE Ratio (TTM) data by YCharts
That valuation is cheap compared not only with the company's recent historical valuation but also with its peers, including packaged-food brands such asMcCormick,Campbell Soup,andKellogg. It's in line with peers such asGeneral MillsandJ.M. Smucker.
The defensive sector has underperformed recently, as these stocks missed out on the post-election rally led by cyclicals and financials, and investors have also been concerned about slow growth and expensive prices for potential acquisitions.Arguably, the entire sector was inflated, but as prices have come down, shares in Hormel and others seem more reasonable.
In Hormel's most recent quarter, earnings per share increased just 2% to $0.44, and sales slipped 1% to $2.3 billion. Accounting for the divestiture of Diamond Crystal and Farmer John brands and the acquisition of Justin's, sales increased 3%.
3. Portfolio management is key
Packaged-food companies such as Hormel are playing a tricky game. They must diversify their brand portfolios to include fast-growing organic brands, while managing the decline or plateauing of legacy brands.
In each of the past five years, Hormel has made a significant acquisition. In 2012, it added Wholly Guacamole and its family of dips for $220 million; 2013 brought Skippy peanut butter on board for $700 million. In 2014, it acquired the Muscle Milk line of protein shakes for $450 million, and the following year, it made its biggest purchase to date, taking over Applegate organic deli meats for $775 million. Last year, it bought Justin's, an organic nut-butter brand, for $286 million. Those purchases combined have cost more than $2 billion.
That string of acquisitions has led the stock to more than double in the past five years, but management has been able to keep its debt burden to just $250 million. That leaves the door open for further acquisitions, especially if the company continues to sell off brands, as it did last year.
With nearly $1 billion in profit a year, management isn't hesitant to get its checkbook out. Don't be surprised if Hormel takes over another upstart brand this year, for the sixth time in a row.
10 stocks we like better than Hormel FoodsWhen investing geniuses David and Tom Gardner have a stock tip, it can pay to listen. After all, the newsletter they have run for over a decade, Motley Fool Stock Advisor, has tripled the market.*
David and Tom just revealed what they believe are the 10 best stocks for investors to buy right now... and Hormel Foods wasn't one of them! That's right -- they think these 10 stocks are even better buys.
Click here to learn about these picks!
*Stock Advisor returns as of May 1, 2017
Jeremy Bowman has no position in any stocks mentioned. The Motley Fool recommends McCormick. The Motley Fool has a disclosure policy.