3 Things for Netflix Inc. Investors to Watch in July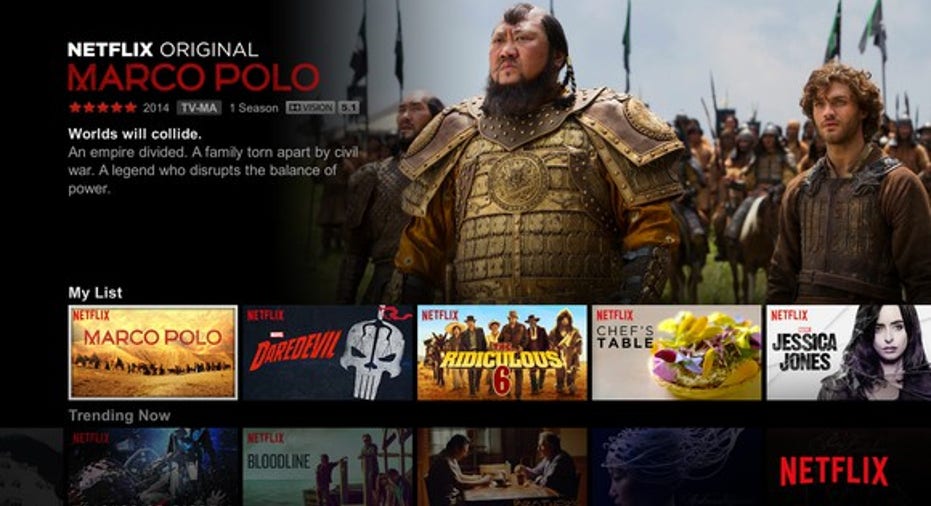 Image source: Netflix.
Down by over 20% so far this year, Netflix is among the market's worst-performing stocks to date. Long-term Netflix investors should be used to the volatility, though -- shares plunged by over 80% in 2011 before finishing as the S&P 500's single biggest gainer in both 2013 and 2015.
More price swings could be in the cards for the coming month as the streaming video titan updates investors on its business trends and shells out tons of cash on new shows and new streaming features. Here are the main things for investors to watch in July.
Quarterly earnings results
Netflix will post second-quarter financial results after the market closes on Monday, July 18. CEO Reed Hastings and his executive team are projecting just 500,000 new members will have signed up in the U.S. market. That pace would mark a significant slowdown as Netflix is expected to face a raft of cancellations in the face of price hikes..
Don't hold your breath for a profitability bounce, either. Average revenue per user will likely climb, but Netflix's increased content spending should eat up all of those gains. Contribution margin is expected to stay flat at 33% of sales. The company targets getting that number up to 40% by 2020.
The growth prospects are brighter for international markets, where Netflix should add 2 million new users to bring its base up to 34 million, or 40% of the total. Combined, though, the company should add just 2.5 million users compared to 3.3 million in the year-ago quarter.
New content releases
Netflix is slated to release 600 hours of original and exclusive content this year, or double last year's output. Hit shows are critical to keeping members happily streaming, and when the company has outpaced management's growth goal lately, it's been because of surprising demand for shows like Orange Is the New Black and Sense8.
July brings a few notable releases, including the third season of animated comedy BoJack Horseman (launching July 22) and season 2 of international action show Marco Polo (on July 1).
The real fireworks start in a few months when content from the output deal with Disney begins hitting Netflix's service. We don't know what movies will be first in line, but there's no shortage of great options.
Pixar's Finding Dory could be coming to Netflix as early as September. Image source: Disney.
Disney is in the middle of an epic run at theaters, with blockbusters across all of its studios:Zootopia (Disney Animation), Captain America: Civil War (Marvel), The Jungle Book (Disney Pictures), and Finding Dory (Pixar). Any of these hits will likely see huge streaming demand for Netflixbeginning in September.
Notable product upgrades
After content and marketing, tech development is Netflix's largest spending priority. The company plans to plow$700 million into improving its service just in 2016. These upgrades help keep it one step ahead of rival services in terms of creating the best streaming experience. They mostly occur behind the scenes. Last quarter, for example, Netflix rolled out a new video-encoding approach that produced a 20% bump in streaming quality -- or a 20% decrease in data consumption for those users that are bandwidth-constrained.
Another product improvement in that vein could come in July. The company is reportedly working on an offline mode that would let users download shows to their mobile device while on Wi-Fi to watch at their leisure, thereby removing the reliance on costly cellular networks.
Rival Amazon already has that feature in its streaming service. It just makes sense for Netflix to follow suit. When asked about offline viewing in April, Hastings said management's thinking has evolved on that score. Whereas before they were focused on the simplicity behind instant streaming, things are changing now that Netflix is global and operating in areas with spotty cellular coverage. "We should keep an open mind about [offline viewing]," he told investors.
The article 3 Things for Netflix Inc. Investors to Watch in July originally appeared on Fool.com.
Demitrios Kalogeropoulos owns shares of Netflix and Walt Disney. The Motley Fool owns shares of and recommends Amazon.com, Netflix, and Walt Disney. Try any of our Foolish newsletter services free for 30 days. We Fools may not all hold the same opinions, but we all believe that considering a diverse range of insights makes us better investors. The Motley Fool has a disclosure policy.
Copyright 1995 - 2016 The Motley Fool, LLC. All rights reserved. The Motley Fool has a disclosure policy.