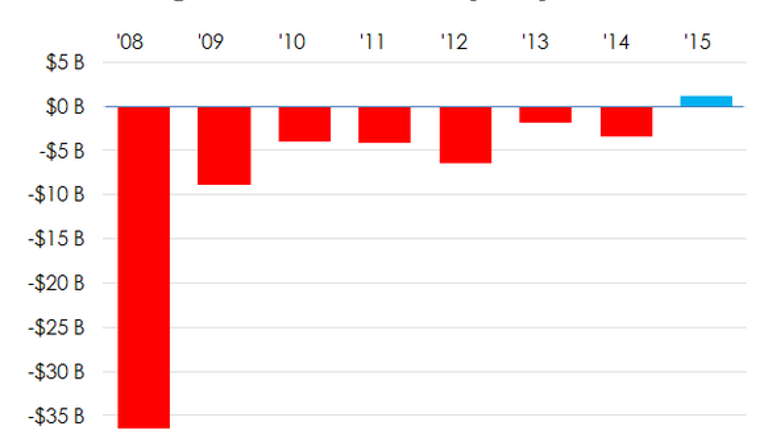 Citigroup CEO Michael Corbat. Image source: Citigroup.
Investors in Citigroup would do well to read CEO Michael Corbat's latest letter to shareholders, available as a part of the bank's 2015 Annual Report. But for those of you who don't have the time or the interest of doing so, here are three key points that Corbat discussed in his yearly message.
1. Citigroup is leaner and meanerCorbat has worked over the last three years to tighten Citigroup's focus around the bank's core business lines. Last year marked a continuation of this. "It was defined by the tangible progress we made in a sustained effort to transform and reshape Citi into a simpler, smaller, safer and stronger institution -- more than it has been at any time since the financial crisis," Corbat wrote.
The bank has made progress on a number of fronts over the last three years:
Head count is down by 28,000 people
Assets are down by over $130 billion
Legal entities have been reduced by over one-third
Branch network is nearly 30% smaller
Eliminated 182 operations centers
Even in light of these changes, Citigroup had a banner year in 2015. Its $17 billion in net income was more than double its previous year's profits and equated to the bank's best annual performance since 2006.
2. Shifting to offenseWith the wind at its back, Corbat claims that Citigroup is ready to switch from the defense to the offense:
In its global consumer bank, this encompasses three priorities. First, concentrating its physical presence in high-impact locations in leading urban centers. Second, investing in its U.S. credit card business and "positioning it for greater and faster growth." And third, establishing a new unit, Citi FinTech, to accelerate its mobile-first approach to consumer banking.
Meanwhile, the bank's institutional clients group is zeroing in on its biggest and most profitable clients. As Corbat noted:
3. Citi Holdings eked out a profitableThe extent of improvement at Citigroup is probably best illustrated by the performance in 2015 of Citi Holdings, the division tasked with administering and offloading toxic and non-core assets accumulated before the crisis.
Three years ago, Corbat laid out a number of financial goals and targets that were designed to illuminate the path forward. Among others was the goal of bringing Citi Holdings to the breakeven point by 2015. Not only did Citigroup accomplish this, the ne'er-do-well business unit even turned a profit last year.
Citi Holdings reported just over $1 billion in earnings in 2015. Since 2008, the unit had lost money every year, adding up to a total deficit of $65.5 billion. Thus, assuming that this marks a turning point in Citigroup's post-crisis trajectory, the closing of this chapter will come as welcome news to the bank's shareholders.
The article 3 Things Citigroup CEO Michael Corbat Wants You to Know originally appeared on Fool.com.
John Maxfield has no position in any stocks mentioned. The Motley Fool has no position in any of the stocks mentioned. Try any of our Foolish newsletter services free for 30 days. We Fools may not all hold the same opinions, but we all believe that considering a diverse range of insights makes us better investors. The Motley Fool has a disclosure policy.
Copyright 1995 - 2016 The Motley Fool, LLC. All rights reserved. The Motley Fool has a disclosure policy.