3 Things Applied Materials Does Right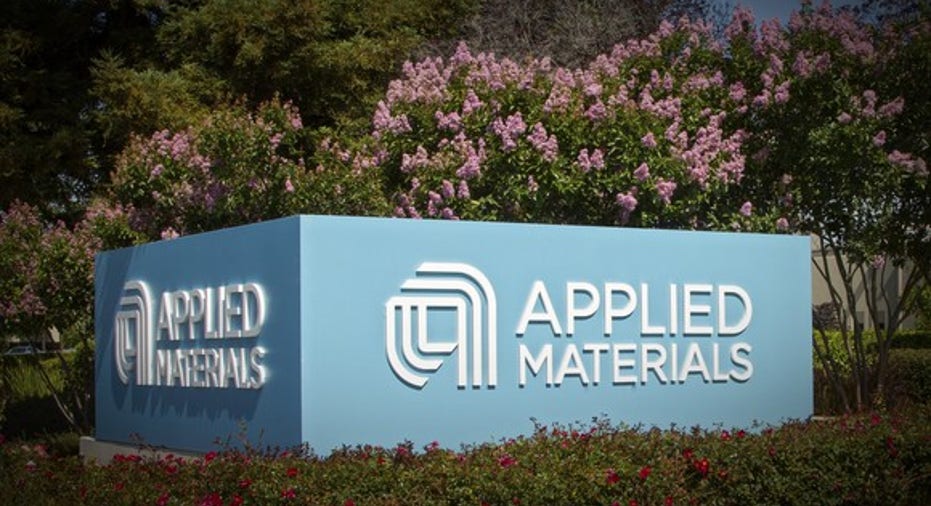 Applied Materials (NASDAQ: AMAT) made investors very happy last year as the company's stock price rose more than 74%. And that growth has continued into this year, with Applied Materials up more than 10% since the beginning of 2017.
The stock price spikes were caused by the company's record-high revenues, optimism from software sales, and the company's ability to grow its display equipment sales.
Image source: Applied Materials.
Revenue growth across all segments
In 2016, the company's semiconductor system segment recorded its highest annual revenue in 15 years, reaching $6.8 billion, an increase of 12% year over year. That's important not only for its gains but because the company earns about 63% of its total revenue from equipment sales to foundries, DRAM makers, and other storage and computer processing device makers in the semiconductor segment.
The company's second-biggest sales driver is its applied global services segment, which managed to increase net sales to $2.58 billion in 2016, up 5.8% year over year. And finally, the company's fastest-growing segment, display and adjacent markets, saw net sales spike from $944 million to $1.2 billion, an increase of 27.7% year over year.
Applied Materials CEO Gary Dickerson said in a press release that the company "grew orders, revenue, and earnings to the highest levels in the company's history" in fiscal year 2016.Investors took note of all of those gains, which resulted in several one-day, double-digit stock price pops throughout last year.
More focus on software sales
Many technology hardware companies are increasingly realizing that they need to transition more to long-tail software sales in order to increase revenue, andApplied Materials is no exception. That's why the company's CFO, Bob Halliday,mentioned on the November earnings call that the company is building out software sales at a healthy clip.
"By 2019, this relatively stable business should deliver almost a quarter of our revenue, and an even greater percentage of our operating profits,"Halliday said.
That's even more important for Applied Materials because selling equipment to PC component makers has traditionally been a very cyclical business. The company's pivot toward more software sales won't completely insulate it from these swings, but it should provide more of a revenue cushion when it does happen.
On track to benefit from more display growth
According to a Fortune article published last year, "The companies that make screens for smartphones and television sets are planning some serious upgrades over the next few years in a shift to brighter, more vibrant organic light-emitting diode, or OLED, displays."
That plays well for Applied Materials' strong position in the display equipment manufacturing space, and feeds into the company's narrative that advanced displays are part of the company's top five segments that will "fuel growth for years to come."
Applied Materials expects large-format TV units to grow at 15% to 20% annually, over the next three years, compared to single-digit growth rates for TVs overall right now. And the company expects totriple its overall opportunity with new display products over the next few years.
Part of the growth is coming from increased demand for new television displays, and for new OLED manufacturing equipment for both televisions and mobile devices. Applied Materials believes that its customers will invest about $2 billion more in 2017 for this equipment than they did last year, which should help the company's display equipment grow faster than it is already.
If the company can continue expanding revenue and living up to its potential in the software and display equipment segments, then it appears that investors have much more to look forward to in 2017. Just remember that Applied Materials is still vulnerable to the cyclical swings of the PC market for now, though the company did a great job weathering that this past year.
10 stocks we like better than Applied MaterialsWhen investing geniuses David and Tom Gardner have a stock tip, it can pay to listen. After all, the newsletter they have run for over a decade, Motley Fool Stock Advisor, has tripled the market.*
David and Tom just revealed what they believe are the 10 best stocks for investors to buy right now... and Applied Materials wasn't one of them! That's right -- they think these 10 stocks are even better buys.
Click here to learn about these picks!
*Stock Advisor returns as of February 6, 2017
Chris Neiger has no position in any stocks mentioned. The Motley Fool has no position in any of the stocks mentioned. The Motley Fool has a disclosure policy.