3 Things AbbVie's Management Said While Its Stock Got Hammered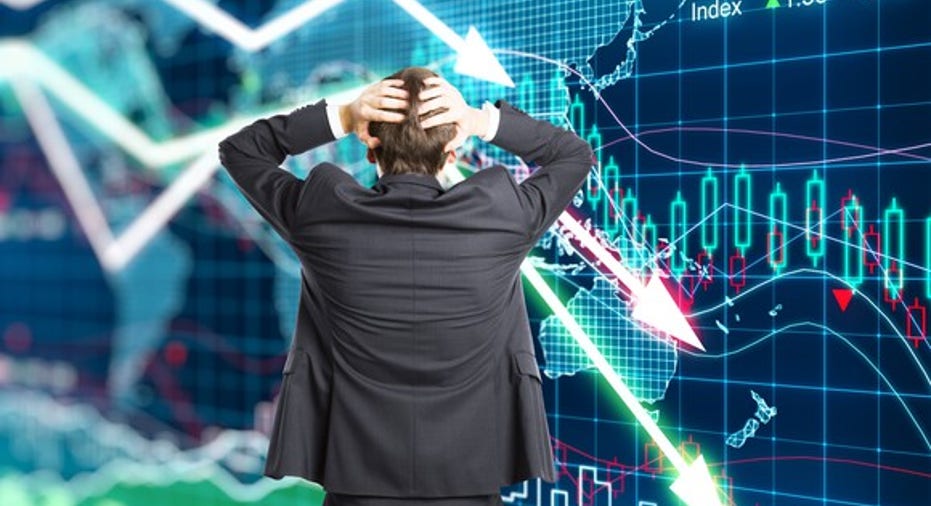 Friday wasn't a good day for AbbVie (NYSE: ABBV). The company announced its third-quarter results shortly before the market opened. AbbVie's stock fell over 6% in pre-market trading and didn't do much better the rest of the day. Here's what the company's management said while AbbVie stock was being hammered.(All quotes courtesy ofS&P Global Market Intelligence.)
Image source: Getty Images.
1. Humira sales are tracking with expectations
Nothing is more important to AbbVie than Humira. The autoimmune disease drug generated over 60% of AbbVie's total revenue in the third quarter. A lot of the discussion on the company's earnings call related to Humira and what seems to be slowing momentum.
AbbVie CEO Rick Gonzalez said that Humira is "performing exactly where we would have expected it to perform in the international markets" and has had "outstanding growth" in the U.S. Gonzalez said that biosimilars that are now available outside of the U.S. are only having a "very modest impact" on Humira's sales.
But what about the slowdown in sequential sales growth for the drug? AbbVie CFO Bill Chase said, "It is not unusual in the U.S. or abroad to see a general flattening out over the summer and then an acceleration back in the back half of the year." Chase thinks that is what happened in the third quarter. He added that the company "feels very, very good" about the full-year growth forecast for Humira.
2. Imbruvica is just getting started
There weren't any worries about Imbruvica losing momentum. Sales for the cancer drug soared in the third quarter. AbbVie's message about Imbruvica: Even better things should be ahead.
Gonzalez said that Imbruvica's "market share position is steadily increasing" in the front-line chronic lymphocatic leukemia (CLL) indication. He noted that the drug already holds the market-leading position as a second-line treatment for CLL and for relapsed/refractory mantle cell lymphoma and Waldenstroem'smacroglobulinemia.AbbVie awaits regulatory approval for Imbruvica in treatingrelapsed/refractory marginal zone lymphoma and expects to submit for approval for treatingchronic graft-versus-host disease in the first half of 2017.
Imbruvica could face competition relatively soon from AstraZeneca's (NYSE: AZN)acalabrutinib. AstraZeneca has stated that it plans to submit its drug for regulatory approval by the end of 2016 but didn't specify for which indication.AbbVie's management was asked twice about the possible threat from AstraZeneca. Mike Severino, AbbVie's chief scientific officer, acknowledged that he was aware thatacalabrutinib could be moving toward approval but focused on the great potential for Imbruva.
3. As far as Viekira, um, well...
AbbVie's executives mentioned Viekira all of two times during the company's earnings call. Once was to briefly mention strong international performance from the hepatitis C drug. The second brief statement referenced declining U.S. sales. AbbVie CFO William Chase said that Viekira had "seenmarket share loss and some price erosion due to the entrance of a new competitor in the market."
Who was that new competitor? Zepatier. Merck (NYSE: MRK) launched its hep C drug earlier this year. The entrance of Zepatier accounted for some of that market-share loss mentioned by Chase. Merck was squarely behind Viekira's price erosion. The drugmaker priced Zepatier lower than other hep C drugs on the market, forcing AbbVie and Gilead Sciences (NASDAQ: GILD) to offer discounts on their products.
AbbVie undoubtedly knows Viekira's best days are behind it. Sales for the drug plunged nearly 20% in the third quarter compared to the prior-year period. Management talked more about the new hepatitis C combo treatment that it expects to launch next year. This combo will be taken once per day and will treat all genotypes of hep C.
However, no one on AbbVie's team discussed the fact that Gilead has already hit the market with its own pan-genotypic once-daily combo. Epclusa was approved by the FDA on June 28 and saw huge sales in just three days at the end of the second quarter.
Looking ahead
AbbVie's executives did exactly what they're supposed to do: paint as pretty a picture about the company's prospects as they can. What does that picture really look like?
Humira should still keep on plugging along, but sooner or later growth won't just slow down. It will evaporate. AbbVie must get success from newer drugs and its pipeline. Imbruvica is a cornerstone for its strategy to build revenue outside of Humira. The company also needs more winners and is likely to get one with Elagolix, which should be submitted for approval in treating endometriosis next year.
I think the scenario for AbbVie still looks pretty good over the next two or three years. Beyond that point, the picture of the company's prospects is like a Monet painting: a little fuzzy.
A secret billion-dollar stock opportunity The world's biggest tech company forgot to show you something, but a few Wall Street analysts and the Fool didn't miss a beat: There's a small company that's powering their brand-new gadgets and the coming revolution in technology. And we think its stock price has nearly unlimited room to run for early in-the-know investors! To be one of them, just click here.
Keith Speights owns shares of Gilead Sciences. The Motley Fool owns shares of and recommends Gilead Sciences. Try any of our Foolish newsletter services free for 30 days. We Fools may not all hold the same opinions, but we all believe that considering a diverse range of insights makes us better investors. The Motley Fool has a disclosure policy.