3 Terrible Stocks for Retirees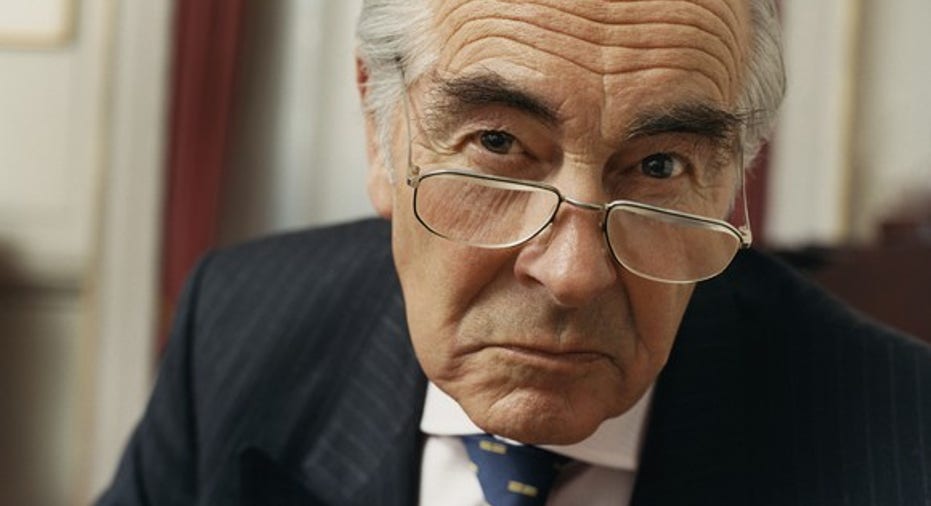 For those of you who've reached retirement, let me offer my congratulations. But keep in mind that just because you're retired, it doesn't mean you should sit back on your laurels and stop investing for your future.
The average 60-year-old is on track to live for at least two more decades, meaning now more than ever you need to find ways to make your nest egg stretch longer. This means finding stocks that have the potential to appreciate in value, as well as companies offering income potential, because let's face it, once you've reached retirement you probably aren't too keen on taking big risks with your hard-earned money.
While plenty of tried-and-true brand-name stocks look ripe for the picking for retirees who want dividend income and share price appreciation potential, a handful of income stocks that appear decent on the surface could be downright terrible stocks for retirees. Here are three such terrible stocks that retirees would probably be best off avoiding.
Staples
Though it could be difficult to avoid, with a seemingly recognizable brand name and a 5.6% dividend yield, office supply chain Staples (NASDAQ: SPLS) should probably be off-limits for retirees.
Image source: Staples.
Put plainly, Staples' core business is being gobbled up by online competitors, such as Amazon.com (NASDAQ: AMZN). Amazon's lower overhead, since it doesn't maintain brick-and-mortar locations, allows it to undercut Staples' pricing -- or at worst, force Staples to lower its own prices, thus reducing its margins. As icing on the cake, consumers and small businesses can shop through Amazon's warehouse of goods from their home or workplace, giving Amazon a clear competitive edge in the long-term office supply business.
Don't believe me? Check out the latest quarterly report from Staples. For the second quarter, Staples delivered a 3.7% sales decline, or a 2% same-store sales decline when excluding the impact of store closures. Meanwhile, the company has been heavily investing in its direct-to-consumer business in an effort to compete with Amazon, but it managed only 1% comparable-currency growth in Q2 2016 from the prior-year period.
Staples' only answer for the time being is to reduce its costs and close underperforming stores. Cost-cutting can work for a while, but it's not a long-term solution. Until Staples can find a way to successfully compete against Amazon -- and we now know a merger with Office Depotis off the table -- it's best to consider keeping your hard-earned income away from this terrible stock.
PDL BioPharma
As recently as late 2015,PDL BioPharma (NASDAQ: PDLI) was a David among the Goliaths in biotech. While PDL BioPharma may not be a household name, and it hasn't developed any game-changing therapies you'd find in your bathroom's medicine cabinet, it was paying out an extremely high dividend yield for years. In fact, PDL BioPharma was the highest-yielding biotech stock for years, which made it a popular stock for dividend investors to buy. But times have changed, and the love affair with PDL BioPharma is over.
Image source: Getty Images.
As a royalty-based company, PDL's lifeblood has been its Queen patent portfolio. These patents can be found in blockbuster therapies like Avastin, Herceptin, Lucentis, and Tysabri. Here's the issue: PDL's Queen patents expired in December 2014. The good news for the company is that it was protected from an immediate plunge in revenue by its partners' need to sell warehoused product. This sell-down took longer than a year, but it's now complete. After generating $590 million in sales and $2.04 in EPS in 2014, PDL BioPharma's top and bottom lines are slated to fall to $156 million and $0.21, respectively, by fiscal 2017.
In response to the loss of its primary revenue generator, PDL's management announced one month ago that it would be completely eliminating its quarterly cash dividend. Mind you, it had been paying out $0.15 per quarter between 2011 and 2015. Following a consistent yield of 6% to 10%, PDL's new yield is a gigantic goose egg, and there's no telling if its business model will ever be as successful again.
My suggestion is to avoid PDL and look at some other drugmakers if you want a solid yield. Ideas might include Gilead Sciences, Amgen, or Johnson & Johnson.
Kohl's
Finally, and sticking with the theme of brand-name retailers with high-yield dividends that look somewhat suspect, we have specialty department store Kohl's (NYSE: KSS) and its 4.6% dividend yield.
Image source: Flickr user Mike Mozart.
Historically the retail industry has plenty of evidence of peaks and troughs, which could suggest that Kohl's recent weakness is nothing more than a trough in a long-term growth trend. However, I'd contend that the game changed last month when department store giant Macy's (NYSE: M) announced its intention to close 100 stores nationwide by 2017. The move is being made because Macy's realizes the consumer is shopping online more often. Closing 100 stores is expected to reduce its revenue by $1 billion, which the company plans to make up with cost-cutting.
But Macy's isn't alone. Retail kingpin Wal-Martalso announced plans in January to close 269 of its stores in 2016. According to data from Challenger, Gray & Christmas, about 44,000 people have been laid off in the retail landscape just in 2016, as retailers cope with a surge in online sales and stagnation in brick-and-mortar location sales.
Kohl's probably has a few options. It could reinvest in its direct-to-consumer platform and/or cut back on underperforming stores to boost its margins. Unfortunately, neither method is necessarily a quick or guaranteed fix to its stagnant growth figures. Retirees would do well to leave Kohl's stock on the rack where it belongs.
The $15,834 Social Security bonus most retirees completely overlook If you're like most Americans, you're a few years (or more) behind on your retirement savings. But a handful of little-known "Social Security secrets" could help ensure a boost in your retirement income. For example: one easy trick could pay you as much as $15,834 more... each year! Once you learn how to maximize your Social Security benefits, we think you could retire confidently with the peace of mind we're all after.Simply click here to discover how to learn more about these strategies.
Sean Williamshas no material interest in any companies mentioned in this article. You can follow him on CAPS under the screen nameTMFUltraLong, and check him out on Twitter, where he goes by the handle@TMFUltraLong.
The Motley Fool owns shares of and recommends Amazon.com, Gilead Sciences, and Johnson and Johnson. It also has the following options: short October 2016 $85 calls on Gilead Sciences. Try any of our Foolish newsletter services free for 30 days. We Fools may not all hold the same opinions, but we all believe that considering a diverse range of insights makes us better investors. The Motley Fool has a disclosure policy.