3 Terrible Reasons to Buy Coeur Mining Inc.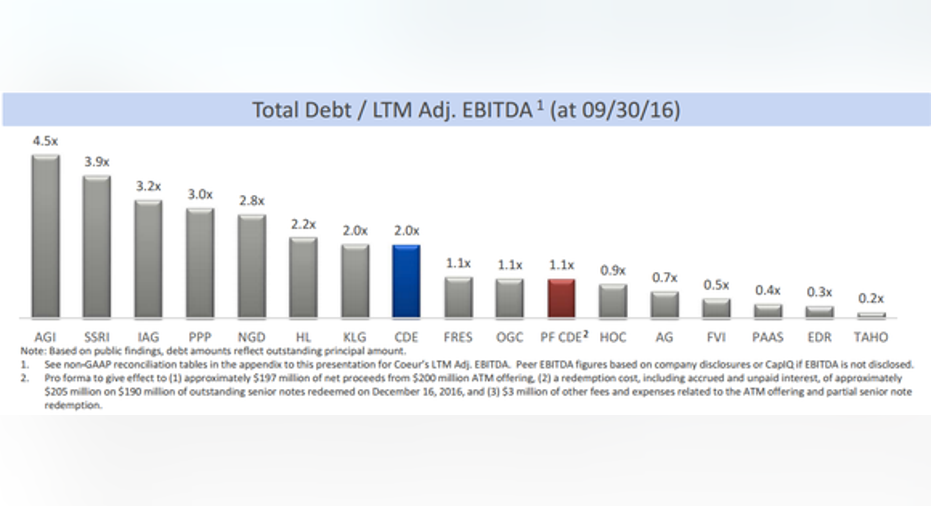 Coeur Mining Inc. (NYSE: CDE) has been working hard to become a more profitable and efficient company. There are a lot of reasons to like the investment opportunity this silver and gold miner might present in the future. However, it's not appropriate for everyone looking at the precious metals industry. Here are three reasons why you might not want to buy Coeur.
Image source: Coeur Mining Inc.
1. Silver is going to the moon!
Purchasing the stock based on a prediction for the price of precious metals is a timing bet. What a miner gets paid for the commodities it digs up is only one part of the business. Granted, it's the one that makes headlines, but precious metals are volatile and often unpredictable commodities. Sure, rising prices have been a boon for Coeur's top and bottom lines. In fact, the company looks like it will be in the black for 2016 after three consecutive years in the red.
There are a lot of moving parts here, including a large asset writedown in 2015 because of low silver and gold prices. But that write-off and loss and the expected profits in 2016 just highlight the volatility in the precious metals markets. Now, there's no reason you shouldn't make a directional call on precious metals prices, if you want. But a better reason to like Coeur is that it's improving its mining operations.
For example, the company's all-in sustaining costs per silver equivalent ounce are expected to fall by as much as 17% in 2016 from 2013 levels. That's a notable improvement. And the company believes roughly two-thirds of that change comes from improvements in its operations, not external factors like lower fuel costs. In other words, Coeur is truly getting better at what it does, a fact that silver and gold price volatility obscures.
A quick breakdown of Coeur Mining's cost savings. Image source: Coeur Mining In.c
2. Coeur is making money
As I noted, Coeur looks like it will be in the black in 2016 after a string of red ink. A key part of the turnaround is falling costs. But the other piece is rising prices for what the company sells. Yes, commodity prices do matter.But there's a twist: Despite the progress, Coeur'scosts are still relatively high.
For example, in 2016 the company's all-in sustaining cost per silver equivalent ounce is expected to fall between $15.75 and $16.25 an ounce. Over the past year, silver has traded as low as $14 an ounce and as high as $20. Silver's been around $16.80 lately -- really close to what it costs Coeur to mine the stuff.
That means the company is on the cusp of making money -- or not making money. Unless it can keep lowering its costs, it needs silver and gold to stay at recent prices for it to turn a profit. It's basically a marginal miner. And that means that a quick decline in the price of silver could easily push the company back toward red ink. If you do step in here, you'll want to look for continued progress on the cost front.
3. It's rock-solid
There's another interesting change taking place at Coeur today: It's deleveraging. And it's done a great job on that front, too. At the start of 2016, long-term debt made up over 50% of the capital structure. By the end of the third quarter, that figure was down to around 40%. It should be lower still when the miner reports its full-year 2016 results.
Coeur's debt is getting better, but it's still not at the low end of its peer group. Image source: Coeur Mining Inc.
That's a great direction and the company has put in a lot of effort to get here. But at the end of the day, it still has a material debt load to deal with. The amount is not outlandish amount, but it is hardly industry-leading; it puts the company closer to middle of the pack. In other words, Coeur's balance sheet is getting stronger, but don't go in thinking the miner is in pristine financial shape. If the precious metals rally proves ephemeral, debt, and the costs associated with it, could easily become an issue again.
Eyes wide open
None of this is to suggest that Coeur Mining is a bad investment. It's just not a really great investment unless precious metals prices stay high (or go higher), it keeps improving its cost structure, and debt keeps moving lower.If you buy it just because you think silver and gold prices are going higher, you'll be focusing on only one part of the picture. The business matters, from the cost structure to the balance sheet. In the end, Coeur is doing the right things to become a better company, but it's still a marginal miner with some work to do.
10 stocks we like better than Coeur Mining When investing geniuses David and Tom Gardner have a stock tip, it can pay to listen. After all, the newsletter they have run for over a decade, Motley Fool Stock Advisor, has tripled the market.*
David and Tom just revealed what they believe are the 10 best stocks for investors to buy right now... and Coeur Mining wasn't one of them! That's right -- they think these 10 stocks are even better buys.
Click here to learn about these picks!
*Stock Advisor returns as of January 4, 2017
Reuben Brewer has no position in any stocks mentioned. The Motley Fool has no position in any of the stocks mentioned. The Motley Fool has a disclosure policy.