3 Terrible Dividend Stocks for Retirees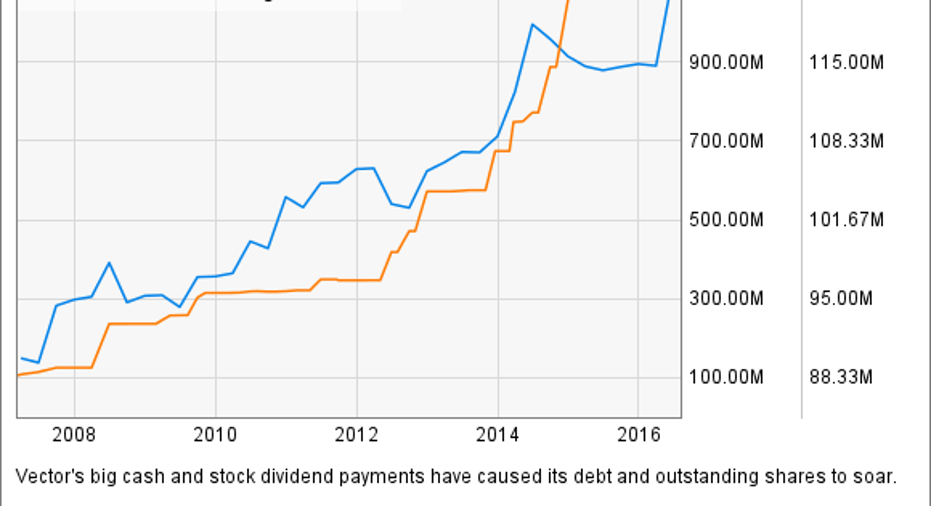 Retirees should generally buy solid, predictable dividend stocks that they won't lose much sleep over. Many stocks initially look like good retirement plays, but quickly fall apart upon closer inspection. Let's examine three such stocks retirees should avoid -- Barnes & Noble (NYSE: BKS), Vector Group (NYSE: VGR), and Las Vegas Sands (NYSE: LVS).
Image source: Getty Images.
Barnes & Noble
Barnes & Noble might initially look like a solid pick for retirees. The bookseller survived the industry decline, which crushed its rival Borders, and pays a hefty forward dividend yield of 5.6%. It also streamlined its business over the past three years by shuttering stores and spinning off its weaker Nook andeducation units. To offset waning book sales, it diversified it business with toys, collectibles, gifts, andeven a concept restaurant store.
Yet Barnes & Noble's revenue still declined annually for 10 straight quarters. In addition, the company posted net losses during the last two, and its earnings-based payout ratio stands at a whopping 300%. However, the company spent only 49% of its free cash flow on dividends over the past 12 months, indicating that it probably won't slash its payout any time soon.
Analysts expect the bookseller's revenue tofall 6% this year, but earnings are expected to improve 51% on better cost controls and aggressive buybacks. That bottom-line growth is encouraging, but it doesn't justify the stock's lofty trailing P/E of 62 -- which is much higher than industry average P/E of 44. With interest rates set to rise this year, income stocks like Barnes & Noble -- which have high valuations and wobbly business models -- could be among the first to crumble.
Vector Group
Vector Group initially looks like an ideal retirement stock. The hybrid tobacco and real estate company pays a forward cash dividend of 7.1%, and has paid a 5% annual stock dividend (additional shares based on an investor's total position) since 1999.
But here's the catch -- Vector spent 263% of its earnings and 153% of its free cash flow on dividends over the past 12 months. Those ratios look utterly unsustainable, but Vector can keep paying those dividends because it partly funds its payments with debt. That strategy works in a low-interest-rate environment, but it won't work as well with higher interest rates. Furthermore, Vector's annual stock dividends have significantly increased the company's outstanding share count, diluting the value of existing shares.
Data byYCharts.
That's why Vector currently trades at 39 times earnings, which is much higher than the cigarette-industry average of 21. The single analyst who covers Vector expects itssales to rise 1% this year, and its earnings to rise 35% on higher demand for its Liggett cigarette brands and the strength of its real estate portfolio. That outlook sounds decent, but Vector's long-term plan for income generation looks unsustainable.
Las Vegas Sands
Retirees might like visiting Las Vegas Sands' casinos, but the company generates most of its revenue from Macau, the only city in China with legalized gambling. Sands enjoyed tremendous growth in Macau after the financial crisis, but the sluggish Chinese economy and a government crackdown on corrupt politicians and businessmen with lavish spending habits caused its revenue growth to slow to a trickle.
After eight straight quarters of year-over-year sales declines, Sands finally posted 3% top-line growth last quarter on improvements in Macau and the opening of its Parisian Macao casino. Analysts now expect Sands' revenue and earnings to rise 9% and13% respectively next year, compared with top- and bottom-line declines this year.
That outlook sounds decent, but Sands still trades at 27 times earnings, significantly higher than the industry average of 9 for resorts and casinos. Its forward dividend yield of 5.2% looks tempting, but that payout gobbled up 137% of its earnings and 126% of its free cash flow over the past 12 months -- indicating that a dividend cut could be in the cards. Furthermore, Sands sits in a volatile and cyclical sector that could be abruptly gutted by a recession or regulatory interference -- so it won't offer retirees much peace of mind.
The key takeaway
Before buying a dividend stock, retirees should see if its valuations are too high, if its payout ratios are sustainable, and if the company's business model is wobbly. Barnes & Noble, Vector Group, and Las Vegas Sands fail those tests, so retirees shouldn't be fooled by their tempting dividend yields.
10 stocks we like better than Barnes and Noble When investing geniuses David and Tom Gardner have a stock tip, it can pay to listen. After all, the newsletter they have run for over a decade, Motley Fool Stock Advisor, has tripled the market.*
David and Tom just revealed what they believe are the 10 best stocks for investors to buy right now... and Barnes and Noble wasn't one of them! That's right -- they think these 10 stocks are even better buys.
Click here to learn about these picks!
*Stock Advisor returns as of January 4, 2017
Leo Sun has no position in any stocks mentioned. The Motley Fool has no position in any of the stocks mentioned. The Motley Fool has a disclosure policy.