3 Tempting Stocks We're Avoiding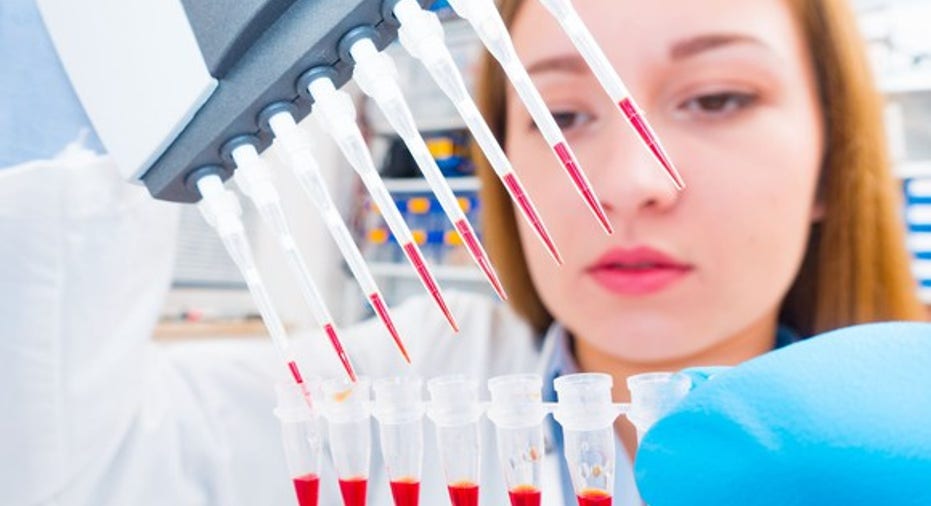 Image source: Getty Images.
Have you ever come across a company that seemed like too good of a value to pass up? If you're a long-term investor, the answer to this question is almost assuredly yes. On occasion, these perceived-to-be tempting stocks can deliver handsome returns over the long run. However, sometimes they can be downright dangerous.
With this in mind, we asked three of our Foolish contributors to suggest one company that they believe falls into the latter descriptor -- tempting on the surface, but definitely worth avoiding. Rising to the top of the list were Valeant Pharmaceuticals (NYSE: VRX), Fitbit (NYSE: FIT), and Sarepta Therapeutics (NASDAQ: SRPT).
The perfect example of a value trap
Sean Williams (Valeant Pharmaceuticals): On the surface, buying into Valeant Pharmaceuticalsmight seem incredibly tempting. Valeant is trading at less than three times Wall Street's estimated full-year EPS for 2017, and it's right around 1.5 times its full-year EBITDA forecast for 2016. What's more, Valeant's share price has fallen about 94% since its peak during the summer of 2015, so there's the real possibility of a bounce in 2017, especially with a new, dedicated CEO, Joseph Papa, at the helm.
But when you dig below the surface, you'll find that Valeant is nothing more than a value trap that should be avoided.
For starters, Valeant had $30.4 billion in debt as of the end of the third quarter, and this debt is crippling its ability to breathe as a business. Valeant has two choices going forward, and neither is pleasant. It can sell non-core assets and hope that it makes a big enough dent in its debt to give itself some financial flexibility, or it can move one of its core assets (Salix Pharmaceuticals or Bausch + Lomb) and give up a big chunk of its future growth prospects in the process. No matter which path Valeant chooses, it's unlikely to get a fair price for any of its assets given the dire situation its peers know it's in.
Image source: Getty Images.
Valeant also has drawn the ire of lawmakers and prosecutors. A former Valeant executive and the former CEO of drug distributor Philidor Rx Services were recently charged with accounting fraud. Furthermore, Congress put now-former CEO of Valeant, J. Michael Pearson, on the hot seat last year. Pearson admitted at a Senate hearing that his company made mistakes when pricing two of its acquired cardiovascular drugs, Nitropress and Isuprel. This year could bring more oversight, and perhaps fines or sales restrictions in a worst-case scenario.
Even Valeant's business model is a mess. Most of its products beyond Salix are mature and reliant on price hikes to generate growth. With Valeant losing a lot of its pricing power, its future growth prospects have been compromised. It's also struggling with Walgreens Boots Alliance, its new drug distributor. The structure of the deal heavily favors Walgreens, which means some of Valeant's flagship products in its dermatology segment have been filled at a loss at the pharmacy.
There are no easy fixes to any of these issues, which leads me to believe that Valeant is a stock you'll want to avoid in 2017.
Abandonment rates are an issue
Jamal Carnette, CFA (Fitbit): Last week brought good news for Fitbitinvestors. Its free app rose to the No. 2 app in downloads in Apple's App Store and No. 8 on the Google Play store. Although the app failed to top the charts as it did last year, investors were noticeably ebullient, and the stock rallied 8% on the news.
Even after the rally, shares appear reasonably priced. Shares now trade hands at a price-to-earnings multiple of 20 times. Considering the company has grown net income 156% on a year-on-year basis through the first nine months, it appears Fitbit is undervalued. However, while Fitbit may appear tempting, lower-risk investors should steer clear of the company.
Image source: Fitbit.
Part of the reason for Fitbit's cheap valuation was the stock's horrible 2016. Last year was one Fitbit investors would rather forget, with shares of the fitness-tracking company down approximately 75%. In November, shares tumbled nearly 34% in a single day after the company lowered revenue and earnings guidance in its third-quarter earnings announcement.
Gartner'sPersonal Technologies Study found the abandonment rates of smartwatches and fitness trackers were an astronomical 29% and 30%, respectively. The reasons given are that the devices break, the user becomes bored of the device, or they are not found to be useful. Regardless of the reasons for discontinuing using the device, when nearly one out of every three users stops using a device, management should be worried.
Improving abandonment rates will be important as the product matures. Gartner's Research Director Angela McIntyre notes that smartwatches and fitness trackers are moving along the diffusion of innovation: "Continued growth in the adoption of smartwatches and fitness trackers will now be from mainstream consumers instead of early technology adopters. The greatest hurdle for fitness tracker and smartwatch providers to overcome is the consumer perception that the devices do not offer a compelling enough value proposition."
Fitbit shares appear reasonably priced, but if the company cannot hold onto a third of its consumers, it's rather easy to say the company is not a strong long-term investment. Until smartwatch technology provides more value to consumers, I'd stay clear of Fitbit even at these tempting valuations.
Shares have fallen, but this stock's still pricey
Todd Campbell(Sarepta Therapeutics): Not to pick on biopharma, but another tempting stock investors might want to steer clear of is Sarepta Therapeutics, the manufacturer of Exondys 51, a drug used to treat certain patients with Duchenne muscular dystrophy, or DMD.
Image source: Getty Images.
After a movie-worthy back-and-forth review by regulators, Sarepta secured an FDA accelerated approval for Exondys 51 this past summer, and management launched the drug with a $300,000 per year price tag.
DMD is a rare disease without effective long-term treatment options, so it's likely that demand for Exondys 51 will be there -- but so far, sales have been tepid because of delays associated with pre-screening patients to determine if they possess an amenable genetic makeup.
Eventually, these delays will be overcome, and that could putExondys 51 in position to deliver nine-figure sales per year. However, Exondys 51 might have to hit it out of the park to justifySarepta Therapeutics' valuation. Despite a 50% retreat from October's peak, this company still boasts a $1.6 billion market cap. That seems rich to me given that the company lost more than $56 million last quarter alone. Since operating expenses could increase because of long-term Exondys 51 studies and other pipeline projects, the timeline for this company to turn a profit is a big question mark.
Overall, Exondys 51's potential is tempting, but until Sarepta Therapeutics can demonstrate that Exondys 51 sales can cover its expenses,I think this company remains too risky for most investors.
10 stocks we like better than Sarepta Therapeutics When investing geniuses David and Tom Gardner have a stock tip, it can pay to listen. After all, the newsletter they have run for over a decade, Motley Fool Stock Advisor, has tripled the market.*
David and Tom just revealed what they believe are the 10 best stocks for investors to buy right now... and Sarepta Therapeutics wasn't one of them! That's right -- they think these 10 stocks are even better buys.
Click here to learn about these picks!
*Stock Advisor returns as of January 4, 2017
Jamal Carnette owns shares of Apple. Sean Williams has no position in any stocks mentioned. Todd Campbell owns shares of Apple.
The Motley Fool owns shares of and recommends Apple, Fitbit, Gartner, and Valeant Pharmaceuticals. It also has the following options: long January 2018 $90 calls on Apple and short January 2018 $95 calls on Apple. The Motley Fool has a disclosure policy.