3 Tech Stocks That Could Soar in 2016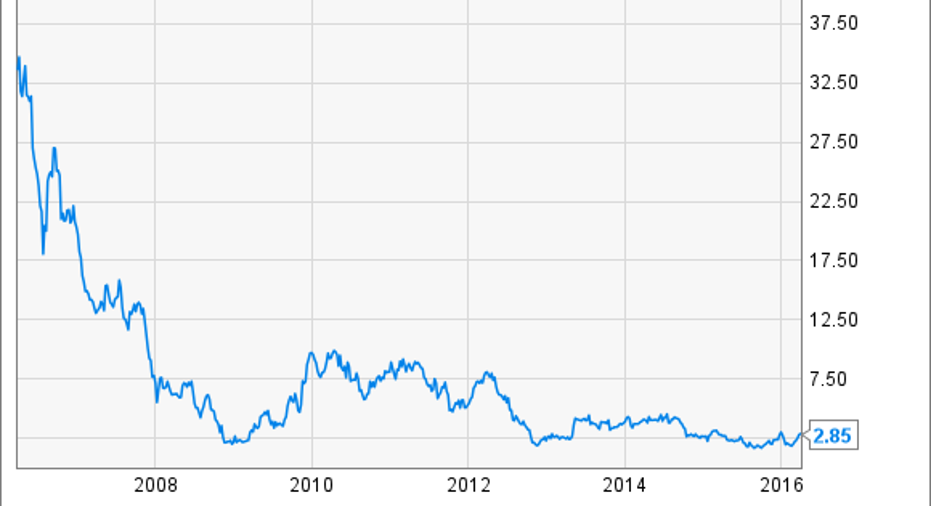 Technology has, and will continue to, shape the world we live in. Not only has this had major implications for the average individual, but it has had profound effects for investors. One cannot read a history of the modern stock market without getting at least a hint of the unimaginable wealth that has been generated by disruptive, dominant, innovative technology firms. This is not to say that the secret to wealth is exclusively investing in technology, but not to have a stake in the future itself via owning pieces of today's top tech firms is downright, well, (lowercase) foolish.
With this in mind, and in the hopes of finding the next winning tech shares, some of The Motley Fool's best and brightest put their heads together and came up with three tech stocks that they believe could soar in 2016. Read on to learn what they came up with.
Tim Green: Advanced Micro Devices has been hemorrhaging market share in both the GPU and CPU markets over the past couple of years. The company is posting big losses every quarter, and its stock has been decimated over the past five years, losing about two-thirds of its value. Over the past 10 years, the stock has lost a staggering 90% of its value.
But 2016 is a big year for AMD, and if things go right, the stock could make a major recovery. After losing considerable share in the GPU market, the company plans to launch a brand-new line of graphics cards, Polaris, later this year. AMD promises significant performance and efficiency gains, and if Polaris meets expectations, AMD's GPU business may finally return to growth.
Towards the end of 2016, AMD plans to launch Zen, its brand-new CPU microarchitecture. The company's current line of CPUs has largely been a disaster, giving Intelan enormous lead in both the PC and server markets. Zen aims to fix these issues, with AMD promising a 40% boost in instructions-per-clock, which should go a long way in closing the performance gap with Intel products. And with Intel delaying its 10nm manufacturing process, the manufacturing gap between Intel and AMD will narrow considerably.
If AMD can execute and launch competitive GPU and CPU products this year, a change in investor sentiment could send the stock soaring. The company has a history of overpromising and underdelivering, though, making the stock risky despite its beaten-down price tag.
My pick for a technology stock that could soar this year, Baidu has a great deal to offer venturesome investors. After all, it isn't every day one can buy into dominant search engine in a gargantuan, burgeoning Internet market. Often compared to Alphabet'sGoogle search engine (and rightly so), Baidu sports a 70% market share of the Chinese Internet search market. Not quite as good as Google stateside but more than respectable.
Image Source: Baidu.
All the more impressive is Baidu's financial results. The company generated record free cash flow last year of just under $2.2 billion, grew revenues by 32% and continues to make strides in the early stages of the fast-growing Chinese online-to-offline market (which is basically code for the blurring of the lines between online and traditional shopping experiences).
Shares have been sold off en masse as fears surrounding China's slowing growth rate have made their way to its capital markets. Granted, GDP growth is slowing to a more manageable 6%-7% (which is still crazy fast on a global basis, no matter how you slice it), but the bottom line for investors is that none of this really matters to Baidu in the long term. As China's dominant search engine, the company stands to benefit mightily as the country becomes more connected.
Shares are well off their highs of late 2014/2015, when Baidu shares traded hands for some $250. Now valued at just 29 times forward S&P Global Market Intelligence EPS estimates, which compares favorably to Alphabet's own forward P/E of 28, Baidu could very well soar this year as the market properly values its authoritative franchise in an industry that will continue to grow in the decades ahead.
Keith Noonan: Most known as the supplier of the video chips at the core ofGoProcameras, Ambarella has seen its stock price fall roughly 40% over the last year. This is due to a reduced growth forecast and mounting challenges from resource-rich competitors including Qualcomm. The roughly $1.4 billion market cap semiconductor company does have a history of volatility.Although the stock's recent declines are at least partially reflective of compounding risks and uncertainties facing the company, a depressed valuation, momentum in emerging segments, and a solid balance sheet set up the potential for big gains in the remainder of 2016.
Much of Ambarella's woes in the last year can be tied to the poor performance of GoPro's Hero4 Session camera -- a reduced form factor variation on the camera company's Hero 4 line that was intended to bridge a gap as GoPro readied its next mainline for release. Sales to GoPro have recently made up somewhere in the neighborhood of 30% of Ambarella's revenues, and the lack of a hit product to shift inventory has highlighted concerns that the video chip company is overly reliant on its biggest customer. Softness in wearables is forecast to drive revenues for the current quarter down somewhere between 20% and 24% compared to the prior year quarter. However, even as the company deals with a weak release stretch in the action camera space, it still has a forward price-to-earnings ratio of roughly 15 and a forward PEG ratio of approximately 0.56.
Action cameras will continue to play a big role in Ambarella's performance, but the company's security IP camera segment looks strong, and emerging demand for drone, automobile, and smart home cameras and sensors opens up opportunities. With no debt on the books and an enterprise value of roughly $1.1 billion, a stronger-than-expected performance for one of its growing product categories or a strong release from GoPro could send Ambarella stock soaring.
The article 3 Tech Stocks That Could Soar in 2016 originally appeared on Fool.com.
Suzanne Frey, an executive at Alphabet, is a member of The Motley Fools board of directors. Keith Noonan has no position in any stocks mentioned. Sean O'Reilly has no position in any stocks mentioned. Timothy Green has no position in any stocks mentioned. The Motley Fool owns shares of and recommends Alphabet (A shares), Ambarella, Baidu, GoPro, and Qualcomm. The Motley Fool recommends Intel. Try any of our Foolish newsletter services free for 30 days. We Fools may not all hold the same opinions, but we all believe that considering a diverse range of insights makes us better investors. The Motley Fool has a disclosure policy.
Copyright 1995 - 2016 The Motley Fool, LLC. All rights reserved. The Motley Fool has a disclosure policy.