3 Takeaways From Spirit Airlines' So-So Quarter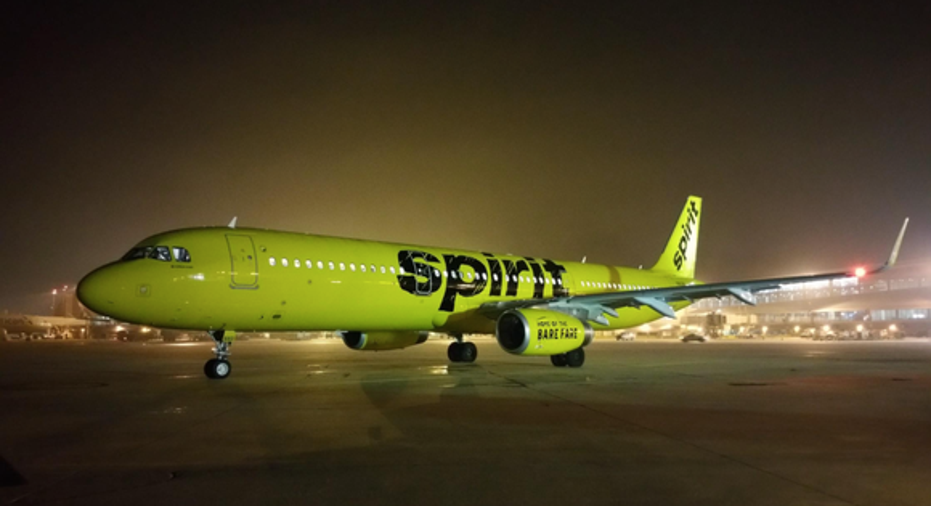 Last week, Spirit Airlines (NASDAQ: SAVE) reported results for the fourth quarter of 2016 that show a company in flux. While Spirit's revenue picture is improving, and the company is finally moving the needle on reliability, its profitability declined substantially, raising questions about its ability to maintain its industry-leading margins. Let's examine each of these points in greater detail.
Image source: Spirit Airlines.
Unit revenue growth is finally on the horizon
For the quarter, Spirit posted revenue of $578.4 million, which was up 11.3% over last year and in line with analyst estimates. But its unit revenue (revenue per available seat mile, or RASM) was down 3.6% year over year. While a decrease in RASM is nothing to celebrate, the previous two quarters saw much greater RASM declines of 7% and 14.3%, making the fourth quarter a substantial sequential improvement.
Management expects this trend to continue into the first quarter of 2017, providing guidance for unit revenue to decrease 2.5%. And CEO Bob Fornaro stated on the earnings call that after more than two years of falling unit revenue, management expects to finally return to RASM growth in the second quarter. Moreover, Fornaro says he believes unit revenue growth will continue at least through the remainder of 2017. Passing this inflection point should help get investors excited about Spirit's prospects all over again.
Becoming known for something other than poor service
Spirit's reputation has always been a stumbling block when it comes to attracting new travelers. The company has grappled with high rates of customer complaints as well as poor marks for reliability.
But Fornaro, who has been on the job about a year, has made improving Spirit's customer experience a top priority, and it appears to be paying off. In 2016, the company set multiple monthly company records for on-time performance and boosted its yearly on-time performance by 5.2 percentage points. At the beginning of the year, Spirit's on-time performance was 17 percentage points behind the industry average, but by the end of the year, it was just 1.5 points behind.
During the year, Spirit also lowered its rate of customer complaints to the Department of Transportation by more than 60% (from more than 11 per 100,000 customers to less than 4). It won't happen overnight, but if the company can continue to improve consumer perception, perhaps more travelers will entertain the idea of flying Spirit.
What happened to profitability?
Profits appeared to fall off a cliff in the fourth quarter, with adjusted earnings per share down 25%. Higher costs for fuel, labor, and maintenance affected adjusted operating margins, which came in at 16.2% compared to 22.8% last year. Is this a one-time event or something to be concerned about?
First, note that full-year 2016 adjusted operating margins were a healthy 20.9%, which is still among the best in the industry. And management noted on the call that they expect the distribution of margins over the year will start to look a little different -- and less consistent -- going forward. They now believe the second and third quarters will generally result in higher margins relative to the first and fourth quarters.
Fornaro also stated rather bluntly that thanks to increased competition, the outsize margins from Spirit's pre-2015 days are probably not coming back. However, in its most recent investor presentation, Spirit reaffirmed that it seeks to operate routes where it can earn a "mid-teens or higher" operating margin, so that gives you a good idea of what the company believes is achievable over the long term.
With improving revenue trends and a CEO committed to improving the customer experience, Spirit has a lot going for it in 2017. While the company's margins going forward are something to keep an eye on, Spirit looks likely to remain one of the most profitable airlines in the industry.
10 stocks we like better than Spirit AirlinesWhen investing geniuses David and Tom Gardner have a stock tip, it can pay to listen. After all, the newsletter they have run for over a decade, Motley Fool Stock Advisor, has tripled the market.*
David and Tom just revealed what they believe are the 10 best stocks for investors to buy right now...and Spirit Airlines wasn't one of them! That's right -- they think these 10 stocks are even better buys.
Click here to learn about these picks!
*Stock Advisor returns as of February 6, 2017.
Andy Gould owns shares of Spirit Airlines. The Motley Fool recommends Spirit Airlines. The Motley Fool has a disclosure policy.