3 Takeaways From Johnson Controls' Q2 Earnings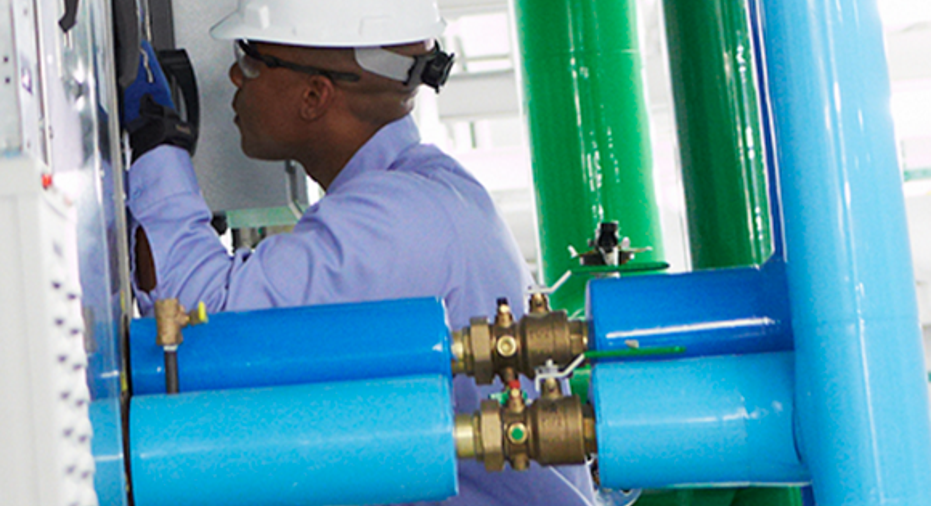 Image source: Johnson Controls corporate website
Johnson Controls (NYSE: JCI) reported earnings this week. How did the company fare in the second quarter? Growing diluted earnings per share 18% year over year, the company appears to have had a successful quarter. But let's dig in further and see what it all means in the long term.Building on building efficiencyThe second largest operating segment by net revenue, building efficiency will become the largest when the automotive interiors business spinoff is complete. It's important, therefore, to keep a close watch on the segment, for it will be a large part of the company's new identity. On the Q1 conference call, management warned that difficulty securing federal jobs and weakness in China and the Middle East could impede second quarter growth, resulting in sales growth between 4.5% to 5.5%. Actually, the company reported weakness in Europe and Latin America during the quarter, but it was just a blip on the radar -- the segment's net revenue increased by a whopping 33%. Systems and service contributed largely to the growth: Orders in North America increased by 7% and Asia grew by 9%.The top line was only one of several bright spots for the segment. Growing 2%, the backlog now stands at $4.7 billion -- important since it reported no growth during the first quarter. Segment margin also reported growth, improving by 50 basis points. The increase in sales plus the margin expansion contributed to segment income climbing an impressive 42% (43% if you exclude foreign exchange) year over year.Staying powerPlaying second fiddle to building efficiency, the power solutions segment reported Q2 net revenue level with that from the same period last year.
Image source: Johnson Controls Corporate website.
Although the company reported higher volumes in the Americas and Asia, volumes in Europe declined. In fact, the company delivered a record 2.6 million batteries to China in the quarter -- a 60% increase year over year. The company reported 18% growth in global shipments for its AGM batteries -- located in stop-start vehicles. In an investor presentation last December, management noted that it is looking to increasing AGM sales to drive sales growth for the segment between 9% to 11% for FY 2016. In the same presentation, management forecast AGM sales -- an important piece to the long term plan for the segment -- more than doubling from 12.4 million in FY 2015 to 26.9 million in FY 2020.Also staying about level, segment margin rose 10 basis points year over year. Segment income was also level with the same period last year; excluding foreign exchange, though, it grew by 3%.M&A updateIn addition to organic growth, Johnson Controls is counting on a joint venture with Hitachi, merger with Tyco International, and spin off of its automotive interiors business to help effect the company's transformation. Though it didn't release specific figures -- citing incremental revenues -- management noted that the joint venture with Hitachi seems to be moving in the right direction. According to Alex Molinaroli, Johnson Controls chairman, president, and CEO: "In Building Efficiency, the Johnson Controls-Hitachi joint venture is exceeding our expectations."Regarding Tyco, management maintained that the merger is expected to be completed by Oct. 1, and it followed suit with the automotive interiors spin off into the new entity, Adient. Details of Adient's financials have not been released, though management expects to file them in Form 10 with the SEC by the end of April. Confirming that separations costs of $400 million to $600 million for FY 2016 are in line with previous estimates, management expects the separation to be completed on October 31, 2016.
The takeawayAlthough overall revenue dropped 2% year over year, investors should shrug this off; the decline primarily stemmed from an 18% drop in net revenue for the automotive experience segment -- a segment that, presumably, will no longer exist by the end of the year. Excluding the segment, net revenue from what will be left, building efficiency and power solutions, grew by a combined 20% -- a reassuring sign for long-term investors.If investors weren't pleased enough with the company's Q2 performance, perhaps they will be with management's revised guidance for the year. Raising it from diluted EPS of $3.70 to $3.90, management is forecasting FY 2016 diluted EPS of $3.85 to $4.00.
The article 3 Takeaways From Johnson Controls' Q2 Earnings originally appeared on Fool.com.
Scott Levine has no position in any stocks mentioned. The Motley Fool owns shares of Johnson Controls,. Try any of our Foolish newsletter services free for 30 days. We Fools may not all hold the same opinions, but we all believe that considering a diverse range of insights makes us better investors. The Motley Fool has a disclosure policy.
Copyright 1995 - 2016 The Motley Fool, LLC. All rights reserved. The Motley Fool has a disclosure policy.