3 Takeaways From Ford Motor Company's April Sales Figures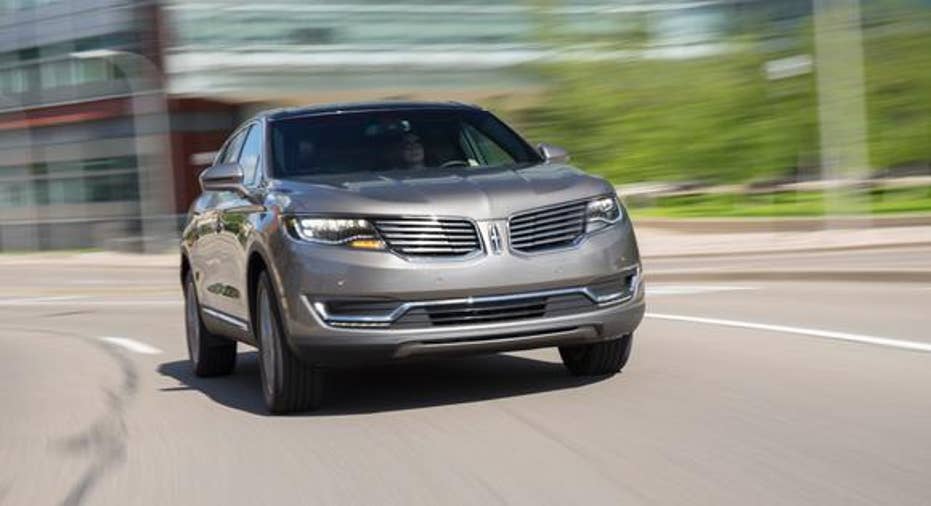 Lincoln's MKX is quietly having a phenomenal year, helping drive the brand's sales higher. Image source: Ford Motor Company.
While the industry's total sales figures have yet to be tallied, it appears April's seasonally adjusted annual rate of new-vehicle sales will reach the mid-17 million range. That's a healthy rise from last month's sales pace of 16.56 million, and an improvement over last April's 16.77 million.
"Increased fleet sales and rising incentive spending among automakers remain the factors to watch, but retail demand appears to be holding steady, signaling the industry's strong run isn't over quite yet." said Tim Fleming, an analyst for Kelley Blue Book, according to Automotive News.
Looking more closely at Detroit's second-largest automaker, let's zoom in on Ford Motor Company's April sales.
Nitty-gritty Let's get some of the details out in the open. Ford's U.S. sales checked in at more than 231,000 last month, a 4% gain over last year's April. Its retail sales also jumped 3% compared to the prior year, which was its best April result over the past decade.
Although many investors overlook them on a monthly basis, Ford's gross stock of inventory and fleet sales remain worth noting. Ford's gross stock of inventory rose from March's 80 days' supply level to 83 days' supply at the end of April. While that's above the industry norm of about 60 days', it's not an issue, as Ford desires higher inventory heading into stronger spring and summer sales months. Plus, nearly half of its total gross stock inventory is trucks, and the company is selling through that segment extremely well right now.
Not all fleet sales are bad business. Image source: Ford Motor Company.
As for fleet sales, the trend of higher fleet sales as a percentage of total sales continues to be elevated during the first half of the year. During April, 32% of Ford's total sales were fleet, which breaks down to 13% commercial sales, 7% government, and 12% daily rental. Looking at year-to-date results gives a better picture, though, with fleet sales generating 35% of total sales compared to the same time period last year, when that number was 30%. However, as I noted recently, fleet sales should no longer be considered akin to the devil.
The driving force As investors have likely noticed over the past year, the driving forces behind Ford's rising sales are again SUVs and full-size trucks. The company sold more than 65,000 Ford-brand SUVs, which marks its best-ever April sales result. Ford's F-Series sold more than 70,000 units for the second consecutive month, the truck's best April since 2005. The F-Series' sales moved 12.6% higher in April compared to the prior year, and have increased 7% throughout 2016.
"We saw strong consumer demand in April, especially for pickups," said Mark LaNeve, Ford vice president, U.S. Marketing, Sales and Service, in a press release. "F-Series has moved past the quarter million sales mark year to date -- the strongest start for F-Series in a decade, while Ford brand SUVs are having their best year ever."
Another trend investors surely find favorable is Ford's rising average transaction prices. Ford's brand average moved $1,500 higher compared to last year's April, and $700 higher versus the industry's average increase. Much of that rise is due to Ford selling fewer passenger cars; the segment declined 11.5% during April, while sales of utilities and trucks rose 4.4% and 3.3%, respectively.
Any surprises? Automakers typically have at least one surprising piece of data, and Ford's April didn't disappoint. To my surprise, at least, Lincoln posted a solid month, with sales jumping 20% to 9,776 units sold. What might be even more surprising, though, was that the MKX's sales jumped 94% in April, which helps its year-to-date gain rise to 85%. If you're keeping track, that makes the MKX Lincoln's best-selling vehicle thus far into 2016 -- which probably wasn't something many Ford investors expected.
Digging a little deeper, the general trend of consumers moving from passenger cars to SUVs is also apparent in Lincoln's sales. The Lincoln MKC's sales rose 51% last month, and they've moved 12% higher during 2016. In fact, the MKT and Navigator also posted double-digit gains last month and have both moved higher for the full year, which helped drive Lincoln's utility segment 34% higher throughout 2016. On the flip side, Lincoln's car sales are down 7% for the year, with its flagship sedan, the MKZ, posting a sales decline of 27% last month.
Ultimately, this was just another solid month of sales from Detroit's second-largest automaker, which should come as no surprise since Ford just posted its most profitable quarter ever.
The article 3 Takeaways From Ford Motor Company's April Sales Figures originally appeared on Fool.com.
Daniel Miller owns shares of Ford. The Motley Fool owns shares of and recommends Ford. Try any of our Foolish newsletter services free for 30 days. We Fools may not all hold the same opinions, but we all believe that considering a diverse range of insights makes us better investors. The Motley Fool has a disclosure policy.
Copyright 1995 - 2016 The Motley Fool, LLC. All rights reserved. The Motley Fool has a disclosure policy.