3 Stocks You Can Still Buy With the Market at Record Highs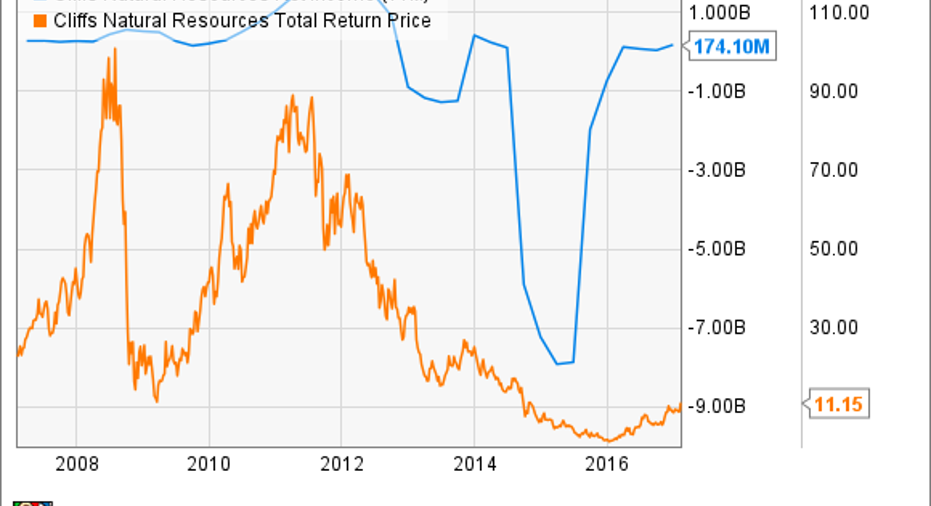 The market may be flirting with all-time highs, but that doesn't mean that there aren't bargains still to buy. For instance, Pfizer, Inc. (NYSE: PFE) trades at just 11 times next year's earnings-per-share forecasts, and its shares yield 4%. There are also stocks like Cliffs Natural Resources (NYSE: CLF) and Chicago Bridge & Iron Company (NYSE: CBI) that have moved up recently, yet remain far below their five-year share-price highs. Shares in both Cliffs Natural Resources and CB&I could continue climbing if Donald Trump's plans for economic growth win traction. Read on to learn more about these three stocks, and whether they're right for your portfolio.
Betting on big-cap pharma
Worry over price controls has kept a lid on drugmaker share prices during the stock market's rally, but an increasingly older and longer-living population means that there are still strong, long-tail reasons to own companies like Pfizer.
IMAGE SOURCE: GETTY IMAGES.
Pfizer's $52 billion in sales last year makes it one of the globe's biggest pharmaceutical companies, and with $14.8 billion in adjusted net income in 2016, there's plenty of cash flowing in to support research and development, mergers and acquisitions, and shareholder-friendly dividend increases.
Management's cash and investments totaled $24 billion last fall, and Pfizer's financial flexibility could benefit substantially if Trump makes good on plans to allow global companies to repatriate money held overseas with little taxation.
However, even if that policy doesn't pan out, there's a lot of reason to think this company's going to be more profitable in the coming years than it is today. The company already markets fast-growing drugs, including the multibillion-dollar anticoagulant Eliquis and the fast-growing cancer drug Ibrance, and its investments in biosimilars could position it as a leader in an emerging market that could be worth tens of billions of dollars annually.
Pfizer has a solid lineup of top sellers already, a robust drug pipeline that could yield future blockbuster drugs, and plenty of cash to spend, so it could still be savvy to pick up shares.
Trade tariffs? Good news for U.S. iron-ore prices
Cliffs Natural Resources is the largest producer of iron-ore pellets used in U.S. steel production, and that positions it perfectly to profit from Trump's global trade and infrastructure spending plans.
The company is already benefiting from a slowing of foreign steel imports, and management says that its U.S. iron-ore volume jumped 53% year over year last quarter. Due to that increase, Cliffs Natural Resources' global revenue was $754 million in the fourth quarter, up 58% from the $476 million it reported in the same quarter of 2015.
Importantly, rebounding iron-ore demand has put the company back in the black. Net income in the fourth quarter totaled $81 million, which is a major improvement from a loss of $58 million in Q4, 2015.
Because Cliffs Natural Resources was generating net income of $1 billion as recently as 2012, and its shares at the time were north of $80, any additional volume growth tied to an improving U.S. economy could mean that this stock has plenty of room left to run higher:
CLF Net Income (TTM) data by YCharts.
Embracing engineering
Chicago Bridge & Iron is another company that could enjoy a renaissance with investors thanks to Trump.
CB&I is one of the biggest energy- and water-engineering companies out there, and demand for its services and products could spike if infrastructure projects such as energy pipelines and terminals win approval.
The company gets about 70% of its sales from the United States, and importantly, it's nicely profitable. In November, management was targeting $4.70 to $5 in earnings per share and $10.6 billion to $11 billion in revenue for 2016.
The potential to see those figures climb makes owning shares compelling, but what makes this company particularly intriguing is its valuation. Shares can be bought at only 0.31 times sales, and 1.55 times book value -- those figures are about their lowest since the Great Recession.
CBI Price to Book Value data by YCharts.
Additionally, the company's forward price-to-earnings ratio is only 7.4, and that seems a reasonable price to pay to own CB&I shares, especially in light of the potential tailwinds tied to increasing U.S. energy-infrastructure spending.
10 stocks we like better than Cliffs Natural ResourcesWhen investing geniuses David and Tom Gardner have a stock tip, it can pay to listen. After all, the newsletter they have run for over a decade, Motley Fool Stock Advisor, has tripled the market.*
David and Tom just revealed what they believe are the 10 best stocks for investors to buy right now and Cliffs Natural Resources wasn't one of them! That's right -- they think these 10 stocks are even better buys.
Click here to learn about these picks!
*Stock Advisor returns as of February 6, 2017
Todd Campbell owns shares of Cliffs Natural Resources and Pfizer.His clients may have positions in the companies mentioned.The Motley Fool owns shares of Cliffs Natural Resources. The Motley Fool has a disclosure policy.