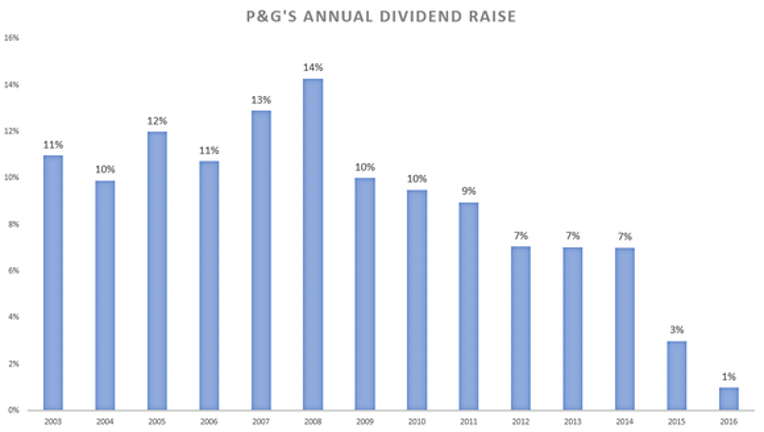 Yielding over 3% while boasting a 54-year streak of annual hikes, there's a lot to love about Coca-Cola's dividend. Yet the beverage titan is looking mortal these days amid soft demand for sodaand profit declines that have pushed its payout ratio to an uncomfortable portion of earnings.
So today I'm taking a look at three other dividend aristocrats, Procter & Gamble , McDonald's , and 3M , that income investors might prefer over Coca-Cola shares right now.
Dividend comparison:
| | Coca-Cola | P&G | McDonald's | 3M |
| --- | --- | --- | --- | --- |
| Dividend yield | 3% | 3.2% | 2.8% | 2.6% |
| Payout ratio | 79% | 85% | 71% | 54% |
| Last raise | 6% | 1% | 5% | 8% |
| Consecutive annual raises | 54 | 60 | 40 | 57 |
Source: Company financial filings and S&P Global Market Intelligence.
1. Procter & Gamble Consumer goods giant Procter & Gamble pays out a slightly larger yield, 3.2% compared to Coke's 3%. In exchange for that meatier return, though, shareholders have to accept two important trade-offs. First, P&G's dividend rate hike pace has slowed to a crawl lately as earnings plummet thanks mainly to foreign currency swings. Second, the company's payout ratio is just as bad as Coke's at over 80% of earnings.
P&G's dividend growth rate is slowing. Source: Company financial filings.
However, both of those trends may reverse sharply over the next few years. Exchange rate issues will eventually settle down, and P&G's portfolio transformation should result in a faster growing, more profitable enterprise even as cost cuts promise to fund growingcapital returns to shareholders. Investors can already see evidence that the dividend is improving: Its projected to eat up 70% of earnings in fiscal 2016, compared to over 100% last year.
2. McDonald's Like Coca-Cola, McDonald's is engaged in a refranchising initiative that should raise heaps of cash while making the company more profitable. The proportion of restaurants owned by franchisees is projected to rise to 90% in two years, up from about 80% now.
Image source: McDonald's.
But financial strategies can't make up for weakening operating results -- and that's where Mickey D's has Coke beat. Comparable-restaurant sales jumped 6% last quarter with help from the hit all-day breakfast offering. Coke's volume growth, meanwhile, slowed to 2% from 3%.
"I'm pleased to report that our turnaround is taking hold," McDonald's CEO Steve Easterbrook said in the Q1 earnings release.
With sales and profits now headed solidly higher, it's likely that the fast-food king can keep its divided growing strong while lowering its payout ratio at the same time.
3. MMM 3M's dividend has doubled in the last five years, compared to a 50% increase for Coca-Cola's. The industrial and consumer products conglomerate's payout ratio has only risen from about 35% of earnings to 54% since 2011 as Coke's has spiked to 80%.
MMM Dividend data by YCharts
In other words, while its yield may be smaller today, 3M's dividend is on track to outgrow Coca-Cola's over the next decade.
3M just recently affirmed its long-run financial targets that call for double-digit annual earnings growth powered by organic sales gains of between 2% and 5%. Sure, that's not a particularly fast sales expansion.
However, 3M's strong and improving efficiency allows it to wring more cash from every dollar in sales it books, which should help power those yearly dividend hikes. Its profit margin, at 23% vs. 20%, and return on invested capital, at 22% vs. 10%, both trounce Coca-Cola's figures.
The article 3 Stocks with Better Dividends Than The Coca Cola Co originally appeared on Fool.com.
Demitrios Kalogeropoulos owns shares of McDonald's. The Motley Fool owns shares of and recommends Coca-Cola. The Motley Fool recommends Procter & Gamble. Try any of our Foolish newsletter services free for 30 days. We Fools may not all hold the same opinions, but we all believe that considering a diverse range of insights makes us better investors. The Motley Fool has a disclosure policy.
Copyright 1995 - 2016 The Motley Fool, LLC. All rights reserved. The Motley Fool has a disclosure policy.