3 Stocks With Better Dividends Than NVIDIA Corporation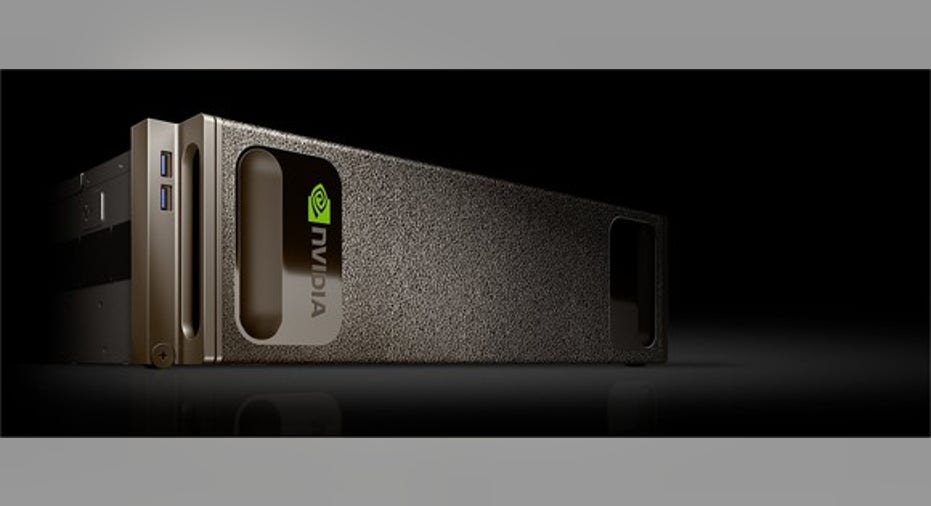 NVIDIA (NASDAQ: NVDA) has been a great growth stock this year, soaring more than 200% on robust sales of gaming GPUs, data center GPUs, and CPUs for connected cars. But as I mentioned in a recent article, it isn't a great dividend stock.
Image source: NVIDIA.
NVIDIA's forward yield of 0.6% is much lower than the S&P 500's average yield of 2.1%, and its dividend hikes have been unpredictable, with one hike this year, two hikes last year, but no hikes at all in 2014. Investors looking for better income plays should check out three other chipmakers instead -- Intel (NASDAQ: INTC), Qualcomm (NASDAQ: QCOM), and Texas Instruments (NASDAQ: TXN).
Intel
Shares of Intel have only advanced 5% this year, due to sluggish growth in its core PC and data center markets. It also abandoned the mobile market after failing to secure a significant market share with billions in subsidies, its Internet of Things (IoT) business faces tough competition from ARM-licensed rivals like Qualcomm, and new x86 chips from a resurgent AMD could throttle its sales of PC chips next year.
Despite those challenges, analysts expect Intel's revenue andearnings to respectively rise 6% and 15% this year -- indicating that its growth will remain slow but steady. Its trailing price-to-earnings ratio (P/E) of 18 is much lower than NVIDIA's P/E of 66 and the industry average of 22.
Intel pays a forward yield of 2.8%, which is comfortably supported by its payout ratio of 48%. Over the past 12 months, Intel spent 46% of its free cash flow (FCF) on dividends, indicating that it has plenty of room for higher payments. But like NVIDIA, Intel hasn't been consistent with its dividend hikes -- its quarterly dividend stayed at $0.23 for three years before finally being raised to $0.25 in 2014, and to $0.26 in 2015.
Qualcomm
Investors looking for a better balance between growth and income can consider Qualcomm, which has surged 33% this year but still pays a forward yield of 3.1%. That dividend accounted for 53% of Qualcomm's earnings and 44% of its FCF over the past 12 months. Qualcomm has hiked that dividend annually for 13 straight years.
Image source: Qualcomm.
Qualcomm's rally might seem odd, since analysts expect itsrevenue and earnings to respectively rise 1% and 6% this year. Its mobile chipmaking businesses, which generates most of its revenue, faces sluggish smartphone sales, competition from cheaper rivals like MediaTek, and first-party ARM chipsets in Apple, Samsung, Huawei, and Xiaomi devices. Meanwhile, its patent licensing business -- which generates most of its profits -- faces defiant smartphone OEMs and regulators that claim that its cut of the wholesale price of each device sold (up to 5%) is too high.
Qualcomm has expanded into adjacent markets -- like wearables, drones, and connected cars -- to offset those declines. Its acquisition of IoT chipmaker CSR and its upcoming purchase of automotive chipmaker NXP Semiconductors will both pivot the company away from mobile devices. Even after crushing the market this year, Qualcomm stock still remains fairly cheap at 17 times earnings.
Texas Instruments
Investors looking for more predictable dividend hikes should consider Texas Instruments, the diversified chipmaker that has promised toreturn 100% of its free cash flow to shareholders with dividends and buybacks. It's raised its dividend annually for 13 straight years, and pays a forward yield of 2.7%. Those payments were covered by 48% of its earnings and 39% of its FCF over the past 12 months.
TI doesn't make high-powered application processors like Intel or Qualcomm. It mainly produces cheaper analog and embedded chips for connected cars, industrial machines, wireless infrastructure, consumer electronics, and enterprise systems. That diversified customer base allows growth in certain markets to offset cyclical declines in others.
However, TI remains highly exposed to Apple, which accounted for 11% of its revenues last year. Qualcomm's acquisition of NXP, which will create the world's biggest automotive chipmaker, could also hurt its automotive chip business. Analysts expect TI's revenue and earnings to respectively rise 2% and 12% this year, but its P/E of 25 -- which was inflated by its 33% rally this year -- remains lofty relative to its industry peers.
The bottom line
There are plenty of reasons to buy NVIDIA, but its paltry dividend isn't one of them. Intel, Qualcomm, and TI all offer better yields at lower valuations, but investors should carefully weigh their strengths and weaknesses to see if they're good long-term income plays.
10 stocks we like better than Texas Instruments When investing geniuses David and Tom Gardner have a stock tip, it can pay to listen. After all, the newsletter they have run for over a decade, Motley Fool Stock Advisor, has tripled the market.*
David and Tom just revealed what they believe are the 10 best stocks for investors to buy right now... and Texas Instruments wasn't one of them! That's right -- they think these 10 stocks are even better buys.
Click here to learn about these picks!
*Stock Advisor returns as of Nov. 7, 2016
Leo Sun owns shares of QCOM. The Motley Fool owns shares of and recommends AAPL, NVDA, and QCOM. The Motley Fool has the following options: long January 2018 $90 calls on AAPL and short January 2018 $95 calls on AAPL. The Motley Fool recommends INTC and NXPI. Try any of our Foolish newsletter services free for 30 days. We Fools may not all hold the same opinions, but we all believe that considering a diverse range of insights makes us better investors. The Motley Fool has a disclosure policy.