3 Stocks to Watch in December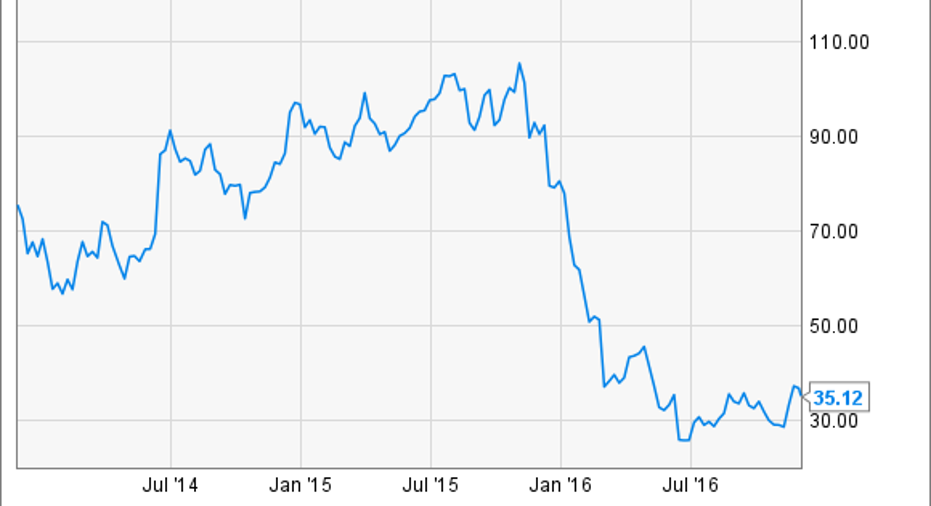 Image Source: Getty Images.
The holiday season may be in full swing, but there are still plenty of important companies set to report their results in December. Investors who own shares of Micron Technology (NASDAQ: MU), Lululemon (NASDAQ: LULU), and Restoration Hardware (NYSE: RH) will all have some data to parse this month, and big stock moves are possible if the numbers don't match up with expectations.
A guidance boost for Micron
Micron, a major manufacturer of memory chips, has been suffering from oversupply in recent quarters. When supply outstrips demand for Micron's DRAM and NAND chips, prices fall and the company's margins fall off a cliff. Micron has reported a non-GAAP net loss for three quarters in a row, and a year-over-year revenue decline for the past six quarters.
Micron's fiscal first-quarter results, which will be announced on Dec. 21, are expected to show a return to both revenue growth and profitability. The company's guidance for the quarter, which was recently boosted, calls for year-over-year revenue growth of 18.7% and non-GAAPearnings per share (EPS) of $0.28, up from $0.24 in the prior-year period. Some accounting changes muddle the bottom line -- earnings will actually decline on a comparable basis. But it's clear that the market for memory chips is strengthening.
Investors should keep an eye on how much Micron was able to cut per-bit DRAM costs during the quarter. The key to Micron's profitability is to cut costs faster than prices drop, something that it hasn't been able to do in the recent past. The company's guidance for the second quarter will also be critical, giving investors a better sense of the momentum the company is seeing in the memory markets. If earnings guidance disappoints again, management will have some explaining to do.
Looking to recover
Shares of activewear chain Lululemon got hit hard last time the company reported results. Sales growth missed expectations, leading investors to question the premium valuation assigned to the company's stock. Comparable sales rose by just 3% during the second quarter, with the bulk of revenue growth coming from new store locations. The stock is down more than 30% since those numbers were reported.
The company will have another chance to impress investors on Dec. 7. The company expects comparable sales growth in the mid-single digits on a constant-currency basis compared to 6% growth during the third quarter of last year. Analysts are expecting total revenue to grow by nearly 13%, with the bulk of that growth driven by new locations.
Lululemon benefited greatly from the athleisure boom, but the company now faces far more competition than in the past. An earnings report from Under Armour that featured talk of promotions driving down margins hurt Lululemon stock in October. Credit Suisse downgraded the stock in November, citing an increase in markdowns at the company's stores that could pressure fourth-quarter results. Another downgrade came on Dec. 2, with Canaccord Genuity slashing its price target to just $44 per share. Lululemon certainly has a lot to prove when it reports its third-quarter results.
A brutal collapse
Furniture retailer Restoration Hardware faced a more severe stock collapse that began late last year when the company's results began to miss expectations. Sales growth slowed down, comparable sales growth turned negative, and earnings collapsed. During the first six months of 2016, gross margin contracted by 5.5 percentage points, while operating costs rose, leading to a net loss. The stock has tumbled 67% from its high in late 2015.
Restoration Hardware CEO Gary Friedman tried to explain the awful results when the second-quarter report came out in September:
Analysts are expecting a revenue decline during the third quarter, for which Restoration Hardware will report results on Dec. 8. Once a Wall Street darling, Restoration Hardware is now struggling with a sales and earnings slump that raises questions about its growth story.
10 stocks we like better than Micron Technology When investing geniuses David and Tom Gardner have a stock tip, it can pay to listen. After all, the newsletter they have run for over a decade, Motley Fool Stock Advisor, has tripled the market.*
David and Tom just revealed what they believe are the 10 best stocks for investors to buy right now... and Micron Technology wasn't one of them! That's right -- they think these 10 stocks are even better buys.
Click here to learn about these picks!
*Stock Advisor returns as of November 7, 2016
Timothy Green has no position in any stocks mentioned. The Motley Fool owns shares of and recommends Lululemon Athletica, Under Armour (A Shares), and Under Armour (C Shares). The Motley Fool recommends Restoration Hardware. Try any of our Foolish newsletter services free for 30 days. We Fools may not all hold the same opinions, but we all believe that considering a diverse range of insights makes us better investors. The Motley Fool has a disclosure policy.