3 Stocks to Invest in Healthcare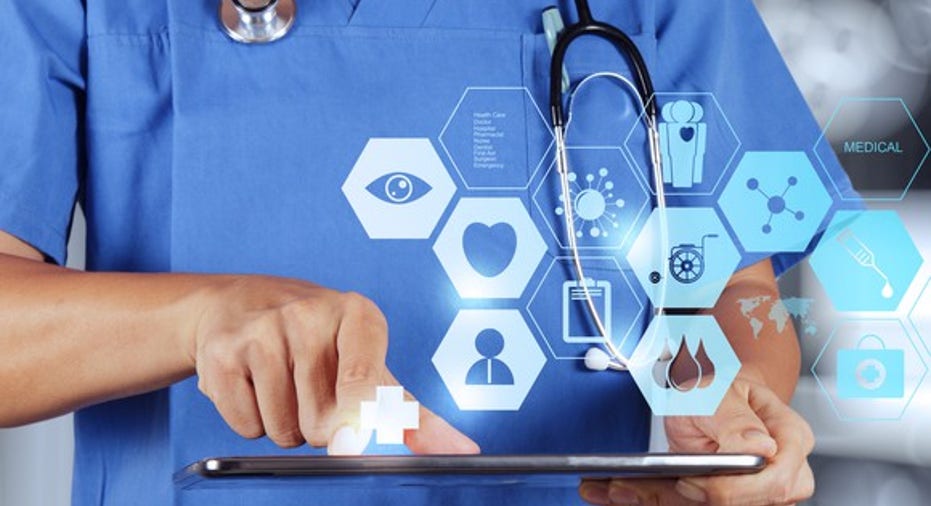 If you're looking to invest in the healthcare sector, there are a lot of choices. And those choices span quite a few industries.
So when we asked three of our top healthcare contributors to name three of the best stocks to invest in healthcare, it's not surprising that their responses listed companies in three different industries: medical device makerMasimo (NASDAQ: MASI), pharmacy services giant CVS Health (NYSE: CVS) and biopharmaceutical company Ligand Pharmaceuticals (NASDAQ: LGND). Here's why these three healthcare stocks stand out as smart picks.
Image source: Getty Images.
A stock that could get your pulse racing
Keith Speights(Masimo):Remote patient monitoring is a key component of the future of healthcare. And Masimo stands out as one of the top companies providing technology to make non-invasive monitoring possible.
Masimo's core business revolves around itsSignal Extraction Technology(SET) pulse oximetry. This technology is used in the company's own suite of products as well as through original equipment manufacturer (OEM) partners' products.
Pulse oximetry measures the level of oxygen saturation in the blood. It's one of a handful of key vital signs that are used in hospitals, physicians' offices, long-term and post-acute care (LTPAC) facilities, and increasingly in homes to monitor patients' health.
Masimo's SET technology overcomes some of the limitations in conventional pulse oximetry used by other companies. It uses multiple algorithms to measure arterial blood oxygen levels and reject false alarms.
While pulse oximetry is the company's bread and butter, Masimo has expanded into other types of non-invasive patient monitoring also. It markets brain function monitoring systems, carbon dioxide and gas monitoring systems, tissue and cerebral oximetry technology, and a remote patient surveillance and monitoring system that allows clinical professionals to monitor up to 200 patients simultaneously.
Masimo stock is soaring as a result of the company's dominance in non-invasive patient monitoring. Its share price has more than doubled over the last 12 months and more than quadrupled during the past five years. While the stock's high valuation could make it susceptible to bumps along the way, Masimo should continue to be a big healthcare winner over the long term.
Integration specialist
Cory Renauer(CVS Health Corp):A growing range of related businesses make this a great healthcare stock for investors seeking a mixture of growth and dependable returns. Its 9,709 store retail footprint jibes well with a pharmacy services segment that processed 1.23 billion claims last year. Many of those prescriptions are filled at its ubiquitous pharmacies, 1,100 of which have walk-in medical clinics.
Every day 10,000 baby boomers turn 65, and CVS Health is meeting their needs with a leading Medicare Part D prescription drug plan and the recently acquired operations of Omnicare. This pharmacy provider dispenses 100 million scripts each year to elderly patients in long-term care settings.CVS is delivering on its promise that integrating related healthcare channels can drive profitability. Last year it generated about $8.1 billion in free cash flowand distributed $6.3 billion to shareholders in the form of buybacks and a rapidly rising dividend.
At recent prices, the stock offers a nice 2.5% yield that you can reasonably expect to grow. Over the past decade, the company has increased its dividend at a blazing fast 27% annual ratebut used up just 23.5% of free cash flow generated last year to make the last four payments.
With its finger on the pulse of America's prescription drug needsand a commitment to increasing shareholder value, you'd be hard-pressed to find a better healthcare stock to buy right now.
Over 150 chances to hit a home run
Sean Williams (Ligand Pharmaceuticals): When I think of the most intriguing companies in the healthcare industry, one of the top stocks that comes to mind is Ligand Pharmaceuticals. However, Ligand isn't your run-of-the-mill drug developer. Instead of spending hundreds of millions or billions of dollars and many years taking drugs from the discovery stage to pharmacy shelves, Ligand is primarily an intellectual property company. It licenses out its technology to other drug developers, then it pockets a royalty on the net sales of a drug if it makes it to market. In 2016, its effective royalty rate neared the 5% mark.
There are two main advantages to investing in a biotech company that primarily licenses out its technology. For starters, Ligand's costs are exceptionally low. For the entirety of 2016, Ligand's operating expenses totaled just $65.1 million, with general and administrative accounting for $26.6 million, and research and development tallying only $21.2 million. This low-cost structure ensures that very little in the way of royalties, licensing revenue, and material sales are needed to stay profitable. It also allows for hefty reinvestment or acquisition opportunities to keep the pipeline full, should it choose.
Secondly, Ligand has a veritable smorgasbord of opportunities to hit a home run. During its analyst day last month, the company highlighted that more than 155 drugs currently in development are using its technologies, with 14 approved products on pharmacy shelves. By 2020, Ligand anticipates that the number of approved products will double to 28. In terms of revenue, Wall Street believes this should boost Ligand's sales from $109 million in 2016 to $287 million by 2020, leading to $7.66 in projected full-year EPS.
With such a broad portfolio hitting a handful of indications, Ligand is a company that growth-seeking investors in the healthcare industry can set and forget for years to come.
10 stocks we like better than CVS HealthWhen investing geniuses David and Tom Gardner have a stock tip, it can pay to listen. After all, the newsletter they have run for over a decade, Motley Fool Stock Advisor, has tripled the market.*
David and Tom just revealed what they believe are the 10 best stocks for investors to buy right now and CVS Health wasn't one of them! That's right -- they think these 10 stocks are even better buys.
Click here to learn about these picks!
*Stock Advisor returns as of February 6, 2017
Cory Renauer,Keith Speights, andSean Williams have no position in any stocks mentioned. The Motley Fool recommends CVS Health and Masimo. The Motley Fool has a disclosure policy.