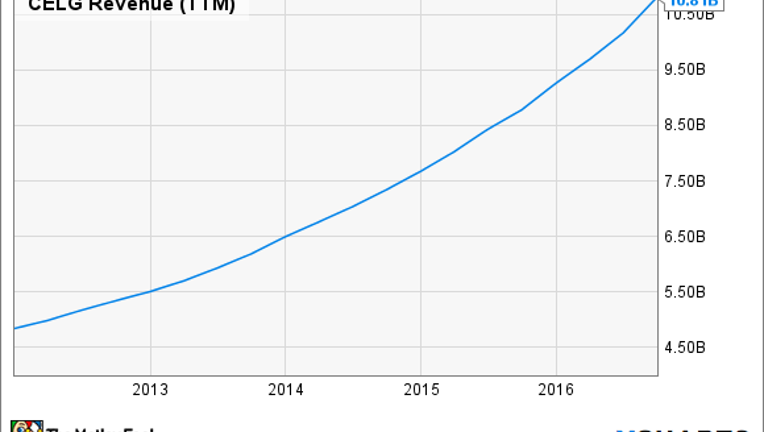 The Dow Jones Industrial Average has 20,000 in its sights, and if the exchange eclipses that lofty level, it could send shares soaring even higher. Is your portfolio positioned for upside? Read on to see why I think Celgene Corp.(NASDAQ: CELG),ExxonMobil Corporation(NYSE: XOM), andFreeport-McMoRan Inc.(NYSE: FCX) are industry-leading top stocks that can profit from the next 5,000 to 10,000 points in the Dow.
IMAGE SOURCE: GETTY IMAGES.
Big-time biotech
Investors with a penchant for growth at a reasonable price might not want look any further than Celgene. It'sone of the world's most successful biotech stocks, and thanks to its top-selling multiple myeloma drug, Revlimid, the company's sales have roughly doubled over the past five years.
CELG Revenue (TTM) data by YCharts
Revlimid isn'tthe only drug driving Celgene's success, either. The company also markets Pomalyst, a market share-leading third-line multiple myeloma therapy, Abraxane, a widely used pancreatic cancer therapy, and Otezla, a fast-growing drug for psoriasis.Overall, Celgene'sproduct lineup is expected to generate $11.2 billion in sales this year, $12.7 billion in sales in 2017, and $21 billion in sales in 2020.
That's an impressive outlook, yet shares are trading at only 17.5 times next year's estimated EPS, and just 9 times management's forecast for EPS of at least $13 in 2020.
Since Celgene's got plenty of growth on tap, a reasonable valuation, anda flurry of drugs in the development, including promising collaborations with bluebird bio and Agios,this is my favorite stock to buy in biotech right now.
IMAGE SOURCE: GETTY IMAGES.
Global goliath
ExxonMobil Corporation(NYSE: XOM)is a staple in value- and income-oriented portfolios, and I think it rates must-have status in any portfolio that includes energy stocks.
In addition to being a global oil and gas exploration and production giant, ExxonMobil operates a big refining and chemicals businesses, and that diversityhelps it make money even in tough times. For example, ExxonMobil racked up $6.2 billion in earnings in the first nine months of 2016, including $2.7 billion in Q3,despite anemic oil and gas spot prices.
ExxonMobil's impressive earnings in a less-than-favorable market suggest that significant earnings growth could be on tap if oil and gas prices trend higher. Fortunately, that appears be happening.West Texas crude prices are on the upswing, and an increase in the number of active rigs in North America indicates that oil and gas producers are feeling optimistic. As of Dec. 16, 637 rigs were operatingin North America, up from roughly 400 back in May, reports Baker Hughes.
WTI Crude Oil Spot Price data by YCharts
Because commodity prices are rebounding, and ExxonMobil's shares yield an attractive 3.3%, this company is the one energy stock that I think every investor ought to include in his or her portfolio.
Copper king
Freeport-McMoRan's $20 billion leap into oil and gas production a few years ago came into the teeth of declining commodity prices. However, the company remains a copper mining dynamo, and a significant restructuring is cutting expenses and increasing its profitability as commodity prices perk up.
As part of its restructuring, management has cut Freeport-McMoRan's net debt to $18 billion, and after selling off non-core assets, net debt could soon fall below $10.7 billion.Savings tied to lower interest expense, coupled with a steady decline in SG&A costs, position Freeport-McMoRan for earnings expansion as copper and energy prices improve.
Over the past three months, high-grade copper prices have increased from less than $2.20 per pound to nearly $2.50 per pound, and during that same period, analysts have ratcheted up their EPS outlook for Freeport-McMoran to $1.33 from $0.98 next year.Given that Freeport-McMoRan was earning over $2.50 per share less than 3-years ago, we may only be in the early innings of its earnings recovery.
Given Donald Trump's commodity-friendly infrastructure spending plans, I think Freeport-McMoRan can regain a lot of the luster it's lost. If I'm right, then there could plenty of room for a rally in its shares. After all, this company's stock was trading in the mid-$30s as recently as 2014, which is more than double where prices are today.
10 stocks we like better than Freeport-McMoRan Copper and Gold When investing geniuses David and Tom Gardner have a stock tip, it can pay to listen. After all, the newsletter they have run for over a decade, Motley Fool Stock Advisor, has tripled the market.*
David and Tom just revealed what they believe are the 10 best stocks for investors to buy right now... and Freeport-McMoRan Copper and Gold wasn't one of them! That's right -- they think these 10 stocks are even better buys.
Click here to learn about these picks!
*Stock Advisor returns as of Nov. 7, 2016
Todd Campbellowns shares of Celgene and Freeport-McMoRan Copper and Gold.Todd owns E.B. Capital Markets, LLC. E.B. Capital's clients may have positions in the companies mentioned.Like this article? Follow him onTwitter where he goes by the handle@ebcapitalto see more articles like this.
The Motley Fool owns shares of and recommends Celgene. The Motley Fool owns shares of ExxonMobil and Freeport-McMoRan Copper and Gold. The Motley Fool recommends Bluebird Bio. Try any of our Foolish newsletter services free for 30 days. We Fools may not all hold the same opinions, but we all believe that considering a diverse range of insights makes us better investors. The Motley Fool has a disclosure policy.