3 Stocks the Smartest Investors Are Buying Now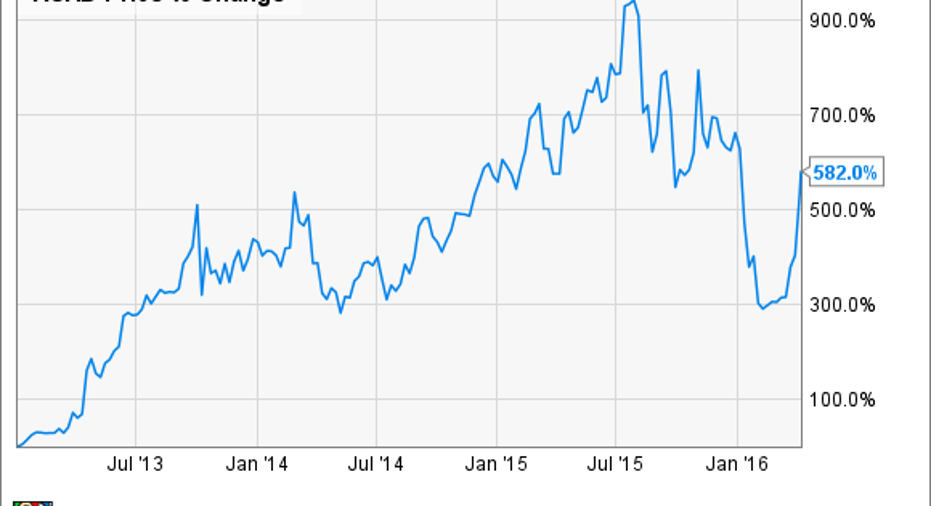 Warren Buffett is arguably the world's greatest investor. Image source: The Motley Fool.
With thousands of publicly traded companies in our stock market, it can seem overwhelming to try and identify very best stocks in which you can put your money to work. But with the caveat that you should never blindly buy a stock without first performing your own due diligence, sometimes the best way to narrow down your list of portfolio candidates is by following the example of the world's best investors. So we asked three Motley Fool contributors to offer a stock the world's smartest investors are buying. Read on to see which businesses they chose and why.
Sean Williams: When I think of smart investors, I'm thinking about the cream of the crop in terms of wealth: Warren Buffett and George Soros. While the two value magnates are known to hold similar stocks from time to time, one similar company that both have recently added is energy infrastructure giant Kinder Morgan .
Image source: Kinder Morgan
Of late, Kinder Morgan's biggest issue has been contending with weakened crude and natural gas prices. As an operator of 69,000 miles of natural gas pipelines and a transporter of 2.1 million barrels of petroleum products each day, investors are clearly worried that lower commodity prices may affect Kinder Morgan's future transport volumes. But Kinder Morgan arranges its contracts for the long term, meaning the vast majority of its transport is accounted for many quarters, or years, in advance. In fact, Kinder Morgan's profitability looks locked in for years to come even if oil and natural gas remain at these depressed levels.
Another likable point about Kinder Morgan is that it can benefit in just about any scenario. If fossil fuel prices are rising and drillers are producing at a breakneck pace, demand for additional infrastructure should increase and long-term contracts should be handed out like water. Conversely, if prices fall, as we've witnessed recently, the consumer and commercial entities can prop up the industry by increasing their demand as petroleum product prices fall. Even at depressed prices, petroleum and natural gas production isn't going to tail off substantially.
The 2040 global energy forecast from the U.S. Energy Information Administration also calls for a 56% increase in global energy consumption from 2013 levels. This would seemingly incentivize drillers to gradually boost production over time to meet domestic and overseas (i.e., exportable) needs. This simply means more opportunity for oil and gas middlemen like Kinder Morgan.
Following the drubbing it's taken recently, smart investors would be wise to give Kinder Morgan a closer inspection.
Steve Symington:I admit I'm partial as a longtime Fool, but when researching stocks, I often look first at whether any given business is recommended by one of The Motley Fool's various premium services. After all, our long-term buy-and-hold approach has proved its worth time and again. When Hulbert Financial Digest released its recent five-year rankings in mid-2013, for example, three of our servicesranked first, second, and third -- ahead ofmore than 200 other investment-advisory services. Let it suffice to say I think the Fool is made up of some of the smartest investors on the planet.
With that in mind, one of my favorite stocks -- and one that shows up regularly in our disclaimers as recommended and owned by The Motley Fool -- isAmazon.com. Most recently, the online retail juggernautpulled back after its fourth-quarter 2015 reportin late January, in which it revealed quarterly revenue grew an incredible 22.2% year over year, to $35.8 billion. Net income also more than doubled to $482 million, or $1.00 per share, up from $214 million, or $0.45 per share in the same year-ago period. Within that, one particularly bright spot emerged as Amazon Web Services (AWS), the company's cloud computing platform, saw revenue climb 69% year over year, to $2.4 billion. That was still less than 7% of Amazon's total sales, but AWS's outsized profitability meant it also managed to generate around 39% of the company's total operating income.
As it stood, Amazon actually met or exceeded each of its own financial targets. But because analysts' consensus estimates on Wall Street called for more than Amazon had promised, the stock plunged as a result. To be fair, Amazon was also coming off four consecutive quarterly earnings beats, so it's no surprise the market wanted more. However, Amazon notoriously focuses on driving the best possible results with along-term perspective,even if it means forsaking near-term profits in the process.So with Amazon stock currently down around 12% so far in 2016, I think this is a perfect opportunity for patient investors to open or add to a position.
: When it comes to healthcare stocks,Felix and Julian Baker are perhaps the smartest investors in the game. While their$11 billion healthcare specialist fund known as the Baker Bros. Advisors has certainly picked a few duds in the recent past, a deeper look at its overall track record reveals a keen ability to identify promising companies during the earliest stages of their development -- often before they have a single product approved.
One such example isAcadia Pharmaceuticals. Acadia's stock has been on a wild ride ever since its experimentalParkinson's diseasepsychosis drug, known as Nuplazid, posted positive late-stage results in 2013:
The interesting part is that the Baker Bros. have stuck with this volatile biotech stock ever since the fourth quarter of 2010, despite a steep mid-year pull back in 2015, according to the latest 13F filings with the SEC. And that decision looks like it's about to payoff in a big way. Specifically, an advisory committee for the FDA voted 12 to 2 in favor of approving Nuplazid last month, causing the company's shares to bounce off their 52-week lows in a hurry.
Even so, the best may be yet to come. After all, some analysts see this drug as having the potential to generate close to $3 billion in peak sales if approved, meaning that Acadia's stock could be in for a long-lived bull run moving forward.
The article 3 Stocks the Smartest Investors Are Buying Now originally appeared on Fool.com.
Steve Symington has no position in any stocks mentioned. The Motley Fool owns shares of and recommends Amazon.com and Kinder Morgan. The Motley Fool has the following options: short June 2016 $12 puts on Kinder Morgan. Try any of our Foolish newsletter services free for 30 days. We Fools may not all hold the same opinions, but we all believe that considering a diverse range of insights makes us better investors. The Motley Fool has a disclosure policy.
Copyright 1995 - 2016 The Motley Fool, LLC. All rights reserved. The Motley Fool has a disclosure policy.