3 Stocks the Market Loves to Hate but That You Should Love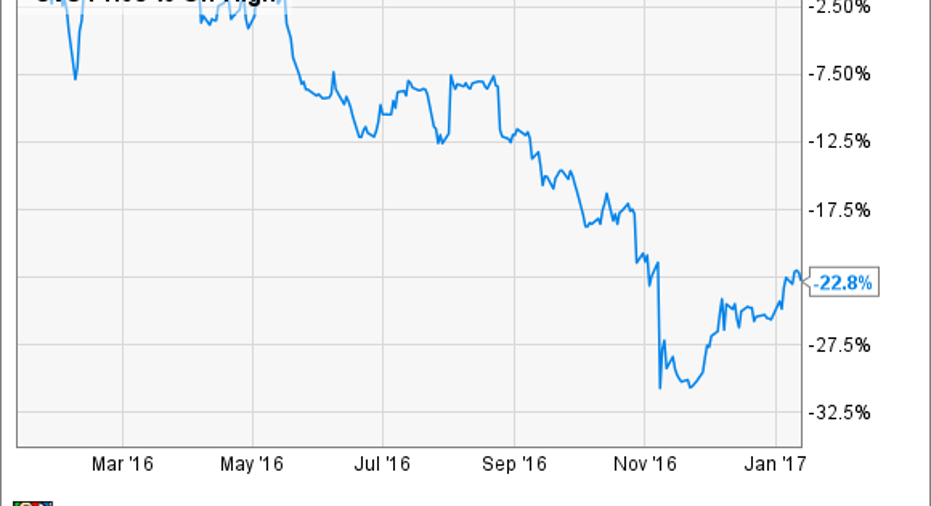 One way for investors to find value in today's market is to look for stocks that are temporarily out of favor. All too often traders sell off a company's stock based on short-term problems that don't impair the company's long-term earnings power.
Knowing that, we asked a team of our top Motley Fool contributors to highlight a stock that they feel is trading at a temporary discount. Read on to see what they selectedNordstrom (NYSE: JWN), CVS Health (NYSE: CVS), andChipotle Mexican Grill (NYSE: CMG).
Image source: Getty Images.
This department store can escape the retail storm
Dan Caplinger (Nordstrom): The retail sector has gotten beaten up badly, and Nordstrom has been one of the hardest-hit stocks in retail recently. The high-end department store has lost more than a quarter of its value in just the past month, as fears of bad results for the just-ended holiday season have spread across the entire retail sector. Analysts at J.P. Morgan were particularly critical of Nordstrom in light of comments that the company made, suggesting that the traffic trends at its full-price department stores were the worst Nordstrom had seen in 45 years.
However, Nordstrom has already taken steps to adjust to changing conditions in retail. Its Nordstrom Rack stores have given the company exposure to lower-end retail, which many see as having better prospects in the long run than its high-end counterpart. Nordstrom has also worked to bolster its e-commerce channels.
Yet perhaps the biggest advantage Nordstrom has is its reputation for customer service. Some shoppers will never let online retail replace the experience of shopping in person, and Nordstrom retains a loyal group of customers who can help the company weather the current storm. Industry conditions will require retailers to stay on their toes, but Nordstrom has the staying power to succeed even if other department store peers fail.
Down, but not out
Brian Feroldi (CVS Health): With 10,000 baby boomers retiring every day, you'd think that a dominant pharmacy retailer like CVS Health would be constantly trading at new highs. However, the market has thrown this company's stock into the discount bin after they learned thatWalgreen signed deals with both Prime Therapeutics, the fourth-largestpharmacy benefits manager, andTricare, the insurance program for the U.S. military. Those agreements are expected to cause CVS Health to lose 40 million retail prescriptions next year. That's quite a hit to the company's volume, so management was recently forced to cut its guidance for both 2016 and 2017.
Understandably, the news took the markets by surprise. In turn, the markets have sold off the company's shares hard.
While the news clearly wasn't great, I think the markets have overreacted. After all, CVS Health still has a number of growth initiatives in place that will combine to push the company's revenue and profit higher in the years ahead. This includes the continued rollout of itsMinuteClinicstores, the expansion of its assisted-living and long-term-carebusiness, and growth in its home infusion and specialty pharmaceutical business. When combined with the company's commitment to cut costs and plow billions into share repurchases, management is still projecting double-digit EPS growth over the long haul. With shares trading at a discount, I think it is a great time to buy into this winning business.
A long-awaited recovery
Steve Symington(Chipotle Mexican Grill): Chipotle Mexican Grill stock still sits more than 40% below its 2015 highs, primarily after multiple food-borne-illness scares decimated the fast-casual restaurant chain's comparable-store sales over the past year. The company promptly implemented an enhanced food safety program, and temporarily closed a much larger number of locations than were required to ensure the issues were handled. But the irony of Chipotle's situation was palpable, as consumers inevitably questioned the authenticity of its "Food With Integrity" mantra.
Earlier this week, however, Chipotle appeared to enjoy a long-awaited inflection point. More specifically, Chipotle stock popped after the company pre-announced its fourth-quarter 2016 results, confirming that while same-store sales fell 4.8% during the quarter, they also staged an impressive recovery late in the quarter, with same-store sales climbing 14.7% year over year in December. To be fair, that's an easy comp, considering same-store sales declined 30% year over year in December 2015. But if the coming quarters confirm this is indeed the beginning of seeing Chipotle find its way back to consumers' good graces, the stock should have plenty more room to rise from here. All things considered, I think that makes Chipotle a perfect candidate for a stock the market loves to hate but that you should love.
10 stocks we like better than Chipotle Mexican Grill When investing geniuses David and Tom Gardner have a stock tip, it can pay to listen. After all, the newsletter they have run for over a decade, Motley Fool Stock Advisor, has tripled the market.*
David and Tom just revealed what they believe are the 10 best stocks for investors to buy right now... and Chipotle Mexican Grill wasn't one of them! That's right -- they think these 10 stocks are even better buys.
Click here to learn about these picks!
*Stock Advisor returns as of January 4, 2017
Brian Feroldi owns shares of Chipotle Mexican Grill. Dan Caplinger has no position in any stocks mentioned. Steve Symington has no position in any stocks mentioned. The Motley Fool owns shares of and recommends Chipotle Mexican Grill. The Motley Fool recommends CVS Health and Nordstrom. The Motley Fool has a disclosure policy.