3 Stocks that Turned $7,000 into $56,000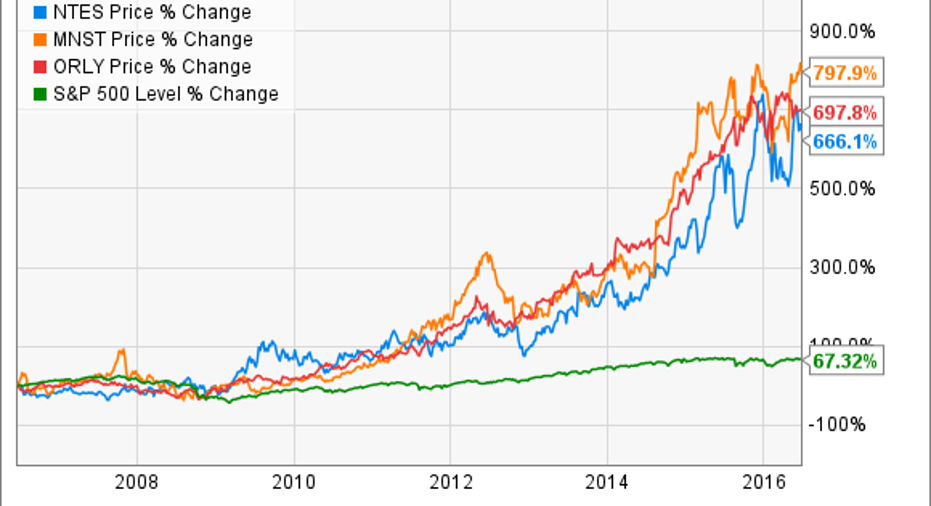 The stock market frequently produces dramatic returns for investors. In fact, it's not unusual to see a few stocks rise by more than 10% in any given day. The occasional 40% swing over a month isn't uncommon either.
Yet the real eye-popping returns take time to develop. Below, we'll look at three stocks, NetEase , Monster Beverage , and O'Reilly , that have grown by 700% in the past decade, for about 10 times the broader market's result.
NetEase -- a bet on Chinese internet usage
NetEase is an online video game company that's delivered a string of popular multi-player games to the Chinese market over the last decade. These include self-developed hits like the Westward Journey franchise, but also licensed games like World of Warcraft and Diablo from Activision Blizzard .
NetEase has capitalized particularly well on the rush into mobile gaming. Its apps dominate the sales charts on smartphones and mobile now accounts for over 60% of its game revenue -- up from less than 10% two years ago. Profitability is falling as a result of this shift (gross profit margin fell to 67% from 78%) but the company really has made up for that pinch through surging volume. Revenue has tripled over the past four years and profit has quadrupled since 2008.
Speedy Ninja screenshot. Image source: NetEase.
An investment in this stock comes with its own set of risks -- many of which you aren't likely to see in a large U.S.-based gaming company. For example, 44% of shares are controlled by the CEO, who may or may not always act in the best interest of other shareholders. Investors might instead choose to buy Activision for a share in its part of that growing business. In any case, there's no denying that NetEase has been one of the best investments to gain exposure to surging internet usage in China.
Monster Beverage -- energy drinks aren't just a fad
A decade ago, alternative beverage specialist Hansen Natural counted Monster energy drinks as just a small part of a portfolio that included teas, sodas, lemonades, and sports drinks. But the highly caffeinated brand grew to dominate its finances to such an extent that the company renamed itself Monster Beverage in 2012. Today Monster is the best-positioned drink marketer in the most attractive segment of the industry. While carbonated soda sales have been shrinking for years, the "alternative" beverage niche is growing by double-digits and passed $40 billion in 2015.
Monster's incredible stock price run can be attributed to an epic expansion of profits. Net income is up seven fold over the last decade, almost exactly mirroring the rally in shares. Recently, a lucrative partnership with Coca-Cola has helped open new global markets to the Monster brand. The agreement is also helping boost results in the key U.S. market. "The Coca-Cola bottlers have expanded the number of outlets in which Monster Energy drinks are available," CEO Rodney Sacks told investors in late April, "and we are seeing improvements in our levels of distribution."
O'Reilly Automotive -- do-it-yourself car service
O'Reilly, the largest retailer of aftermarket automotive parts, has blanketed the country over the last decade. It counted just 1,800 stores in 26 states in 2006, but today owns nearly 5,000 shops across 44 states. The most obvious fruit of that expansion has been dramatically higher sales. Revenue in fiscal 2015 was $8 billion, compared to $2.3 billion in 2006.
Image source: Getty Images.
That's only part of the story though. Just as important is the fact that profitability is surging. Higher customer traffic has helped O'Reilly's operating margin soar from a low of 8% in 2009 to over 19% today. The retailer is now just as profitable as rival AutoZone , which has also been one of the market's best-performing stocks. At its last quarterly check in O'Reilly's comparable-store sales spiked by 6%, besting AutoZone's 2% uptick. That relative outperformance helps explain why O'Reilly shares are beating its smaller rival over the last year.
The article 3 Stocks that Turned $7,000 into $56,000 originally appeared on Fool.com.
Demitrios Kalogeropoulos owns shares of Activision Blizzard. The Motley Fool owns shares of and recommends Activision Blizzard and Monster Beverage. The Motley Fool owns shares of O'Reilly Automotive. The Motley Fool recommends Coca-Cola and NetEase. Try any of our Foolish newsletter services free for 30 days. We Fools may not all hold the same opinions, but we all believe that considering a diverse range of insights makes us better investors. The Motley Fool has a disclosure policy.
Copyright 1995 - 2016 The Motley Fool, LLC. All rights reserved. The Motley Fool has a disclosure policy.