3 Stocks That Turned $3,000 Into More Than $15,000 in Just 1 Year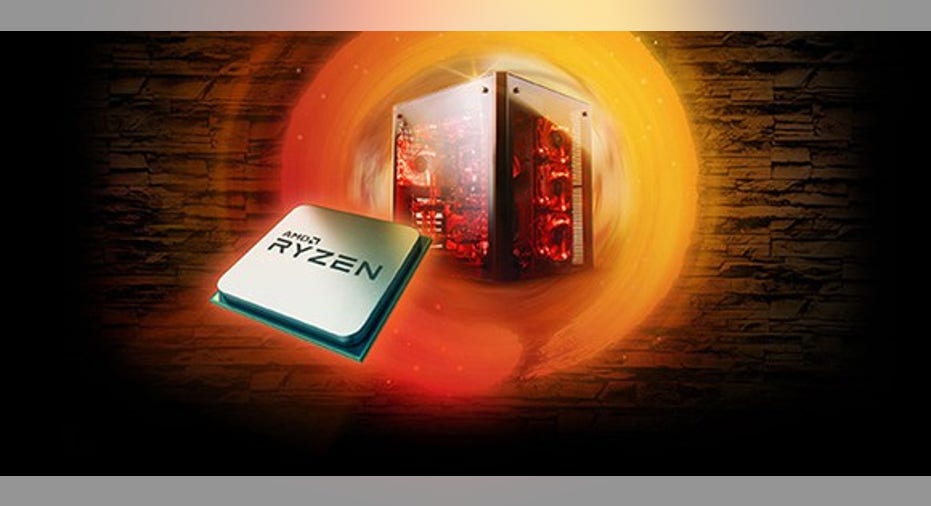 Warren Buffet famously said that the best time to sell a stock is never. While not even the Oracle of Omaha strictly adheres to that rule, investors still should have an appropriately long time horizon for the companies they put their money into. At least three to five years is a minimum; a decade is better, and decades is best.
Still, when companies make huge moves in a short period of time, it's worthwhile to see what the catalysts were that caused them to explode in value. Advanced Micro Devices (NASDAQ: AMD), Chemours (NYSE: CC), and KEMET (NYSE: KEM) are three stocks that soared in value over the past year so that had you invested $3,000 in any one of them, you'd be looking at a $15,000 gain -- or better! Let's see why they made the moves they did.
Image source: Advanced Micro Devices.
Advanced Micro Devices
It was a long time coming, but Advanced Micro Devices posted its first adjusted profits in 2016. The last time the chipmaker was in the black, at least on a non-GAAP basis, was 2011, and after wandering in the wilderness for so long, it was a welcome homecoming.
The basis for the gains was its ability to carve out a niche supplying chips for the gaming industry as the PC business declined. Early on in 2016, it signed a deal with Tianjin Haiguang Advanced Technology Investment to license server chip designs for new processors for gaming consoles from Nintendo, Sony, and Microsoft, and it has recognized $88 million from the deal so far.
A lot of the sentiment in favor of AMD has depended on the ability ofits Polaris, Vega, and Ryzen (aka Zen) architecturesto gain share in the GPU and CPU markets, as well as sign more IP licensing deals with customers. By doing so, it has once again emergedas a competitive second source to Intel (NASDAQ: INTC), which it's planning to challenge with its new Ryzen processors and Naples server chips.
However, the company is also reportedly willing to partner with its rival in a bid to take on NVIDIA. It will reportedly feature Intel's CPUs alongside its own GPUs in what can only be described as a case of "the enemy ofmy enemy is my friend."
There's still a lot of ground for Advanced Micro Devices to make up, but that seems to bode well for further gains in its stock, which has risen from well under $3 a share in March 2016 to over $14 a stub today. The 436% gain would have turned $3,000 into more than $16,000 in just one year.
Image source: Chemours.
Chemours
Spun off from DuPont (NYSE: DD) in 2015, performance chemicals specialist Chemours was seen as set up for failure from the beginning, with lots of debt and toxic assets its former parent wanted to shield itself from. The titanium dioxide market that had bolstered the balance sheets of DuPont, Dow Chemical, Kronos Worldwide, and Huntsman, the world's four largest producers of the white pigment, also imploded.
However, though it initially lost 85% of its value in its first seven months as a separate company, Chemours has gone on to be a star performer. It did so by cutting expenses and its workforce, and by shedding or shutting non-core assets. In 2016, Chemours reduced costs by $200 million, improved operating cash flows by $412 million, and retired $385 million in long-term debt. While the TiO2 business it inherited from DuPont is still weak, the performance chemicals leader was still able to raise prices last year, showing it still possesses substantial power in the industry and allowing it to more than double its adjusted earnings before interest, taxes, depreciation, and amortization margins to $157 million.
Shares of Chemours have gone from less than $7 each to over $33, a better than 400% gain that would have transformed $3,000 into more than $15,000. It still has some substantial risks ascribed to it, but it's a much better business than it was when it first hit the public markets.
Image source: KEMET.
KEMET
The world's largest manufacturer of solid tantalum capacitors and one of the biggest makers of multilayer ceramic capacitors used across automotive, communications, and military andaerospace industries, KEMET has been on the rise since the November elections, perhaps on the promise by President Trumpof increased infrastructure spending that would dwarf the stimulus spending package of his predecessor.
However, last month, KEMET's stock surged nearly 23% in one day after announcing it was acquiring NEC TOKIN, a Japanese manufacturer of tantalum capacitors, in which it had already owned a substantial stake. While the purchase brings new capabilities under KEMET's purview and enhances existing lines, there seems to be little reason for the outsized gains the deal generated.
When KEMET originally took a stake in TOKIN, regulators had no problem signing off on the deal because there were no competitive concerns raised, and it would only increase KEMET's market share incrementally. Of course, that was a few years ago, and now KEMET will own the entire company, but the playing field does appear to have been significantly altered to warrant the outsized gain.
Even so, KEMET's stock is up 440% over the past year, most of it since November, when it went from trading around $3.60 per share to today, where it stands north of $11 a share. That would mean it would have turned $3,000 into more than $16,000. Considering it had been trading sideways for much of 2016, those gains have largely occurred in about just four months' time, making its compounded growth rate really much larger.
10 stocks we like better than Advanced Micro DevicesWhen investing geniuses David and Tom Gardner have a stock tip, it can pay to listen. After all, the newsletter they have run for over a decade, Motley Fool Stock Advisor, has tripled the market.*
David and Tom just revealed what they believe are the 10 best stocks for investors to buy right now...and Advanced Micro Devices wasn't one of them! That's right -- they think these 10 stocks are even better buys.
Click here to learn about these picks!
*Stock Advisor returns as of February 6, 2017.
Teresa Kersten is an employee of LinkedIn and is a member of The Motley Fool's board of directors. LinkedIn is owned by Microsoft. Rich Duprey has no position in any stocks mentioned. The Motley Fool owns shares of and recommends Nvidia. The Motley Fool recommends Intel. The Motley Fool has a disclosure policy.