3 Stocks That Turned $3,000 Into $30,000 or More!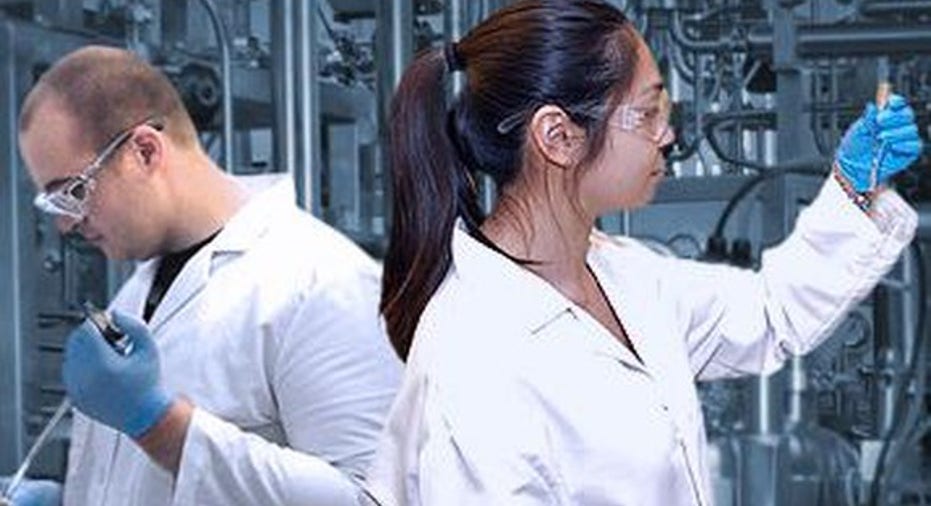 Stocks come and go, and big-time returns in the past don't guarantee big-time returns in the future. But jaw-dropping returns over the past 10 years for these three stocks make them worth knowing about. Can their investor-friendly run-up in shares continue? Let's take a closer look.
Image source: Regeneron Pharmaceuticals.
1. Setting sights on a big prize
Regeneron Pharmaceuticals (NASDAQ: REGN) has returned an eye-popping 2,389% over the past 10 years: $3,000 invested in August 2006 is now worth $74,663.
The company's skyrocketing share price is due to the launch of Eylea, a fast-growing therapy that improves eyesight in patients diagnosed with the wet form of age-related macular degeneration, or AMD, and diabetic macular edema, or DME. Because 76 million baby boomers are getting older by the dayand diabetes is increasingly common, demand for Eylea has been soaring, especially since it can be injected in the eye less frequently than competing treatments.
Last quarter, Eylea's global sales were $1.32 billion, which was up 33% from last year and about 100% from the second quarter of 2014.
Eylea enthusiasm is undeniably a major reason investors have embraced Regeneron's stock, but new drugs coming out of the company's research and development pipeline have helped propel shares higher, too.
Last summer, the FDA approved the cholesterol-busting drug Praluent, which was co-developed by Sanofi, and while sales have yet to take off, this drug exited the second quarter selling at an annualized pace of about $100 million. Regeneron may also soon secure FDA approval of two more drugs: the rheumatoid arthritis drug sarilumab and the eczema drug dupilumab. The FDA's decision date for sarilumab is Oct. 30, and dupilumab's application for approval was filed last quarter with regulators.
Regeneron'sshares have retreated this year because of Praluent's slower-than-hoped sales ramp, but that may not be a bad thing for new investors. After all, with the potential for new drug approvals on the horizon, this could be the perfect time to add Regeneron's shares to portfolios.
2. Straight to the top
Shares in Align Technology Inc. (NASDAQ: ALGN), the creator of Invisalign, have soared 1,391% in the past ten years; that run-up would have turned $3,000 into $44,731 today.
Invisalign is used to straighten a patient's teeth; while that market is dominated by metal braces, Invisalign can be less costly and less burdensome on patients, so those advantages are translating into big-time sales growth.
In the second quarter, Align Technology's revenue was $269 million, up 29% from a year ago, and through the first six months of 2016, sales were $508 million, up 25% from the same period in 2015.
ALGN Revenue (TTM) data by YCharts.
Align Technology estimates its current addressable market at 5 million patients and its current market share at just 7%. Invisalign's use in complex cases could expand its addressable market to 10 million patients, and millions of additional patients could be served by expanding Invisalign's use into general-practice dentistry. Future sales growth could also benefit from rising demand overseas, where Invisalign demand is growing most quickly.
Image source: Align Technology.
Since Invisalign has barely penetrated the global braces market and ongoing sales growth should provide profit-friendly margin expansion, Align Technology's rally doesn't appear to be running on fumes -- at least not yet. If I'm right, then adding this stock to portfolios could still be profit-friendly, too.
3. Heart-thumping performance
Open-heart surgery can be dangerous, especially for elderly patients, so it's no surprise thatEdwards Lifesciences' (NYSE: EW) alternative to open-heart surgery has taken off, resulting in a888% return that's turned $3,000 into $29,700 over the past decade.
Historically, when a patient's heart valve fails, surgeons cut into the chest to remove and replace it. However, the invasiveness and complexity of these procedures creates risks for patients, so surgeons are increasingly opting for transcatheter arterial valve replacement, or TAVR, instead. TAVR allows surgeons to insert a new valve within the faulty valvevia a catheter that's inserted through a small incision into an artery, usually in the groin.
Edwards Lifesciences is a leader in TAVR products and its sales have risen substantially as TAVR's use has increased. Last quarter,Edwards Lifesciences' sales grew 23% to $759 million, largely on the back of increasing TAVR sales. Global TAVR sales increased 49% year over year in the quarter, including a 72% increase in the United States. Overall, TAVR accounted for $419 million of Edwards Lifesciences' Q2 sales.
Proportion of patients with aortic stenosis by risk of open-heart surgery. Image source: Edwards Lifesciences.
Obviously, rapid TAVR sales growth hasalready rewarded investors with outsized returns, but there could be even more upside coming.
Until recently, Edwards Lifesciences' TAVR products had only been FDA-approved for use in high-risk heart surgery patients, but that changed when the FDA approved their use in intermediate risk patients in August. That approval significantly expands Edwards Lifesciences' addressable patient population.
Even better, studies in low-risk patients are already underway; if TAVR proves a good option for them too, it could open up the entire heart-valve replacement market to Edwards Lifesciences. In that scenario, Edwards Lifesciences could be a top player in what it views to be a $5 billion market over the next five years.
Tying it together
No one knows where these (or any) stocks may head in the future. But each of these companies has proven that it knows how to compete, win market share, and deliver shareholder-friendly results. Additionally, since each of these companies has catalysts coming that could further boost sales, all three could be worth adding toportfolios -- even after delivering massive returns in the past.
A secret billion-dollar stock opportunity The world's biggest tech company forgot to show you something, but a few Wall Street analysts and the Fool didn't miss a beat: There's a small company that's powering their brand-new gadgets and the coming revolution in technology. And we think its stock price has nearly unlimited room to run for early in-the-know investors! To be one of them, just click here.
Todd Campbellhas no position in any stocks mentioned.Todd owns E.B. Capital Markets, LLC. E.B. Capital's clients may have positions in the companies mentioned.Like this article? Follow him onTwitter where he goes by the handle@ebcapitalto see more articles like this.
The Motley Fool owns shares of Regeneron Pharmaceuticals. The Motley Fool recommends Align Technology. Try any of our Foolish newsletter services free for 30 days. We Fools may not all hold the same opinions, but we all believe that considering a diverse range of insights makes us better investors. The Motley Fool has a disclosure policy.