3 Stocks That More Than Doubled in 2016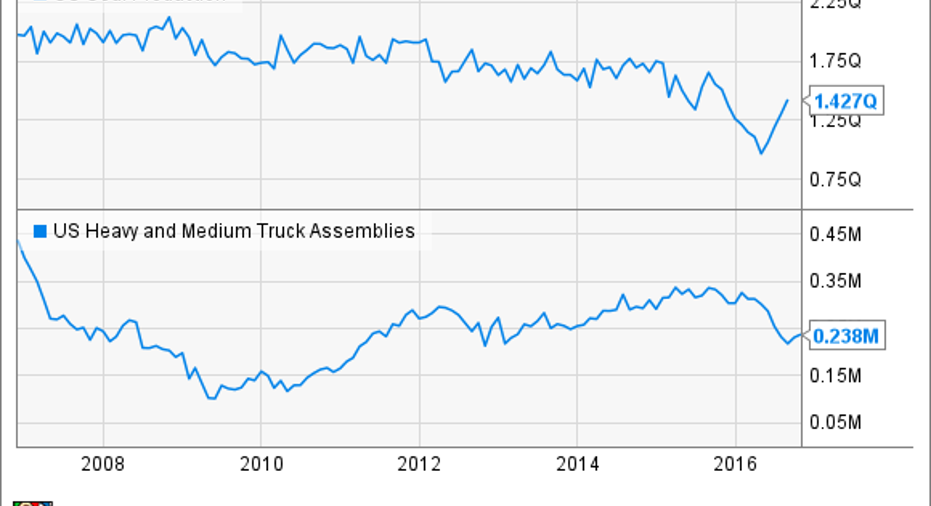 It's always interesting to look at stocks that have risen sharply, not least because analyzing the reasons might help in identifying future portfolio candidates. Let's look at three very different stocks that doubled in 2016 and discuss how best to find similar investments in 2017.
Why they doubled
It takes a lot of upside surprise to make a stock double, and all three of these stocks experienced significant and largely unexpected events in 2016. The stocks come with three different investment themes:
The turnaround story:Navistar International Corporation (NYSE: NAV)
The deep-value cyclical play:Joy Global Inc. (NYSE: JOY)
The fast-growing highflier:NVIDIA Corporation (NASDAQ: NVDA)
The interesting thing about these three is that two of them, Navistar and Joy Global, have seen their end-market conditions deteriorate as the year has progressed. In other words, a stock doesn't need to be in a high-growth industry to skyrocket.
On the contrary, Navistar and Joy Global both faced significant challenges in 2016. For Navistar, U.S. truck sales and production have been weak in 2016, and for Joy Global, despite a recent bounce, coal production remains close to historically low levels.
U.S. coal production data source:YCharts.
Navistar's turnaround
Navistar has endured a turbulent few years. Following the failure of its exhaust gas recirculation engine technology -- an attempt to differentiate itself from key competitors Paccar, Volvo, and Daimlerand to comply with 2010 Environmental Protection Agency standards -- the truck maker lost market share, faced shareholder lawsuits, and grappled with existential questions concerning its future.
One way to check liquidity trends in a company is to monitor the movement in its current ratio, defined as current assets divided by current liabilities. To that end, Navistar has not been trending in the right direction in recent years:
NAV current ratio (quarterly) data source:YCharts.
So what went right in 2016?
Well, despite a worsening of Navistar's end markets, management has:
Steadied the ship with regard to market share. In fact, market share of new orders is up for the past three quarters.
Achieved significant structural cost reductions -- $145 million in the first three quarters, against revenue of around $6 billion.
Announced an alliance with Volkswagen that involves an equity investment and "strategic technology and supply collaboration and a procurement joint venture," which is expected to result in $200 million in annual run-rate synergies for Navistar by the fifth year.
The result is that investors are feeling a lot more confident about Navistar's future, and that's enough to take the stock higher. The investing lesson may well be not to give up on companies with good market share -- Navistar is believed to still have more than 10% of the Class 8 (heavy-duty) market in the U.S. -- and look for well-established companies with possible turnaround prospects.
Joy Global's global joy
That conclusion equally applies to Joy Global. Trucking and, in Joy Global's case, mining are industries experiencing cyclical weakness, but there's no reason to believe that they're structurally challenged -- aside from coal. Transportation companies still need to use trucks, and demand for mining commodities will still exist.
INVESTING IN JOY GLOBAL AND NAVISTAR WOULD HAVE MADE YOU A LOT OF MONEY THIS YEAR. IMAGE SOURCE: GETTY IMAGES.
That said, Joy Global's end markets continue to be very weak. A look at its recent third quarter sees original equipment orders declining 46% year over year, while service bookings -- an area that management planned to develop to counter cyclical weakness in equipment revenue -- declined 12%.
No matter: The recent improvement in oil prices and stabilization in coal encouraged investors to believe the end of the bottom is in sight for commodity-based capital spending. Joy Global and Caterpillar Inc. (NYSE: CAT) both enjoyed strong performance, even before Komatsu decided to step in and take over Joy Global.
Komatsu's decision is, again, a demonstration of the attractiveness of a strategic asset to foreign investors. In this case, it's about adding Komatsu's surface-mining machinery to Joy Global's underground machinery, partly to compete with Caterpillar.
NVIDIA's growth story
This stock illustrates a more easily recognizable growth story. The company is best known for its gaming graphics processing units, which still contribute more than 60% of its total revenue.
DATA SOURCE: NVIDIA CORPORATION PRESENTATIONS. CHART BY AUTHOR. DATA IN MILLIONS OF U.S. DOLLARS.
However, a quick look at growth rate by market shows that auto- and data center-based revenue are growing more than gaming. NVIDIA is set to be a leading player in the fast-growing auto-infotainment market, while graphics acceleration in the data center is also a key growth area for NVIDIA.
DATA SOURCE: NVIDIA CORPORATION PRESENTATIONS. CHART BY AUTHOR
NVIDIA is achieving continued success in gaming -- not least with its win on the Nintendo Switch -- and managing to expand its total addressable market in autos and data centers, while achieving estimate-busting earnings quarter after quarter.
Lessons learned
All told,Joy Global and Navistardemonstrate the benefit of buying quality companies experiencing cyclical weakness on attractive valuations. Meanwhile, NVIDIA represents a classic case of an ongoing growth story continuing to expand its earnings potential. Obviously, not all of these situations will hit home, but if you are looking for some speculative positions in your portfolio, then these are the sort of situations to look outfor.
10 stocks we like better than Joy Global When investing geniuses David and Tom Gardner have a stock tip, it can pay to listen. After all, the newsletter they have run for over a decade, Motley Fool Stock Advisor, has tripled the market.*
David and Tom just revealed what they believe are the 10 best stocks for investors to buy right now... and Joy Global wasn't one of them! That's right -- they think these 10 stocks are even better buys.
Click here to learn about these picks!
*Stock Advisor returns as of November 7, 2016
Lee Samaha has no position in any stocks mentioned. The Motley Fool owns shares of and recommends Cummins, Nvidia, and Paccar. Try any of our Foolish newsletter services free for 30 days. We Fools may not all hold the same opinions, but we all believe that considering a diverse range of insights makes us better investors. The Motley Fool has a disclosure policy.