3 Stocks That Can Double Again in 2017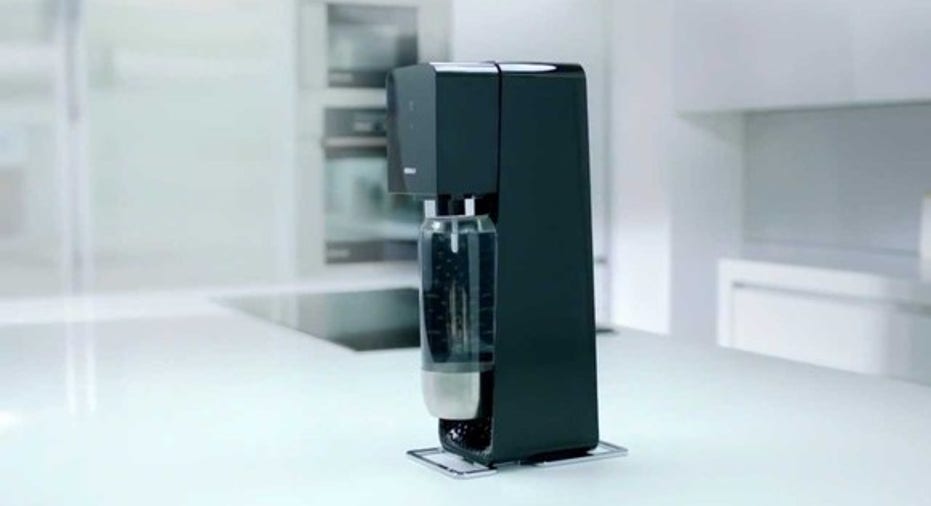 Image source: SodaStream.
There were hundreds of stocks that more than doubled last year, and most of them won't come close to repeating that feat. The valuations may be too high, or the big gains may have been the work of a sector surging into market fancy.
There are, however, a few company that have catalysts in play that could carry over into the new year. Let's look at some of the stocks that doubled in 2016 with a chance to do so again in 2017.
NVIDIA -- up 224% in 2016
The S&P 500's biggest gainer in 2016 is NVIDIA (NASDAQ: NVDA), a company that cut its teeth as a maker of graphic cards for PCs but these days is a dynamic player in everything from virtual reality to artificial intelligence. It's also a play on self-driving cars.
Wrapping itself around hot industries is glitzy, but NVIDIA's fundamentals have also earned the market's respect. NVIDIA has landed ahead of Wall Street pro expectations every quarter over the past year, including a hearty 46% beat in its latest quarter. With NVIDIA entrenched in markets that will only grow in relevance in the coming year, there's no reason for the stock to take a breather in 2017.
SodaStream -- up 142% in 2016
SodaStream (NASDAQ: SODA), the company behind the namesake appliance that turns flat water into sparkling beverages, has come back from the dead. Weakening soda consumption trends and a faddish move away from the platform seemed to doom SodaStream, but the Israeli-based company has generated an impressive second act by repositioning its machine as a maker of sparkling water.
SodaStream is growing again, with revenue increasing 13% in its latest quarter. Earnings more than tripled. SodaStream's biggest market remains Europe, but the recovery is happening worldwide. Revenue grew at least 9% in each of its four geographical regions in its latest quarter.
You may have forgotten about the SodaStream machine you bought a few years ago, but there are plenty of new people to take your place. SodaStream sold 788,000 starter systems during the third quarter.
The stock has more than doubled over the past year, but it's now trading at a reasonable 21 times this new year's projected earnings. With SodaStream beating Wall Street's profit targets by at least 40% in each of the past four quarters, it's a safe bet that the reborn market darling will have started 2017 at a much lower multiple after the quarters have been counted.
Weibo -- up 108%
Social media in China may seem like an odd growth market given the restrictive ways of the world's most populous nation, but Weibo (NASDAQ: WB) is making it happen. The mobile revolution has given internet companies -- the right ones -- promising returns for investors.
Weibo is roaring back. Year-over-year revenue growth had declined to 24% during the first quarter of last year, but after back-to-back periods of accelerating growth we're seeing a 42% spike in its latest quarter.
Weibo is fetching a steeper 36 times this year's profit target, but it's also growing faster than SodaStream. With analysts seeing top-line growth accelerate in 2017, Weibo should continue to surprise if China's economy holds up this year.
10 stocks we like better than NVIDIA When investing geniuses David and Tom Gardner have a stock tip, it can pay to listen. After all, the newsletter they have run for over a decade, Motley Fool Stock Advisor, has tripled the market.*
David and Tom just revealed what they believe are the 10 best stocks for investors to buy right now... and Nvidia wasn't one of them! That's right -- they think these 10 stocks are even better buys.
Click here to learn about these picks!
*Stock Advisor returns as of January 4, 2017
Rick Munarriz has no position in any stocks mentioned. The Motley Fool owns shares of and recommends NVIDIA. The Motley Fool owns shares of SodaStream. The Motley Fool recommends Weibo. The Motley Fool has a disclosure policy.