3 Stocks I Would Avoid at All Costs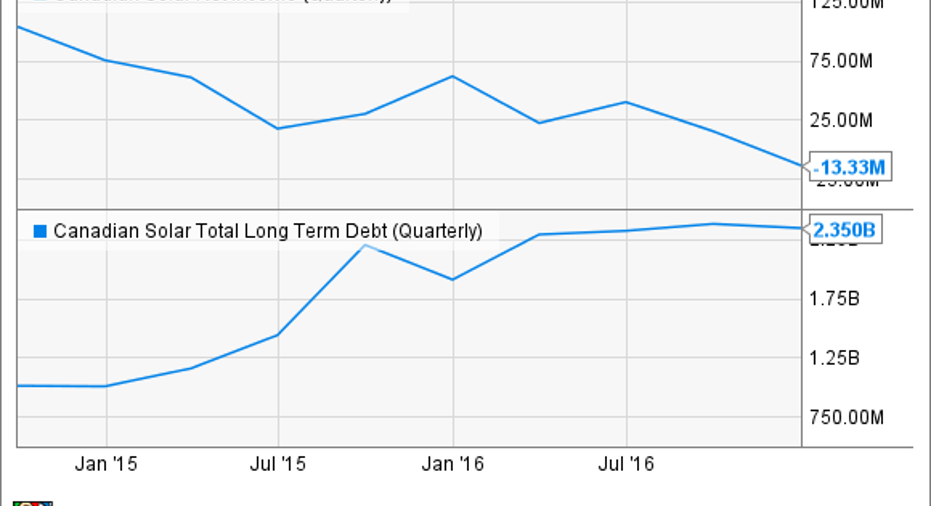 It's March Madness time for college basketball, and stocks are similar to basketball teams in a way: we all love a good rebound, Cinderella, or underdog story. Unfortunately, not every stock trading at a discount is a buy and not every stock will overcome adversity, and it could cost investors. Here are three stocks that investors should consider avoiding at all costs: Fossil Group, Inc. (NASDAQ: FOSL), Sears Holdings (NASDAQ: SHLD), and Canadian Solar (NASDAQ: CSIQ).
A dying retailer
Tim Green (Sears Holdings): It's been clear for quite some time that Sears Holdings, which operates Sears and Kmart stores, is on its way out. The company has lost more than $10 billion since 2011, surviving by selling and spinning off its best assets. What's left are two struggling retail brands that are well past their prime.
Image source: Getty Images.
Sears CEO Edward Lampert still believes that the company can be turned around. In Sears' fourth-quarter earnings press release, Lampert said, "...we are taking decisive actions to become a more agile and competitive retailer with a clear path toward profitability." That contrasts with this statement made in the 10-K filed with the SEC less than two weeks later: "Our historical operating results indicate substantial doubt exists related to the Company's ability to continue as a going concern."
A successful turnaround at this point would be a miracle. The odds round down to zero. It can be tempting to bet on the underdog, especially considering that Sears still sells over $20 billion of products annually and is valued at less than $1 billion. But retail turnarounds are next to impossible when the hole has gotten this deep. There's simply no reason to invest in Sears Holdings, and investors should fight any urge to do so.
A lost watchmaker
Daniel Miller (Fossil Group, Inc.):One major challenge facing consumer product companies is finding a niche for your brand and products. For decades sales of Lincoln luxury vehicles plunged because the market understood it was just a rebadged Ford posing as a luxury vehicle -- it didn't find the right market position. To me, Fossil Group, Inc.is in the same boat and that's why it's a stock to avoid at all costs -- at least until it secures a niche in the market.
The problem with Fossil Group is that there are two distinct and lucrative markets within watches. On one hand, you have younger demographics that are more willing to purchase smartwatches and fitness trackers; Fossil faces tough competition from Apple or Fitbit in that area. On the flip side, the older and wealthier demographic willing to pay more for a traditional watch are still buying Rolex and other premium brands. That puts Fossil Group in a grey area that hasn't been conducive to its top-line sales growth story.
Another red flag for potential Fossil Group investors came a couple of weeks ago when Moody's Investors Service downgraded its secured credit facilities due to a weakness in its cornerstone watch business. For 2017 management expects net sales to check in flat year-over-year, or as weak as a 6.5% decline. Management also expects earnings per share to check in between a loss of $0.50 per share to a profit of $0.20 per share. That's a pretty wide range which highlights the uncertainty facing Fossil's business, and is a major reason to avoid the stock for the time being.
Not all solar stocks have a bright future
Travis Hoium (Canadian Solar): I think the solar industry will be one of the most transformative industries of our generation. If only a small fraction of the solar energy that hits the earth can be captured we can replace coal, natural gas, oil, and every other source of energy around the world. But that doesn't mean investing in solar energy is easy or that every company will be a winner.
One example today is Canadian Solar, one of the biggest solar manufacturers in the world. But it makes a commodity solar panel that's oversupplied in the market today, putting pressure on revenue, margins, and income. Over the past three years, the company has seen net income fall and debt to build manufacturing capacity and solar plants rise. The combination isn't a good one for investors.
CSIQ Net Income (Quarterly) data by YCharts.
The history of large commodity solar manufacturers isn't good either. Suntech Power and Q-Cells both went bankrupt and the previous record holder Yingli Gree Energy is in dire straights. Scale isn't a differentiator in today's solar industry and it's traditionally been a liability when not combined with technological differentiation. And without that differentiation, this is a stock I would avoid at all costs.
10 stocks we like better than Canadian SolarWhen investing geniuses David and Tom Gardner have a stock tip, it can pay to listen. After all, the newsletter they have run for over a decade, Motley Fool Stock Advisor, has tripled the market.*
David and Tom just revealed what they believe are the 10 best stocks for investors to buy right now... and Canadian Solar wasn't one of them! That's right -- they think these 10 stocks are even better buys.
Click here to learn about these picks!
*Stock Advisor returns as of February 6, 2017
Daniel Miller has no position in any stocks mentioned. Timothy Green has no position in any stocks mentioned. Travis Hoium has no position in any stocks mentioned. The Motley Fool recommends Fossil Group, Inc. The Motley Fool has a disclosure policy.