3 States That May Legalize Medical Marijuana Next (1 Is a Big Surprise)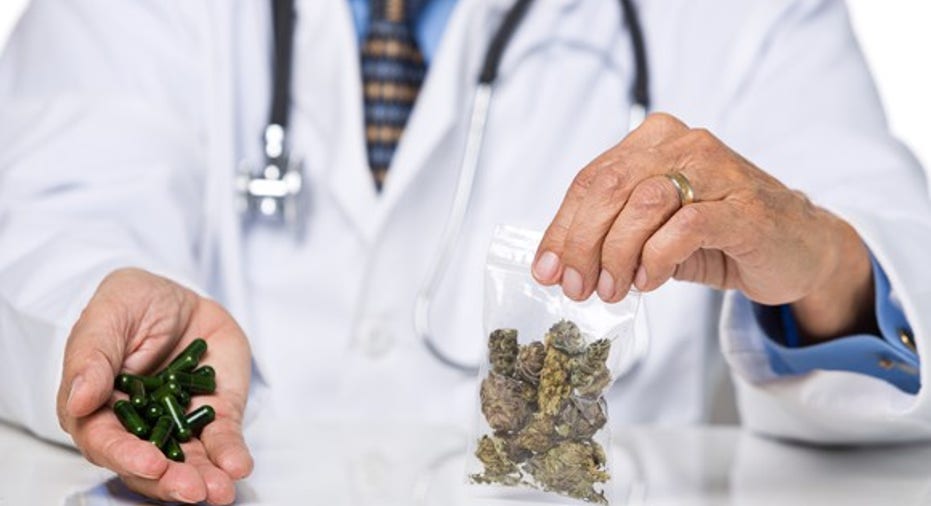 Image source: Getty Images.
This could very well go down as the best year for the marijuana industry on record. It's tough to top 1996, the first year medical marijuana was approved in a state (California), or 2012, when Colorado and Washington simultaneously became the first states to legalize the sale of recreational cannabis to adults aged 21 and up. However, in 2016 the pot industry saw residents in nine states vote on marijuana initiatives, with eight states (sorry Arizona) voting to approve their respective marijuana initiative or amendment.
Cannabis has had a stellar 2016
Following the 2016 elections, eight states (and Washington, D.C.) have recreational marijuana laws on the books, which is double where we began the year, and a whopping 28 states have now legalized medical cannabis. This year, five new states -- Pennsylvania, Ohio, Florida, North Dakota, and Arkansas -- have legalized the use of medical cannabis to treat certain ailments such as epilepsy, cancer, and glaucoma, to name a few.
This rapid state-level expansion has business booming for the legal marijuana industry. Investment firm Cowen & Co. has projected that legal sales could climb from $6 billion today to $50 billion in a decade. That's great news for state and local governments that are looking for additional sources of revenue -- and an incredible opportunity for marijuana businesses.
This expansion is also a big win for medical marijuana patients. Having more than half of all U.S. states legalize medical weed represents a major step forward in potential treatment pathways. Nationally, according to a 2015 CBS News poll, 84% of Americans want to see medical marijuana legalized nationwide.
Yet marijuana remains a schedule 1, and therefore illicit, drug at the federal level, leaving states to pass cannabis laws individually. Furthermore, two dozen U.S. states, some of which are led by conservative lawmakers who oppose the expansion of marijuana, had neither an initiative nor a referendum, which could make it difficult for certain patients to gain access to medical marijuana.
Image source: Getty Images.
Three states that could legalize medical marijuana next
Of the 22 states that haven't legalized medical cannabis, some may never legalize it. However, the following three states could very well be the next to legalize medical marijuana, and one is quite the shocker.
Oklahoma
Medical cannabis supporters in Oklahoma tried diligently to get State Question 788 on the ballot prior to the November elections, but a battle in the Oklahoma Supreme Court squashed that hope.
On one hand, Oklahomans have collected more 67,700 signatures in favor of putting a medical cannabis measure on the ballot to be voted on by residents. This was nearly 2,000 signatures more than was needed, and opponents didn't challenge the signatures collected. In short, it's not a question of whether a medical cannabis initiative will be voted on; it's just a matter of when.
On the other hand, detailing the title of Question 788 has proven a sticky situation. Oklahoma Attorney General Scott Pruitt, long an ardent opponent of the expansion of cannabis, rewrote the title of the bill in such a way that the question appears to ask whether "marijuana" should be legalized in Oklahoma as opposed to "medical marijuana." Though readers would discover that medical marijuana is what's being voted on by reading further, the rewrite of the bill -- in particular the first sentence, which does not include the term "medical" -- is somewhat misleading, and proponents fear it could be defeated without the original title. Thus Question 788 is headed to the Oklahoma Supreme Court to decide whether the original title language can be used as opposed to Pruitt's modified title.
Oklahomans may have to wait a while to find out the verdict, but a medical marijuana measure of some sorts is heading to ballots within the next two years, and it seems to have a decent shot of passing.
Image source: Getty Images.
Missouri
Another state with a strong chance of getting a medical marijuana initiative on the ballot in 2018 is Missouri. The Show-Me state was already one of the finalists on track to get a medical cannabis initiative on the 2016 ballot, but it wound up falling a few thousand votes short of the signatures needed when Secretary of State Jason Kander invalidated more than 10,000 signatures.
Interestingly, however, Kander came out in support of using the legislative process to legalize medical cannabis shortly after the measure failed to collect enough signatures to get on the 2016 ballot. In a statement from the secretary of state's office, Kander said:
With Kander in their corner and marijuana advocacy groups now focusing their attention on Missouri, a medical marijuana measure looks to have a good shot at being on the 2018 ballot -- and probably passing based on national sentiment toward medical pot.
Image source: Getty Images.
Texas
Remember that shocker I promised? Well, this is it. The Lone Star state of Texas could be in a prime position to legalize medical marijuana within the next two years.
Historically, Republican-led states are a tough sell for medical or recreational cannabis. Speaking generally, Republican lawmakers take a pretty conservative approach to marijuana use, with many avoiding legalization within their respective states. Texas is a longtime Republican stronghold, so it would seem likely that medical cannabis will remain illegal.
However, times could be changing. Earlier this year, Senate Bill 339 surprisingly passed in both the state's House and Senate, and Gov. Greg Abbott signed it into law. This bill allows patients suffering from a rare form of epilepsy access to cannabidiol, or CBD, the non-psychoactive component of marijuana. Furthermore, at the State Convention of the Republican Party of Texas, Republicans approved part of a platform calling for a law to "allow doctors to determine the appropriate use of cannabis to prescribed patients." The Texas Department of Public Safety is set to begin granting CBD permits in June 2017, and it's possible an expansion of medical marijuana's use could soon follow.
Legalizing medical marijuana in Texas could also generate substantial sales on the order of $2 billion to $3 billion annually. This isn't to say that Texas is having difficulty meeting its budgetary needs, but the tax revenue generated from medical cannabis would further buoy the state's budget.
A fairly recent Texas Tegna Poll found 71% support for legalizing medical pot in the state compared to just 19% opposition. The remainder were undecided. This overwhelming support, coupled with a softening legislative stance and some very large dollar figures, could push Texas to legalize medical cannabis by 2018.
A secret billion-dollar stock opportunity The world's biggest tech company forgot to show you something, but a few Wall Street analysts and the Fool didn't miss a beat: There's a small company that's powering their brand-new gadgets and the coming revolution in technology. And we think its stock price has nearly unlimited room to run for early in-the-know investors! To be one of them, just click here.
Sean Williamshas no material interest in any companies mentioned in this article. You can follow him on CAPS under the screen nameTMFUltraLong, and check him out on Twitter, where he goes by the handle@TMFUltraLong.
The Motley Fool has no position in any of the stocks mentioned. Try any of our Foolish newsletter servicesfree for 30 days. We Fools may not all hold the same opinions, but we all believe thatconsidering a diverse range of insightsmakes us better investors. The Motley Fool has adisclosure policy.