3 Small Cap-Growth Stocks You Can Buy Now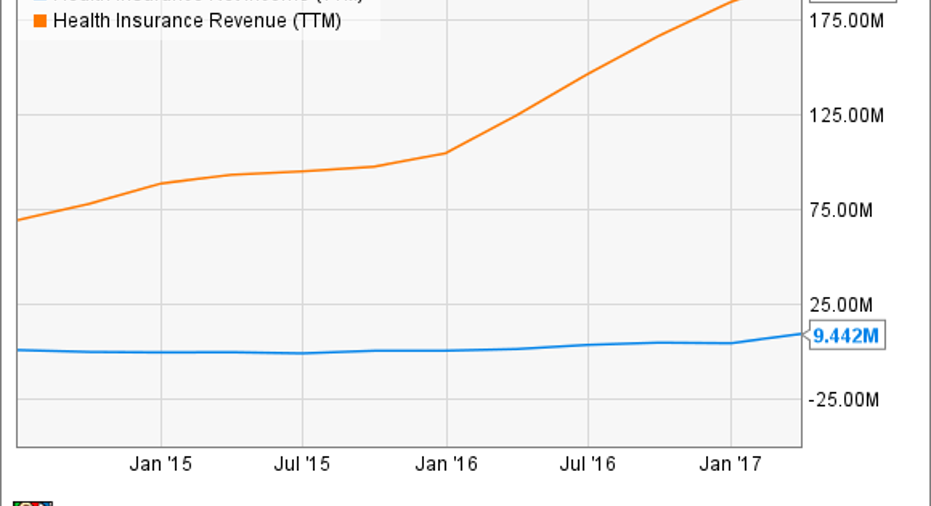 If you're hunting for fast-growing small-cap stocks to add to your portfolio, then Upland Software (NASDAQ: UPLD), Paylocity Holding Company (NASDAQ: PCTY), and Health Insurance Innovations (NASDAQ: HIIQ) ought to be on your radar. All three are posting impressive growth and each targets a big market opportunity that could drive sales higher in the coming years.
Going up?
Want better insight into your supply chain? Your IT department? Want to bulk up your communications with customers? Those are the questions that Upland Software is answering with their cloud-based software.
Image source: Getty Images.
This small-cap software stock is already putting up some pretty big numbers. Upland has 2,500 customers and 25,000 users, and in the first quarter, sales climbed 18% year over year to $20.8 million.
Upland Software isn't turning a profit yet, but it's shrinking its office and data center footprint to boost profitability, and that could position it to turn the corner as it leverages sales growth against lower fixed costs.The company estimates its addressable market is $18.6 billion, so this stock has plenty of opportunity to grow its business big enough to produce earnings.
Upland's strategy includes increasingsales to current clients, attracting new clients, and growing through bolt-on acquisitions. For example, it recently added $9 million in annual sales when it acquired RightAnswers for $17.2 million in cash. Management says it has a pipeline full of those kind of deals, and if that's true, then it should have no trouble hitting its target of adding $15 million in sales per year via acquisitions.
I also find it encouraging that Upland Software's CEO, Jack McDonald, is a been-there-done-that leader who's invested in his company's success. Previously, McDonald helped grow Perficient, Inc.from a start-up into a company with $250 million in annual revenue. He ownsabout 2 million shares in Upland Software, so you can bet he's laser-focused on realizing this company's potential.
Rethinking payroll
A strong labor market and an appetite for better human resource management solutions is fueling significant growth at Paylocity, a cloud-based payroll and human resources services provider.
The company targets midsized companies, and sales grew by an impressive 28% year-over-year to $90.3 million in Paylocity's recently reported fiscal third quarter.Sales are up 31% year over year through the first three fiscal quarters of 2017.
In addition to generating some envy-inspiring top-line growth, the company also appears to have turned the corner to profitability.Non-GAAP net income was $21.6 million last quarter, up from $11.3 million a year ago, and earnings per share was$0.40, up from $0.21 last year. Operating expenses dropped to 48% of revenue from 53% of revenue a year ago.
The debt-free company thinks sales will be$297 million and non-GAAP EPS will be at least $0.57 in fiscal 2017, up fromsales of $231 million and a loss per share in fiscal 2016. Rapid growth, a 92% revenue retention rate, and improving profitability makes this stock one to watch.
Of course, it also doesn't hurt that this company's got a lot of buy-in from its employees. According to Glassdoor, CEO Steve Beauchamp has a 97% approval rating among employees, and Glassdoor selected Paylocity as one of its best places to work in 2017. If you believe a motivated workforce is important to long-term business success, then this company could be a great fit for your portfolio.
Flexible health insurance for all seasons
If you want to buy a small-cap healthcare stockthat can grow regardless of Washington's whims, Health Insurance Innovations is worth a look.
The company sells consumers short-term medical plans, hospital indemnity plans, and ancillary insurance, including dental and life insurance. Demand for these plans is growing as consumers look tosupplement their insurance or acquire low-cost coverage for short stints.
In Q1, Health Insurance Innovations'revenue jumped 31.5% year over year to $55.9 million, and its earnings per share shot 112% higher to $0.36. The company exitedthe quarter with a record 345,000 policies in force, and thanks to growth during its peak Q4 and Q1 selling seasons, management projects revenue will be between $212 million and $222 million this year, up 15% to 20% from last year.
HIIQ Net Income (TTM) data by YCharts.
Health Insurance Innovations' share of the $14 billion market for limited duration and indemnity plans is less than 2%, and given that shares are trading at a reasonable 12 times forward earnings estimates, I think there's a lot to like about this company, regardless of what happens with Obamacare.
Sure, there'ssome risk that reform negatively impacts its business, but generally speaking, plans in Congress appear to favor flexible insurance alternatives like the ones sold by this company. Since the company's already shown it can grow with Obamacare, and demand for its products could improve under Trumpcare, I think buying shares in this debt-free healthcare company could be savvy.
10 stocks we like better than Health Insurance InnovationsWhen investing geniuses David and Tom Gardner have a stock tip, it can pay to listen. After all, the newsletter they have run for over a decade, Motley Fool Stock Advisor, has tripled the market.*
David and Tom just revealed what they believe are the 10 best stocks for investors to buy right now... and Health Insurance Innovations wasn't one of them! That's right -- they think these 10 stocks are even better buys.
Click here to learn about these picks!
*Stock Advisor returns as of May 1, 2017
Todd Campbell has no position in any stocks mentioned.His clients may have positions in the companies mentioned.The Motley Fool has no position in any of the stocks mentioned. The Motley Fool has a disclosure policy.