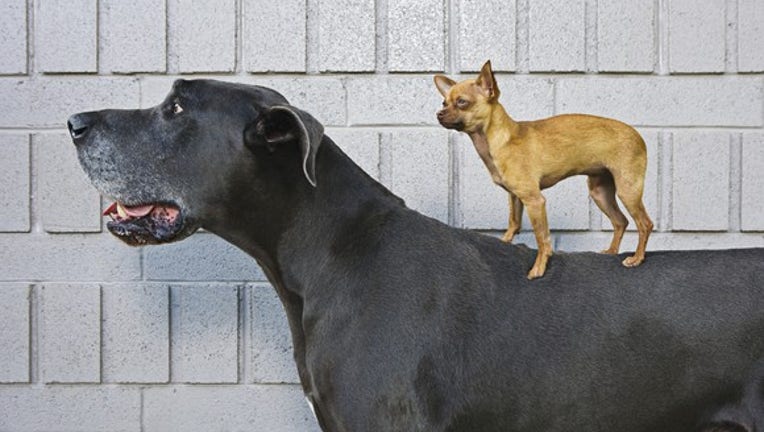 Sometimes little dogs get to run with the big dogs.
That's the case for three small biotechs -- Cytokinetics (NASDAQ: CYTK), bluebird bio (NASDAQ: BLUE), and Galapagos (NASDAQ: GLPG). Here's why big biotechs Amgen (NASDAQ: AMGN), Celgene (NASDAQ: CELG), and Gilead Sciences (NASDAQ: GILD) like these much smaller partners.
Image source: Getty Images.
A heart connection
Amgen and Cytokinetics agreed to work together to develop heart-failure drugs way back in 2006. As part of the deal, Amgen also bought a $33 million stake in the smaller biotech. In 2013, Amgen bought another $10 million in Cytokinetics' stock.
The lead program being developed by the two companies isomecamtiv mecarbil. The experimental drug targets treatment of heart failure by activating a protein known as cardiac myosin. A phase 2 study of omecamtiv mecarbil showed positive results. As a result, Amgen plans to advance the drug to a late-stage study.
Amgen's initial investment in Cytokinetics hasn't exactly paid off yet. Shares of the small biotech have fallen more than 70% over the past 10 years. However, Amgen's subsequent investment in 2013 hasn't done too badly. Cytokinetics' stock is up nearly 40% since the second purchase by Amgen.
In the same CAR-T
In 2013, Celgene and Bluebird agreed to jointly develop cancer treatments using gene therapy to modifychimeric antigen receptor T cells (CAR-T). Under the terms of the deal, Celgene paid Bluebird $75 million up front. A couple of years later, the two companies modified their agreement to focus exclusively onanti-B-cell maturation antigens (BCMA).
Earlier this year, Celgene exercised its option to license a promising candidate in Bluebird's pipeline -- bb2121. Phase 1 results of bb2121 in treating multiple myeloma were encouraging. The experimental drug appeared to show efficacy in achieving full or partial remission without the toxicity seen in other CAR T therapies. It's still very early in the development process, but Celgene and Bluebird have reason to be optimistic.
Unlike some of its deals with smaller biotechs, Celgene didn't buy a stake in Bluebird. That's probably a good thing, though. Bluebird's stock has dropped over 60% since the companies first forged their partnership. However, things appear to be looking up now for Bluebird. It has two late-stage candidates, LentiGlobin and Lenti-D, as well as its CAR-T program.
Jumping JAK
Gilead Sciences and Galapagos inked a deal in late 2015 to jointly develop JAK1-selective inhibitor filgotinib for inflammatory-disease indications. Galapagos received $300 million up front. Gilead also bought a $425 million stake in the smaller biotech.
Results from phase 2 studies evaluating filgotinib in treating rheumatoid arthritis and Crohn's disease looked good. Gilead and Galapagos have advanced the experimental drug into late-stage studies targeting both indications as well as ulcerative colitis.
Rumors abounded a few months ago that Gilead might acquire Galapagos. However, the terms of the two companies' agreement prevents Gilead from increasing its stake in the smaller biotech for a period of time.
So far, Gilead's initial investment hasn't generated a positive return. Galapagos' stock is down a little since the beginning of 2016. However, the small biotech has still outperformed Gilead: The big biotech's stock has plunged over 25% year to date.
Big versus little
Which stocks are the better investment choices -- the big biotechs or their smaller partners? If Wall Street analysts are right, you'd be better off going small.
The real answer to the question, though, depends on the level of risk you're willing to take. Amgen, Celgene, and Gilead have solid revenue streams and generate lots of cash. It's a different story for Cytokinetics, Bluebird, and Galapagos. The returns could potentially be higher with the smaller biotechs, but the risks are much greater.
10 stocks we like better than Apple When investing geniuses David and TomGardner have a stock tip, it can pay to listen. After all, the newsletter theyhave run for over a decade, the Motley Fool Stock Advisor, has tripled the market.*
David and Tomjust revealed what they believe are theten best stocksfor investors to buy right now... and Apple wasn't one of them! That's right -- theythink these 10 stocks are even better buys.
Click hereto learn about these picks!
*StockAdvisor returns as of December 12, 2016The author(s) may have a position in any stocks mentioned. The Motley Fool owns and recommends shares of Apple.
Keith Speights owns shares of Celgene and Gilead Sciences. The Motley Fool owns shares of and recommends Celgene and Gilead Sciences. The Motley Fool recommends Bluebird Bio. Try any of our Foolish newsletter services free for 30 days. We Fools may not all hold the same opinions, but we all believe that considering a diverse range of insights makes us better investors. The Motley Fool has a disclosure policy.