3 Simple Reasons To Avoid Ambarella Inc.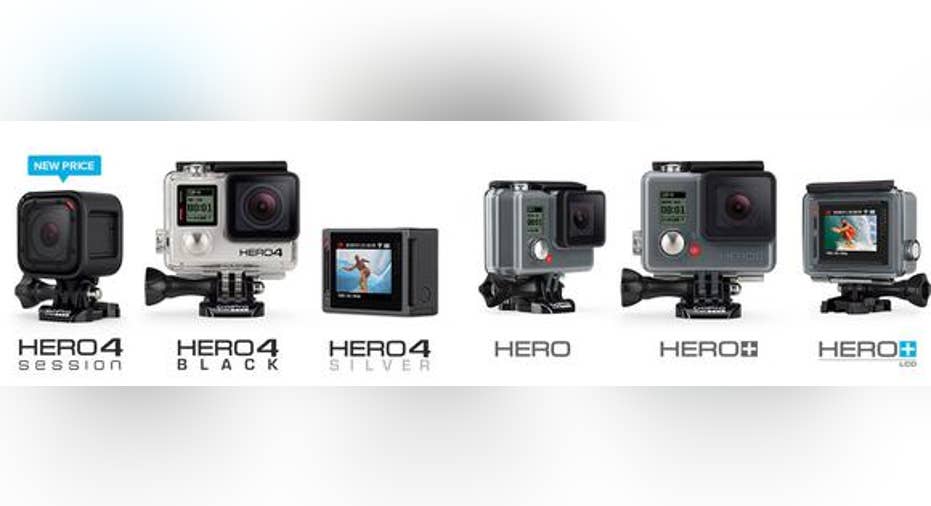 Shares of Ambarella fell more than 7% on March 3 after the image application processor maker posted mixed fourth quarter earnings. Revenue rose 5% annually to $68 million and beat estimates by $2.1 million, but that represented a big slowdown from 42% growth in the previous quarter and 62% growth a year earlier.
In a press release, CEO Fermi Wang noted that Ambarella posted "strong sales from IP security, automotive aftermarket, home monitoring and flying camera markets," but that growth was offset "by a continued decline in the wearable sports camera market." Looking ahead, Ambarella expects its first quarter revenue to fall 20% to 22.5% annually -- well below the consensus estimate for a 12% decline.
Source: Ambarella.
On the bottom line, non-GAAP net income fell 4% to $21.6 million, or $0.68 per share, but beat expectations by $0.16. Gross margin came in at 64.1% -- a decline from 65.9% in the previous quarter and 64.3% a year ago. GAAP operating expenses surged 41% annually to $34.2 million, mainly due to higher R&D expenses. For the first quarter, Ambarella expects non-GAAP net income to fall between 58% to 66% annually.
Those numbers all indicate that Ambarella's decline of nearly 20% for 2016 will likely continue. Some contrarian investors might believe that Ambarella can bounce back, but I think that the chipmaker needs to address three big problems first.
1. The action camera marketAmbarella's biggest problem is that its biggest customer is action camera maker GoPro . Demand for GoPro cameras hit a brick wall last quarter, and analysts now expect the company's sales to fall 15% this year -- down from41% growth in 2014 and 16% growth in 2015.
Pacific Crest estimates thatGoPro orders will still account for about a quarter of Ambarella's sales this year. Ambarella also sells image processing chips to GoPro's rivals, but the company has admitted that none of them can match GoPro's numbers.
Ambarella claims that it can sell chips into connected cameras, drones, and other devices to diversify away from action cameras. Unfortunately, drones only account for around 10% of Ambarella's sales, and other larger chipmakers have been targeting the same market.
Source: GoPro.
2. The Qualcomm problemOne such chipmaker is Qualcomm , the biggest mobile chipmaker in the world. To diversify away from the saturated mobile chip market, Qualcomm has been leveraging its mobile tech to create SoCs for dashcams, action cameras, and drones which can connect to 3G and 4G networks.
Last year, Morgan Stanley stated that although Qualcomm's image processing SoCs weren't as cost effective as Ambarella's yet, Qualcomm could gain a price advantage once cellular connections were factored in. Qualcomm has already scored design wins for 4G-enabled action cameras like the 4GEE Action Cam and Benq's QC1. During last quarter's conference call, Wang confirmed rumors that Qualcomm wastrying to pull drone king DJI Innovations and GoPro away from Ambarella.
Ambarella investors shouldn't underestimate Qualcomm's ability to win over GoPro. GoPro's current CFO, incoming CFO, and VP of Corporate Development andInvestor Relations all previously worked at Qualcomm. During last quarter's conference call (as transcribed by Thomson Reuters), GoPro CEO Nick Woodman declared that the Hero 5 would be the company's "most connected and convenient GoPro" to date -- strongly indicating that it might use a 4G-connected SoC like Qualcomm's. Ambarella could be in deep trouble if that happens.
3. Pricing pressure in ChinaAnother sore spot for Ambarella is China. In late February, investment research firm OTR Global claimed that Ambarella's first quarter prices for security and automotive SoCs had fallen 15% to 20% sequentially due to competition from lower-cost chipmakers in China. During the conference call, Ambarella admitted its margins declined last quarter due to the lower-margin China and home IP markets accounting for a higher percentage of its revenue.
Pricing pressure has been a constant issue for Ambarella. Back in January, Papyrus Capital founder Nitin Sacheti warned that Ambarella's chips, which hadan average selling price of $10 to $12, could be undercut by similar $4 to $5 chips from competitors in the near future.
Why I won't touch AmbarellaThe bulls will likely claim that Ambarella's new H2 and H12 chips, which are designed for sports and flying cameras, will enable it to retain its"best in breed" reputation with low-power 4K filming at 60 frames per second. They'll also note that the top companies in its main industries -- GoPro in action cameras, DJI in drones, and Hikvision in surveillance products -- all use Ambarella SoCs.
However, I think that Ambarella's exposure to GoPro won't decline anytime soon, Qualcomm's threat is too big to ignore, and that the image processing SoC market could be commoditized in the near future. To stay ahead of those threats, Ambarella will need to significantly boost its spending -- which will likely flatten out its bottom line growth.
The article 3 Simple Reasons To Avoid Ambarella Inc. originally appeared on Fool.com.
Leo Sun owns shares of Qualcomm. The Motley Fool owns shares of and recommends Ambarella, GoPro, and Qualcomm. Try any of our Foolish newsletter services free for 30 days. We Fools may not all hold the same opinions, but we all believe that considering a diverse range of insights makes us better investors. The Motley Fool has a disclosure policy.
Copyright 1995 - 2016 The Motley Fool, LLC. All rights reserved. The Motley Fool has a disclosure policy.