3 Scorching Hot Med-Tech Stocks In 2016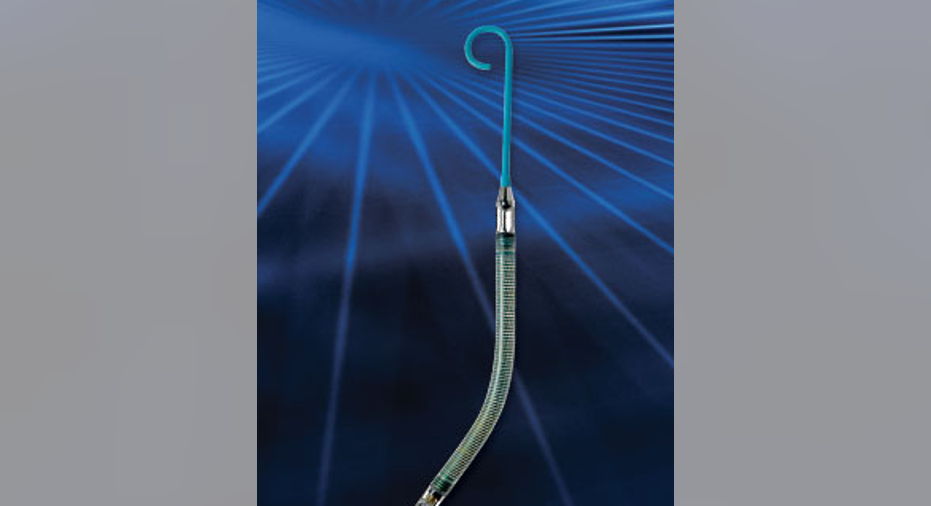 Healthcare has taken some lumps in the past six months, but medical-device makers have been immune to the slump. While the Nasdaq Biotech ETF has tumbled 13.4% since last October, the iShares Medical Device ETF has climbed by 9.3%. That's a pretty remarkable outperformance, but drilling down into the industry reveals individual stocks that are doing even better. For example, these three superstars are significantly outperforming the broader industry, and each has put up financial results that suggest better returns may be coming.
SOURCE: EDWARDS LIFESCIENCES.
No. 1: Edwards Lifesciences --up 38.5% since OctoberWhen heart-disease patients are considered too frail to undergo open heart surgery to fix a narrowing of their aortic valve, doctors turn to transcatheter aortic valve replacement, or TAVR. Rather than removing and replacing the narrowed aortic valve with a mechanical tissue valve, TAVR allows for a valve to be inserted within a patient's existing valve via a less-invasive and thus less-risky procedure.
TAVR is becoming common, and that's good news for Edwards Lifesciences. The company's TAVR heart valves represent a growing proportion of its overall revenue. Last quarter, sales of TAVR products grew 37% versus a year ago, leading Edwards Lifesciences to predict that its full-year TAVR revenue will be at least $1.4 billion, up more than 25% year over year.
That's impressive growth, but results in the U.S. are even more remarkable. Sales of TAVR products surged 64% year over year last quarter to $216 million. As a result, TAVR revenue accounts for roughly 70% of Edwards Lifesciences' total U.S. sales.
U.S. revenue could be heading even higher, too.
Earlier this month, Edwards Lifesciences reported data from trials showing that TAVR procedures may be the way to go for patients who are healthier than high-risk patients. If TAVR becomes widely used in intermediate-risk patients, then it could expand Edwards Lifesciences' addressable market significantly. That would probably lead to a spike in profit that could send its shares soaring even higher.
SOURCE: ABIOMED.
No. 2. Abiomed Inc. -- up 38.5% since OctoberRoughly 735,000 Americans suffer a heart attack every year, and about 7.5% of those patients experience cardiogenic shock. That's important, because in March, the FDA waived the need for an advisory committee review of Abiomed's Impella heart pump and issued an approval for its use inin these patients.
Industry watchers peg Abiomed's penetration of this market at just 5%, yet this indication already represents about 40% Abiomed's Impella sales, so the revenue upside tied to the FDA's approval could be huge.
If so, it could give a boost to a company that's already firing on all cylinders. In February, management said Abiomed's quarterly sales skyrocketed 38% to $85.8 million because of a 45% lift in Impella sales.
No. 3: Boston Scientific --up 19.75% since OctoberThe well-known maker of cardiac devices is enjoying a renaissance of sorts. FDA sanctions, lawsuits, and resulting sluggish demand weighed heavily on the company's shares in the 2000s. But the company appears to have turned a corner.
In its recently reported first-quarter financials, investors were rewarded with sales that climbed 11.1% to $1.96 billion and profit that jumped 32.2% on a non-GAAP basis to $378 million.
Thanks to high-single-digit organic growth, management is boosting its outlook for the full year. Now, the company expects to deliver sales and adjusted EPS of at least $8.07 billion and $1.06. Previously, it was looking for sales and EPS of at least $7.9 billion and $1.03, respectively.
With Boston Scientific's shares hitting new 52-week highs, investors might wonder if the company's gotten ahead of itself. That's a fair question to ask, but with a forward P/E ratio of about 18, and a track record that includes delivering better-than-hoped-for earnings in three consecutive quarters, there could still be upside ahead.
The article 3 Scorching Hot Med-Tech Stocks In 2016 originally appeared on Fool.com.
Todd Campbell has no position in any stocks mentioned. Todd owns E.B. Capital Markets, LLC. E.B. Capital's clients may have positions in the companies mentioned. The Motley Fool has no position in any of the stocks mentioned. Try any of our Foolish newsletter services free for 30 days. We Fools may not all hold the same opinions, but we all believe that considering a diverse range of insights makes us better investors. The Motley Fool has a disclosure policy.
Copyright 1995 - 2016 The Motley Fool, LLC. All rights reserved. The Motley Fool has a disclosure policy.