3 Revolutionary Drugs for Chronic Pain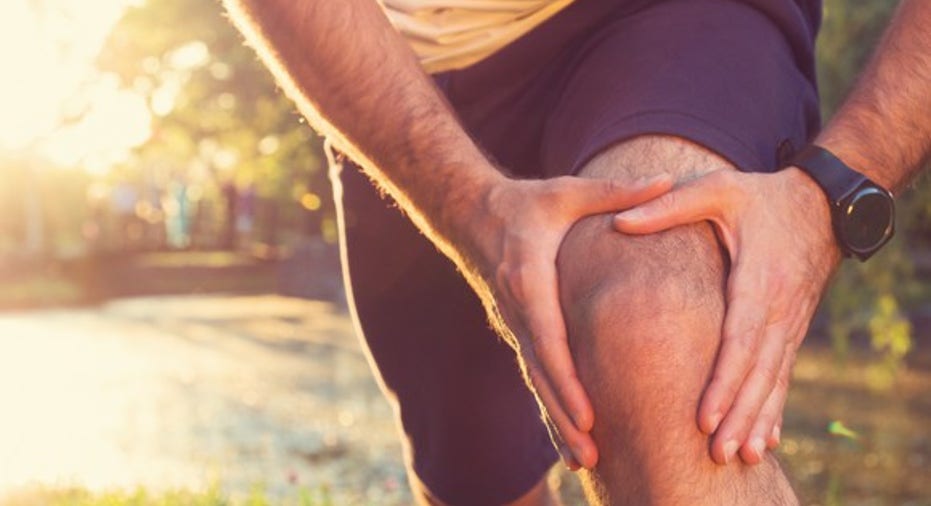 Flexion Therapeutics (NASDAQ: FLXN), Cara Therapeutics (NASDAQ: CARA), and Nektar Therapeutics (NASDAQ: NKTR) may soon offer patients suffering from chronic pain a better option than opioids. Here's how these companies plan to reshape the way doctors treat the39 million Americans with chronic pain.
Tackling knee pain
Flexion Therapeutics' Zilretta is under review by the Food and Drug Administration (FDA) as a new approach to treating knee pain caused by osteoarthtritis, and positive results from trials suggest it could eventually replace corticosteroid injections for millions of patients.
Image source: Getty Images.
The FDA will issue a go/no-go decision on Zilretta on Oct. 6, and data from studies may be compelling enough for a green light. In trials, Zilretta patients enjoyed a median 50% reduction in knee pain, and, more importantly, that pain relief was maintained throughout a three-month period. If Zilretta's effectiveness holds up in the real world, there's a good chance it will win support with doctors and patients because pain relief from corticosteroids typically wears off within weeks -- long before the next scheduled quarterly injection.
Roughly 5 million people currently receive corticosteroid shots because of their pain, and management thinks Zilretta could fetch $2,000 per patient per year. If this estimate is on target, it won't take a lot of market share for Zilretta to be a top seller.
Recently, rumors have surfaced that acquisition-hungrySanofi SA (NYSE: SNY) is kicking Flexion Therapeutics' tires. It wouldn't shock me if those rumors are true. Sanofi has attempted to buy Medivation and Actelion in the past year, so it's clearly on the hunt for acquisitions. Importantly, Sanofialready markets Synvisc-One -- a hyaluronan injection used to treat knee pain -- which generates $400 million per year,so it's already got the sales force in place to turn Zilretta into a winner.
Outperforming opioids
Cara Therapeutics thinks CR845's ability to relieve pain with less risk of addiction could allow it to capture a big share of the 24 million pain prescriptions written for opioids every year.
Instead of targeting mu-opioid receptors in the nervous system like opioids, CR845 relieves pain at the source by targeting kappa-opioid receptors in the periphery of the body. Because CR845 is designed not to pass easily through the blood-brain barrier, it delivers less of a euphoric high than opioids.
CR845 is being studied in hip and knee pain in osteoarthritis patients, and management just reported data showing that it can help reduce chronic itch in dialysis patients.
The potential to elbow market share away from opioids and deliver greater relief to dialysis patients is exciting, but more trials are required before Cara Therapeutics can file for FDA approval of CR845. Because more work needs to be done, it may be a while before this drug makes it to market. Nevertheless, this company's opportunity is big, and that makes tracking its progress worthwhile.
Improving the standard
Like CR845, Nektar Therapeutics' NKTR-181 may eventually reduce pain patients' need for opioids.But, unlike CR845, NKTR-181 still targets mu-opioid receptors in the nervous system to deliver pain relief.
However, it does so selectively. And it's specifically designed to cross the blood-brain barrier slowly to reduce euphoria. By more precisely targeting the receptors and limiting euphoria, it may deliver similar relief to opioids with less of a risk of abuse.
Last week, the company announced results from a trial testing NKTR-181 for chronic back pain, and that trial's data didn't disappoint. NKTR-181 reduced pain relative to a placebo, and it did so without causing opioid-like levels of euphoria.
Those findings sentNektar Therapeutics shares soaring, but the company hasn't announced its plans to file for FDA approval yet. Instead, management is searching for a bigger peer to partner with on the drug. Assuming it secures a deal, an FDA filing should come shortly thereafter, with an official regulatory decision coming 10 months later.
10 stocks we like better than Nektar TherapeuticsWhen investing geniuses David and Tom Gardner have a stock tip, it can pay to listen. After all, the newsletter they have run for over a decade, Motley Fool Stock Advisor, has tripled the market.*
David and Tom just revealed what they believe are the 10 best stocks for investors to buy right now... and Nektar Therapeutics wasn't one of them! That's right -- they think these 10 stocks are even better buys.
Click here to learn about these picks!
*Stock Advisor returns as of February 6, 2017
Todd Campbell has no position in any stocks mentioned.His clients may have positions in the companies mentioned.The Motley Fool has no position in any of the stocks mentioned. The Motley Fool has a disclosure policy.