3 Retirement Stocks to Buy in December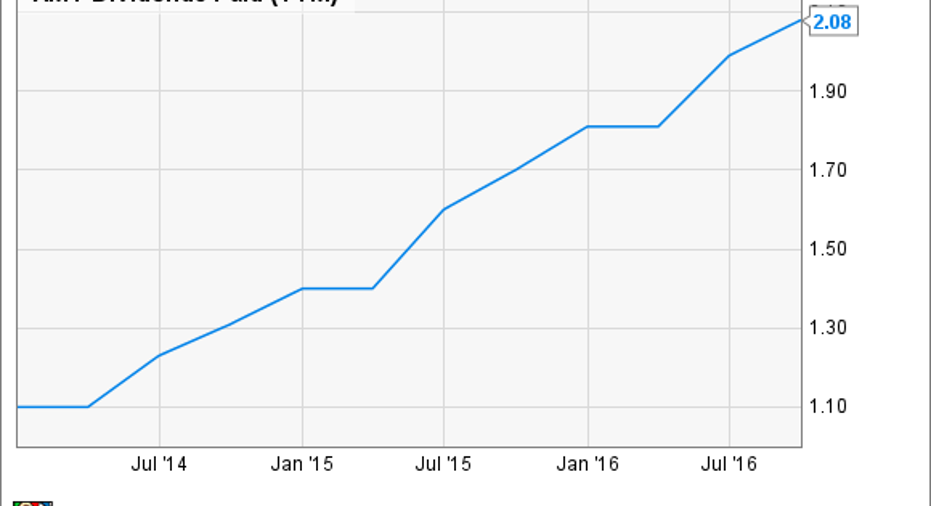 Investors in their golden years often cannot afford to take on excess risk. That's why we believe they should favor companies that offer income, moderate growth prospects, and downside protection. Knowing that, we asked several Motley Fool analysts to highlight a stock they believe is a good choice for a retiree right now. Read on to see their discussions onAmerican Tower(NYSE: AMT), American Water Works(NYSE: AWK), and CVS Health (NYSE: CVS).
Image source: Getty Images.
The wind at its back
Brian Feroldi(American Tower): Today's consumers demand access to mobile data wherever they roam, so wireless carriers have been forced to build out their networks in order to remain competitive. That has helped keep demand for cellular towers sky-high, which has greatly benefited companies like American Tower.
American Tower owns more than 144,000 cellular towers placed strategically throughout the world. The company's business model is to buy or build towers and then rent them out to local wireless providers. While some carriers prefer to maintain their own sites, leasing out space from a third-party provider like American Tower can make a great deal of economic sense since it requires much less capital up front.
Perhaps unsurprisingly, American Tower's financial statements have flourished from the explosive growth in smartphone sales over the last decade.
Image source: American Tower.
A few years back, American Tower converted itself into a real estate investment trust, or REIT, which turned on the company's dividend spigot. American Tower's strong revenue and profit growth rates have allowed it to substantially raise its payout every year since.
AMT Dividends Paid (TTM) data by YCharts.
Looking ahead, management believes the company will be able to continue raising its dividend by 20% annually for the foreseeable future. With shares currently yielding just over 2%, I think that makes this stock a great candidate for anyone who desires growth and income.
Providing the most vital product in the world
Beth McKenna(American Water Works):American Water Works stock is one of the best choices for retirees looking for an investment to buy and forget about. The company, which is the largest publicly owned water and wastewater utility in the United States, provides the most vital product humans needs to live that isn't free, and one of the most critical services needed in civilized societies.
While American Water is a low-risk stock, it also has solid growth potential. The company is on track to meet its long-term goal of growing earnings per share at an average annual rate of 7% to 10% through 2020. American Water operates in 47 U.S. states and one Canadian province, and it operates as a regulated utility in 16 of these states. It largely owes its competitive advantage to the fact that it's by far the largest and most geographically diverse company in the industry. These features provide American Water with the resources to acquire smaller utilities and to more efficiently expand, as it expands near where it currently operates, resulting in various operating costs savings.
Image source: Getty Images.
While American Water's dividend is currently yielding a modest 2%, retirees should remember that one's effective dividend yield isn't based on the current price of a stock in their portfolio, it's based on the price at which they bought that stock. Not only is American Water's dividend quite secure, the company has increased it every year since it went public in 2008, which means retirees can probably (nothing is a sure thing) expect continued dividend hikes going forward.
Prescription drugs aren't going anywhere
Brian Stoffel(CVS Health):It's been a tough road for shareholders of CVS Health. The company has shown moderate results in its front-of-the-store business (think the shampoo, soap, chips, and beer you can buy), with comps falling 1% during the most recent quarter. But the pharmacy business keeps humming along nicely, with comps up 3.4%during the same time frame.
The reason for the recent fall has to do with pharmacy accounts that will be leaving CVS and migrating over to Walgreens Boots Alliance (NASDAQ: WBA). Prime Therapeutics -- the nation's fourth largest pharmacy benefits manager -- and Tricare -- which provides insurance to active-duty and retired military personnel -- decided to use Walgreens to meet their members' prescription needs. Those changes go into effect in 2017, and they caused CVS to lower its guidance for next year. The stock has already fallen 30% from its May highs.
Image source: CVS Health.
But you can't ignore what a cash cow this company is. Over the last 12 months, it has produced $9 billion in free cash flow and only used 20% of that to pay its 2.3% dividend yield. As it stands today, the stock trades for just nine times free cash flow. I think that's a great entry point for retirees looking for a solid business that has the potential to substantially increase dividend payments in the future.
10 stocks we like better than CVS Health When investing geniuses David and Tom Gardner have a stock tip, it can pay to listen. After all, the newsletter they have run for over a decade, Motley Fool Stock Advisor, has tripled the market.*
David and Tom just revealed what they believe are the 10 best stocks for investors to buy right now...and CVS Health wasn't one of them! That's right -- they think these 10 stocks are even better buys.
Click here to learn about these picks!
*Stock Advisor returns as of November 7, 2016.
Beth McKenna has no position in any stocks mentioned. Brian Feroldi owns shares of American Tower. Brian Stoffel has no position in any stocks mentioned. The Motley Fool owns shares of and recommends American Tower. The Motley Fool has the following options: long January 2019 $80 calls on American Tower. The Motley Fool recommends CVS Health. Try any of our Foolish newsletter services free for 30 days. We Fools may not all hold the same opinions, but we all believe that considering a diverse range of insights makes us better investors. The Motley Fool has a disclosure policy.