3 Reasons Why I Just Bought More Macy's, Inc. Stock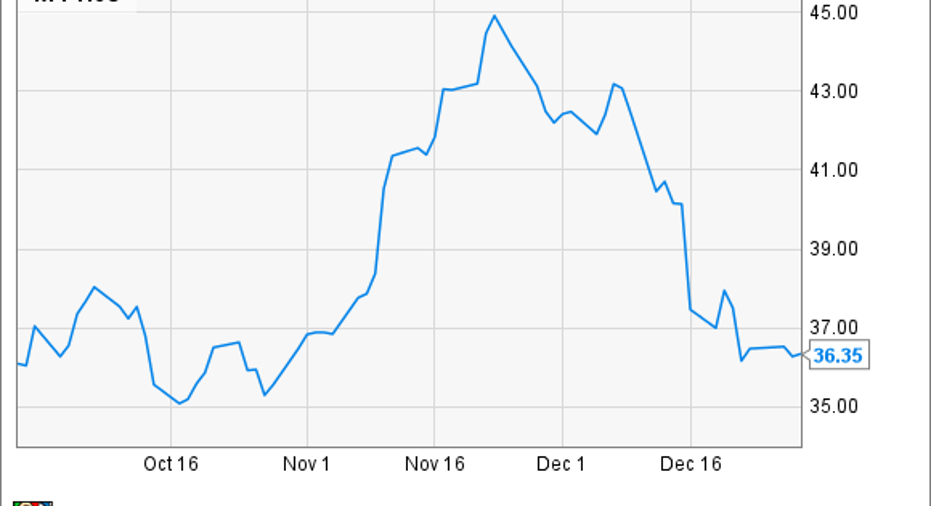 Shares of Macy's (NYSE: M) soared in November, rising more than 20% in the span of a few weeks due to growing optimism about its prospects. While the retailer posted weak earnings for the third quarter, it offered upbeat earnings guidance for Q4 and made significant progress in conjunction with its strategy to monetize underutilized real estate.
Macy's stock performance, data by YCharts.
Yet in the month following Thanksgiving, Macy's stock gave back virtually all of its gains. Investors appear to be worried about reports of weak sales and heavy discounting among department stores.
This focus on short-term results -- or rumors about short-term results, to be more exact -- is misplaced. Several important developments could drive Macy's stock much higher over the next few years.
Store closures and cost cuts could bolster Macy's profit margin
First, Macy's plans to close about 100 stores next year. So far, the company has identified just a few of those locations, but it aims to close a combination of underperforming stores and stores that sit on valuable real estate.
While most of these locations are still modestly profitable, Macy's will be able to capture some of the sales from stores it closes at nearby locations and through its e-commerce site. It also plans to cut corporate overhead costs. As a result, Macy's should be able to rebuild its pre-tax profit margin from the roughly 5%-6% level expected in fiscal 2016. (More cooperative weather would also help.)
Closing stores may help Macy's improve its profit margin. Image source: The Motley Fool.
Just two years ago, Macy's pre-tax margin was roughly 9%. Returning to that level would be challenging. But improving its pre-tax profit margin to 7% or 8% over the next two or three years seems feasible. That would drive a big increase in Macy's pre-tax profit.
Macy's would benefit from lower corporate taxes
Second, Macy's would be a big beneficiary if President-elect Donald Trump follows through on his plan to cut corporate taxes. Trump has proposed reducing the corporate tax rate from 35% to 15%. While many U.S. companies already pay less than 35% because they earn some income abroad or benefit from various tax credits, Macy's effective tax rate has been 36%-37% recently.
Thus, Macy's tax burden could fall by more than half as early as next year. Some lawmakers want to end the tax-deductible status of interest payments, which would be a partial offset. However, the net effect would still be a $250 million-$300 million reduction in Macy's annual tax liability.
This year, Macy's is on track to post adjusted net income of a little less than $900 million, excluding asset sale gains. Even if Macy's revenue falls to $24 billion by fiscal 2018 due to store closures and modest comp sales declines, with a 7% pre-tax margin and a 17% effective tax rate, its net income would reach $1.4 billion, up more than 50% from this year. (If interest payments become non-deductible, net income would likely be $50 million-$60 million lower.)
More real estate sales are coming
Third, Macy's is still in the early innings of its real estate strategy. It has now announced real estate sales totaling $800 million since the beginning of 2015, whereas one third-party analysis estimated the value of its real estate portfolio at more than $20 billion.
Macy's recently started to sell the real estate associated with the 100 stores it plans to close. The company may be nearing a deal to sell its flagship store in Minneapolis. At more than 1 million square feet, the building is almost certainly worth more than $100 million. Most of the stores Macy's is likely to close are on much less valuable land, but even at $5 million-$10 million per store (on average), the total proceeds will really add up.
Macy's Manhattan flagship store may be worth $4 billion. Image source: The Motley Fool.
Furthermore, Macy's announced a strategic alliance with Brookfield Asset Management in November. Brookfield will have two years to create pre-development plans for 50 Macy's locations. This could ultimately open up additional opportunities for Macy's to sell land for redevelopment.
Finally, Macy's continues to explore options for monetizing some of the value of its massive flagship stores in Manhattan and Chicago. Both stores are larger than they need to be. By downsizing them and selling off the excess space, Macy's could potentially bring in cash proceeds of more than $1 billion.
It will take years for Macy's to turn its undervalued real estate holdings into cash. This just means that investors can expect a fairly steady stream of cash from real estate sales over the next few years.
Investors will see a flood of cash
Macy's free cash flow has reliably exceeded $1 billion annually in recent years. Its upcoming store closures should bolster free cash flow. In the short run, Macy's will bring in extra cash by selling off those stores' inventories. In the long run, operating fewer stores will reduce Macy's capital spending requirements. (A lower tax rate would also lead to higher free cash flow.)
This free cash flow is enough to cover Macy's generous dividend -- which currently offers a 4.2% yield -- while leaving extra cash for debt reduction and share buybacks. As Macy's completes more real estate deals in the coming years, the company will be able to return even more cash to shareholders.
For patient investors, Macy's stock has a ton of upside. As a result, I bought additional shares last week.
10 stocks we like better than Macy's When investing geniuses David and Tom Gardner have a stock tip, it can pay to listen. After all, the newsletter they have run for over a decade, Motley Fool Stock Advisor, has tripled the market.*
David and Tom just revealed what they believe are the 10 best stocks for investors to buy right now... and Macy's wasn't one of them! That's right -- they think these 10 stocks are even better buys.
Click here to learn about these picks!
*Stock Advisor returns as of Nov. 7, 2016
Adam Levine-Weinberg owns shares of Macy's. The Motley Fool has no position in any of the stocks mentioned. The Motley Fool has a disclosure policy.