3 Reasons Why Disney World Attendance Will Bounce Back in 2017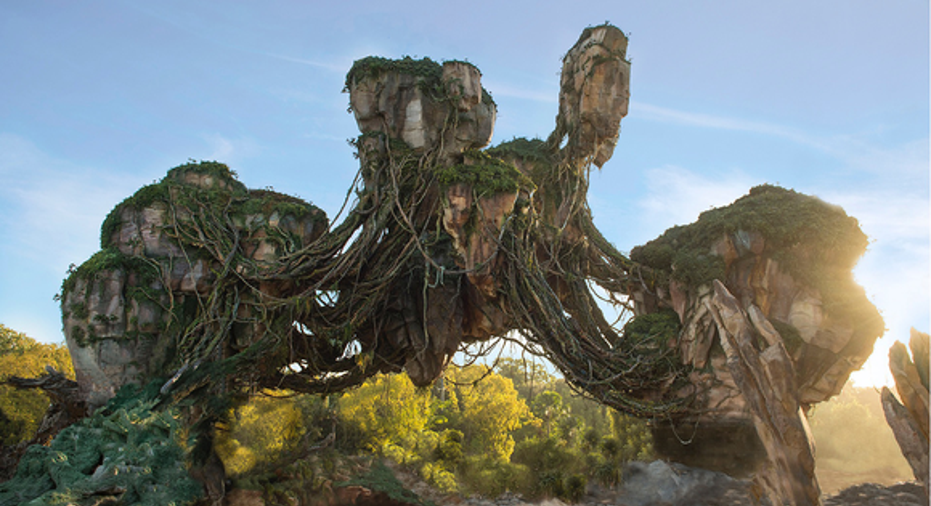 If we judge a theme park based solely on traffic trends, Disney World is in trouble.Disney (NYSE: DIS)saw its domestic parks -- Disneyland and the much larger Disney World -- suffer a 5% decline in attendance relative to the prior year's holiday quarter.
The market's no longer surprised at the unsettling trend. Disney World's guest counts have gone the wrong way in three of the past four quarters.
Investors aren't worried. Disney's theme parks segment has managed to grow its top and bottom lines through the lull, as the media giant is charging more and folks are spending more. One can only imagine how revenue will grow and margins will expand if traffic trends turn positive. The good news for investors is that attendance should bounce back this year. Let's go over a few of the reasons why this is likely to happen.
Image source: Disney.
1. This month's increase won't be as bad as last year's hike
Disney is definitely raising prices on single-day tickets this year. It has done so for 28 consecutive years. The move will probably happen this month, as Disney has chosen the shortest month of the year for its hikes in each of the past three years.
Last year's increase was unique. Instead of a token increase of $1 to $6 as it has done every year, Disney introduced a demand-based pricing structure. Disney broke up its operating calendar into three levels of intensity with peak periods seeing a shocking 18% increase. A day at the Magic Kingdom went from costing a steep $105 to $124 during peak season.
The tiered pricing was supposed to encourage guests to visit during slower periods, but that may not have happened. The only quarter when attendance moved higher at Disney World last year was during the busy summer. However, the high prices must have played some meaty role in keeping guests away. The House of Mouse will raise its prices this year, but a humbled Disney will probably make it a more modest move.
2. This year's new additions are better than last year's batch
There are a lot of new things coming to Disney World's resort this year. After a 10-month delay, the Rivers of Light nighttime show debuts at Disney's Animal Kingdom tonight. Three months later, we'll see Pandora -- The World of Avatar open, the resort's largest theme park expansion since the Magic Kingdom's New Fantasyland opened in 2012. Even Disney's water parks will be getting some love, as the Miss Adventure Falls family raft ride opens at Typhoon Lagoon.
It's a more impressive slate of new attractions at the resort than last year, when the only major additions were the Frozen Ever After boat ride and the Soarin' update at EPCOT. With rival Comcast (NASDAQ: CMCSA) also upping its game this year with Volcano Bay -- a water park that Universal Orlando is billing as its third theme park -- opening in May and a Comcast brand-boosting Jimmy Fallon ride opening before that it's going to be a big summer for Central Florida tourism. Disney and Comcast both benefit when both major players are investing in new guest experiences.
3. Disney will be more responsive and promotional
The same humbled Disney that will likely roll out a smaller-than-usual price increase this month is also going to be more promotional as it tries to win back locals. Last month, it brought back the Discovery Disney three-day discounted ticket for Florida residents, something that it didn't do last year -- and at the same price point as 2015.
With occupancy rates at its on-site resorts slipping in its latest quarter, it probably won't be a surprise to see Disney be more aggressive with its hospitality offers. Getting folks to stay at one of its hotels is important. It keeps guests close, and Disney keeps adding rooms to its resorts.
The bar will be lower in 2017, and it won't take 2015's record levels of attendance for Disney to close out this year with a modest increase. Outside of an economic funk -- always a possibility -- Disney's attendance should bounce back this year.
10 stocks we like better than Walt DisneyWhen investing geniuses David and Tom Gardner have a stock tip, it can pay to listen. After all, the newsletter they have run for over a decade, Motley Fool Stock Advisor, has tripled the market.*
David and Tom just revealed what they believe are the 10 best stocks for investors to buy right now... and Walt Disney wasn't one of them! That's right -- they think these 10 stocks are even better buys.
Click here to learn about these picks!
*Stock Advisor returns as of February 6, 2017
Rick Munarriz owns shares of Walt Disney. The Motley Fool owns shares of and recommends Walt Disney. The Motley Fool has a disclosure policy.