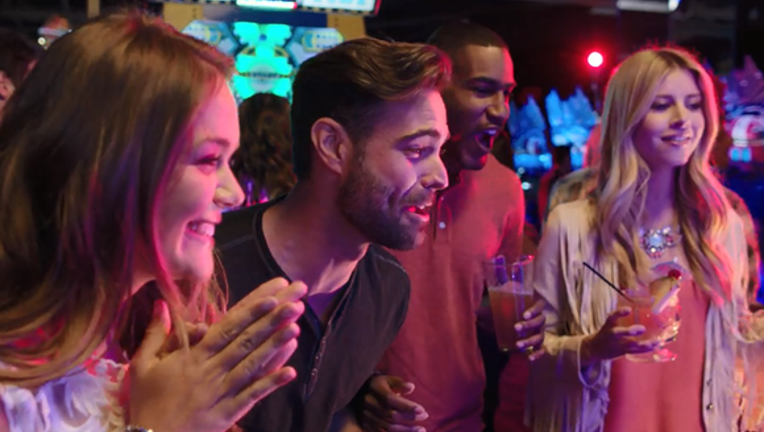 Image source: Dave & Buster's.
Dave & Buster's (NASDAQ: PLAY)has been bucking the "restaurant recession" all year long. Shares of the "eatertainment" leader have soared 34% in 2016, and that was before SunTrust initiated coverage of the chain with a buy rating last night.
SunTrust's price target of $68 implies another 21% of upside from here. Factor in the stock's 53% surge in 2015 -- its first full year on the market since its late 2014 IPO -- and you have a stock that has been reborn as a growth stock darling in its latest incarnation as a public company.
There are a few reasons to feel that that Dave & Buster's will deliver double-digit percentage growth again for investors in the year ahead. Let's go over a few reasons whythe company behind big-box restaurants that combine casual dining, sports bars, and massive high-tech gaming arcades will win again in 2017.
1. There's ample room for expansion
Dave & Buster's runs high-volume eateries, and over the past year, it has grown from 77 to 88 locations. It's not going to slow down in 2017, aiming to open another 11 or 12 units.
This isn't a small-box concept where several locations can exist within the same market. Dave & Buster's won't have the same kind of ceiling as smaller lower volume eateries. The peak will be in the hundreds, not thousands. However, we're not there yet -- and we haven't even considered the international appeal. We're eyeing double-digit percentage growth for the next few years.
2. The concept works
The popularity of Dave & Buster's is undeniable. Comps soared 5.9% in its latest quarter, and that's no fluke. The chain has beaten the competitive casual-dining benchmark for 18 consecutive quarters.
Dave & Buster's was born after a restaurant owner and bar owner noticed that patrons of one concept would frequent the other. They teamed up, creating a mammoth restaurant where bar games and other high-tech diversions entertain customers between bites and sips.
Dave & Buster's is unique. Less than half of its money is generated from food and beverages, 44% in its latest quarter to be exact. The balance of its net sales are generated from high-margin video games and other entertainment offerings. An arcade or a restaurant on its own would be a risky proposition, but combined, they create the built-in audience for the other part of the model's business.
3. A winner in motion stays in motion
It's not a coincidence that serial market thumpers when it comes to earnings expectations also crank out big stock gains. Dave & Buster's has now delivered nine quarters as a public company, and every single time it has blown Wall Street profit targets out of the water.
Data source: Yahoo! Finance.
The last quarter was athing of beauty. Net income more than doubled. Dave & Buster's landed 79% ahead of where the pros were parked.
If you think a restaurant stock climbing 34% so far this year is impressive, keep in mind that net income has soared 73% through the first nine months of the year. Dave & Buster's has more than lived up to expectations, yet earnings continue to grow faster than its stock price. In short, the stock is cheaper now -- with a lower trailing earnings multiple -- than it was when the year began. After another four quarters of beating Wall Street through 2016, the stock heads into the new year in great shape.
10 stocks we like better than Dave and Buster's Entertainment When investing geniuses David and Tom Gardner have a stock tip, it can pay to listen. After all, the newsletter they have run for over a decade, Motley Fool Stock Advisor, has tripled the market.*
David and Tom just revealed what they believe are the 10 best stocks for investors to buy right now... and Dave and Buster's Entertainment wasn't one of them! That's right -- they think these 10 stocks are even better buys.
Click here to learn about these picks!
*Stock Advisor returns as of Nov. 7, 2016
Rick Munarriz has no position in any stocks mentioned. The Motley Fool recommends Dave and Buster's Entertainment. Try any of our Foolish newsletter services free for 30 days. We Fools may not all hold the same opinions, but we all believe that considering a diverse range of insights makes us better investors. The Motley Fool has a disclosure policy.