3 Reasons Why Dave & Buster's Is Bucking the Restaurant Recession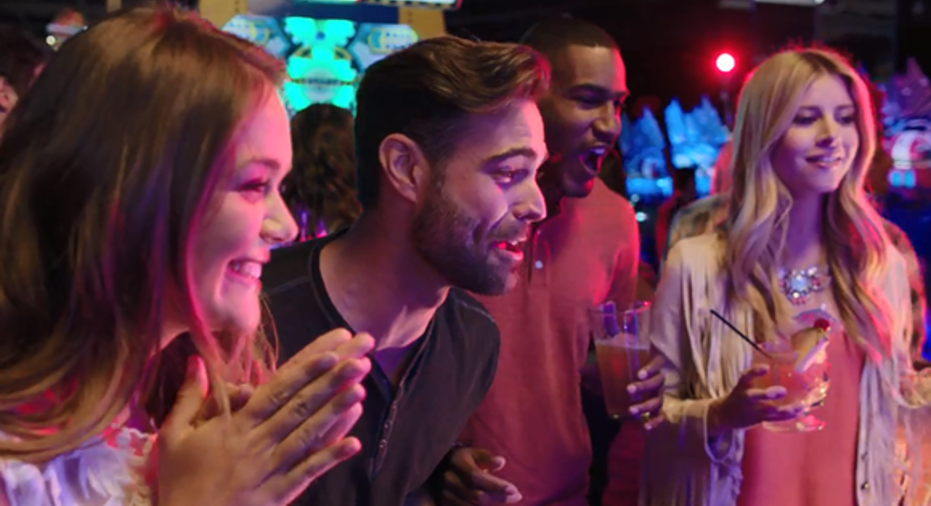 Image source: Dave & Buster's.
There's a new high score on Dave & Buster's (NASDAQ: PLAY)leaderboard. Shares of the "eatertainment" chain raced to a new high after Tuesday's market close, moving to uncharted territory after posting another blowout quarter.
Revenue climbed 19% to $228.7 million, as heady expansion and a 5.9% surge in comps combined to deliver better than expected top-line growth. Analysts were only holding out for 12% top-line growth. Earnings more than doubled to $0.25 a share, also blowing past Wall Street's profit target.
A popular theme in recent months is the "restaurant recession" that finds diners and investors staying away from restaurants and restaurant stocks, respectively. This is obviously not happening when it comes to Dave & Buster's, so let's explore a few of the reasons why it's bucking the trend.
1. Dave & Buster's is more than just a restaurant
It's easy to defy the "restaurant recession" when you're more than just an eatery. Dave & Buster's relies on high-margin amusements and corporate events to generate more than half of its revenue. Food and beverage accounted for just 44% of its revenue during the quarter.
Investors should be cheering on the larger slice of the pie going to amusements, a category where Dave & Buster's is scoring more than double the profit margin. The scalable nature of the model should keep earnings growing faster than revenue, but a continuing shift to amusements will all but assure the trend.
2. Beating the market by beating the market
Dave & Buster's quarterly profit of $10.8 million is 135% ahead of the prior year's third-quarter showing. More importantly for stock-performance purposes, net income of $0.25 a share obliterates the $0.14 a share that Wall Street pros were forecasting.
Investors shouldn't be surprised. Dave & Buster's has blown past analyst profit estimates in each of its nine quarters as a public company. It hasn't even been close, with the chain coming through with at least double-digit percentage beats every time.
Data source: Yahoo! Finance.
Tuesday's 79% beat is the eatery operator's second biggest showing as a public company. Dave & Buster's knows what it's doing. It raised its guidance on Tuesday, but history tells us that the restaurateur is underselling its reality.
3. Distinctiveness has its advantages
Dave & Buster's has tripled since going public at $16 two years ago, and that's before its post-earnings pop. The 88-unit chain expects to open 11 new locations this year, and the establishments don't come cheap. The high cost provides a hurdle for potential competitors.
Many call the chain a "Chuck E. Cheese" for adults, but that's also a perk. Anyone that would try to ape the concept would be seen as a Dave & Buster's wannabe.
Keeping things differentiated has helped the concept beat industry unit-level growth for 18 consecutive quarters. That kind of consistency isn't a fluke. Dave & Buster's is special, and once again, Mr. Market is rewarding the bulls.
10 stocks we like better than Dave and Buster's Entertainment When investing geniuses David and Tom Gardner have a stock tip, it can pay to listen. After all, the newsletter they have run for over a decade, Motley Fool Stock Advisor, has tripled the market.*
David and Tom just revealed what they believe are the 10 best stocks for investors to buy right now... and Dave and Buster's Entertainment wasn't one of them! That's right -- they think these 10 stocks are even better buys.
Click here to learn about these picks!
*Stock Advisor returns as of Nov. 7, 2016
Rick Munarriz has no position in any stocks mentioned. The Motley Fool recommends Dave and Buster's Entertainment. Try any of our Foolish newsletter services free for 30 days. We Fools may not all hold the same opinions, but we all believe that considering a diverse range of insights makes us better investors. The Motley Fool has a disclosure policy.