3 Reasons Why Comcast's Volcano Bay May Not Make a Big Splash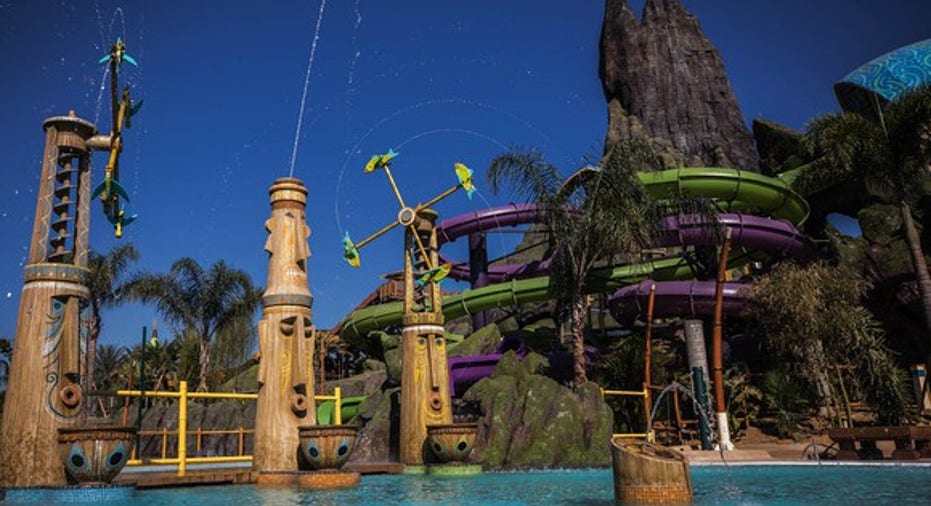 We're now a week away from the grand opening of Volcano Bay atComcast's(NASDAQ: CMCSA)Universal Orlando resort, and there's a lot riding on the next-gen waterpark. Comcast is billing it as the resort's third park, joining Universal Studios Florida and Islands of Adventure.
There is a lot of bar-raising tech going into the new attraction. Guests will be outfitted with bracelets that can be used to reserve return times on the more popular waterslides. Those waterproof TapuTapu bracelets can be used for everything from unlocking lockers, paying for stuff, and bringing interactive park features to life.
Volcano Bay will raise the bar in themed waterparks when it opens next Thursday, something that may find larger rivalDisney(NYSE: DIS)angling to catch up in this waterpark battlethat it can't afford to lose. However, let's not crown Comcast a victor to a fight that hasn't officially started. There are a few reasons to keep expectations in check for Comcast and Disney investors alike.
Image source: Universal Orlando.
1. Volcano Bay may not be ready for primetime
Volcano Bay is still a work in progress. Recent aerial shots still show crews feverishly trying to get the park ready in time for its opening next week. When Universal's Islands of Adventure opened in 1999 the park hosted weeks of passholder previews to make sure that the official opening would run smoothly. Comcast doesn't have that luxury this time.
May 25 may prove to be a flawless debut, but for a park that's trying to break in a lot of new tech and get folks through rides and attractions that haven't been battle-tested, the smart money has to be on a few horror stories. It wasn't until earlier this month that the first travel reporter -- CNN -- was given a tour of the still unfinished park. The reporter was told that a five-acre expansion was already in the works and could break ground in a matter of weeks. In other words, even Comcast is conceding that for all of the demand that it's been stirring for the park in recent months, it may not be able to come through on the supply end on opening day.
We also haven't touched on the awkward transportation challenges. Unlike Disney and SeaWorld (NYSE: SEAS), which have on-site parking by their waterpark entrances, Volcano Bay guests will need to park in the massive Universal Orlando parking garage and then wait for a shuttle bus to take them to and from Volcano Bay. If you think waiting for a bus to get to a waterpark is fun when the clock is ticking, just imagine how much fun it's going to be when soggy patrons want to go home.
2. The park may be too expensive
Comcast isn't pricing its one-day tickets as high as its two larger Universal Orlando theme parks, but it is more expensive than area waterparks. Comcast is charging $67 for a one-day admission. Disney's Blizzard Beach or Typhoon Lagoon will set you back $62 during the summer and $57 during the rest of the year. SeaWorld's Aquatica is $59.99, but it offers a $10 discount for those buying their tickets online at least a day ahead of time.
The disparity may seem slim, and Volcano Bay's tech goodies are worthy of a premium. However, keep in mind that Disney and SeaWorld offer free parking at their waterparks. Volcano Bay guests driving in will have to pay at least $20 to park.
Year-round access is also more expensive. Aquatica annual passes are $108, and Disney sells annual passes that include both of its waterparks for $125. Volcano Bay doesn't offer stand-alone annual passes. The only way to have year-round access now is to buy a three-park Premier pass that costs $150 more than the two-park Premier pass. The pass will cover parking, but keep in mind that Volcano Bay is small. Comcast's new park is half the size of Disney's Blizzard Beach or Typhoon Lagoon, and its year-round pass costs more than Disney's option that includes both properties.
3. Volcano Bay may not move the needle
Comcast investors hoping for a Potter-like boost to overall attendance at Universal Orlando may be disappointed. Comcast reported a 60% surge in attendance at Universal Studios Hollywood in its latest quarter, comparing favorably after that park's springtime expansion last year. Adding a third park may seem like a great way to dramatically grow turnstile clicks, but waterparks just don't draw the way that traditional parks do.
The world's most popular waterpark, in China, attracted fewer than 2.4 million guests in 2015 according to industry tracker Themed Entertainment Association. The top dog is a far cry from Disney World's Magic Kingdom, which greeted 20.5 million visitors that same year. Typhoon Lagoon and Blizzard Beach are this country's two top waterpark draws, at 2.3 million and 2.1 million annual visitors, respectively. Volcano Bay will fare well, but, again, it is half the size of Disney's parks. Comcast also lacks that sheer volume of on-site hotel rooms at Disney.
Volcano Bay should outdraw the similarly sized Aquatica that captured 1.6 million guests, but SeaWorld is also aggressive in promoting that park to locals. Comcast is unlikely to roll out heavy discounts or a stand-alone annual pass for Volcano Bay until the buzz starts to fade. Volcano Bay is going to change the waterpark industry, but it won't be as easy to influence Comcast's financials in a game-changing way.
10 stocks we like better than ComcastWhen investing geniuses David and Tom Gardner have a stock tip, it can pay to listen. After all, the newsletter they have run for over a decade, Motley Fool Stock Advisor, has tripled the market.*
David and Tom just revealed what they believe are the 10 best stocks for investors to buy right now... and Comcast wasn't one of them! That's right -- they think these 10 stocks are even better buys.
Click here to learn about these picks!
*Stock Advisor returns as of May 1, 2017
Rick Munarriz owns shares of SeaWorld Entertainment and Walt Disney. The Motley Fool owns shares of and recommends Walt Disney. The Motley Fool has a disclosure policy.