3 Reasons Why Comcast Buying DreamWorks Animation Makes Sense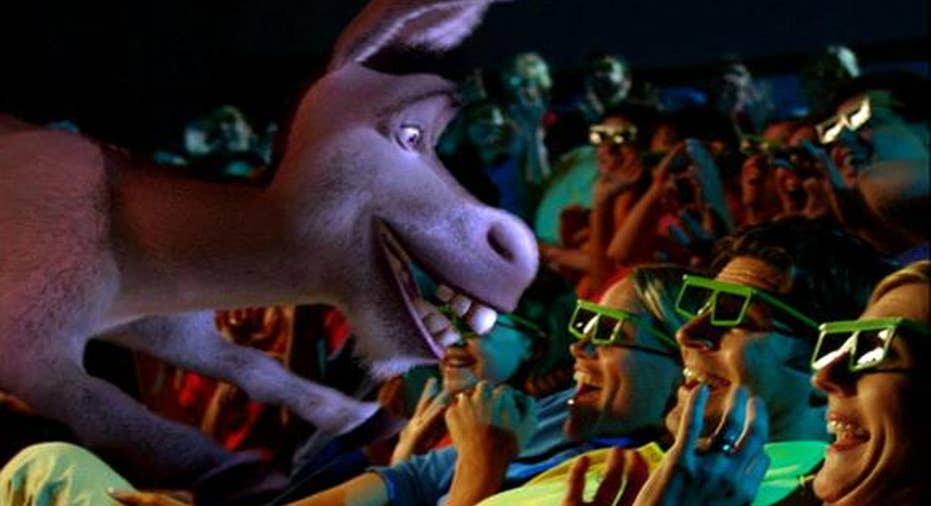 Source: Universal Orlando.
It didn't take long for the buyout chatter to morph into reality.Comcast is buying DreamWorks Animation SKG in a $3.8 billion deal.
We know what the market thinks of the deal. Comcast opened lower on the news, but eventually turned slightly higher. It's basically a non-event as far as the market is concerned.
It is an event. The all-cash deal takes out DreamWorks Animation SKG at a price level that it hasn't seen in six years; but that's not the point. DreamWorks Animation SKG will be better off in Comcast's grubby paws than on its own.
Let's go over a couple of the ways that it can be a game changer for Comcast.
1. Theme parks just got a liftComcast is a distant second to Disney in the realm of theme parks, but Universal Studios has been closing the gap in recent years. Comcast's NBCUniversal has been adding attractions at an impressive clip, but it often has to license character franchises to lean on established third-party properties.
Disney rarely has to go that route, and big-ticket purchases of Pixar, Marvel, and Lucasfilm make its deal for Avatarlikely the last that it will sign to take a non-owned franchise into its theme parks for a long time.
Universal Studios already has a Shrek-themed 3D attraction in four of its parks, and its park in Singapore also hasMadagascar attractions. It's easy to see NBCUniversal building on that, especially now that it will own the properties outright.
It's easy to see a family friendly Kung Fu Panda dark ride, especially when Universal Studios Beijing opens in three years. If Disney's Avatar-themed flying banshee attraction is a hit at Disney World's Animal Kingdom next year, you can bet that Comcast will find a way to transform How to Train Your Dragon into a thrill-ride experience.
With a theme-park operator now owning DreamWorks Animation, don't be surprised if new releases revolve around themes that can be fleshed out into bar-raising rides and attractions.
2. Disrupting the disruptor in videoOne of the big early content deals that Netflix struck early in its push for original content was with DreamWorks Animation. The computer-animation studios would provide more than 300 hours of content for a dozen original shows between 2013 and 2018. The deal with Comcast isn't going to change that, and it's certainly interesting to see Netflix cutting checks to Comcast -- the company it has often taken to task for throttling its broadband customers.
However, in the bigger scheme of things, Comcast now has a direct source for kid-friendly content. It has plenty of partnerships in place with existing providers of family entertainment, but now it can build up its own vault of proprietary content. Whether Comcast uses it to fortify the appeal of Comcast's cable services, or for the rollout of its own streaming television platform, content is king.
3. Cash in on the next hit movieIt's been a few years since DreamWorks Animation has pushed out a blockbuster theatrical release that wasn't a sequel. The last time an original franchise broke $500 million in global ticket sales was 2013's The Croods. DreamWorks Animation is in a lull, and between shelving projects including B.O.O., and emphasizing sequels, it's easy to see why investors weren't getting excited.
That should change. Trolls hits theaters later this year, opening up plenty of consumer-product opportunities if it's a hit. It's harder to get a feel for subsequent slated originals, including Boss Bay and Larrikins, but it can only help that Comcast will have its theme parks, NBC, and other platforms to promote fresh properties. It can then cash in on these releases months after they hit theaters by playing them up through Comcast's flagship cable service, or any Netflix-challenging platform that it will lean on in the future.
DreamWorks Animation SKG looks good on Comcast's arms -- in so many different ways.
The article 3 Reasons Why Comcast Buying DreamWorks Animation Makes Sense originally appeared on Fool.com.
Rick Munarriz owns shares of Netflix and Walt Disney. The Motley Fool owns shares of and recommends Netflix and Walt Disney. The Motley Fool recommends DreamWorks Animation. Try any of our Foolish newsletter services free for 30 days. We Fools may not all hold the same opinions, but we all believe that considering a diverse range of insights makes us better investors. The Motley Fool has a disclosure policy.
Copyright 1995 - 2016 The Motley Fool, LLC. All rights reserved. The Motley Fool has a disclosure policy.