3 Reasons Why Chorizo Will Spice Up Chipotle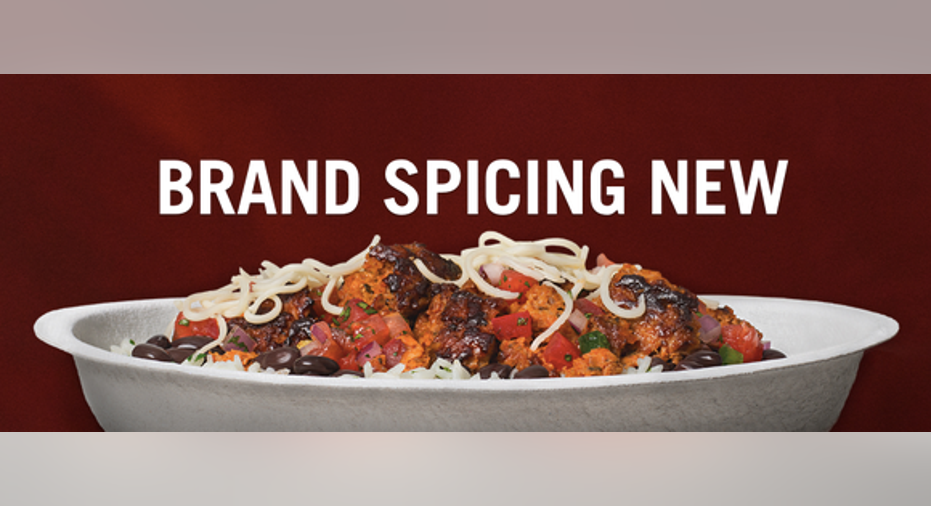 There's a new way to get your burrito, taco, bowl, or salad on at Chipotle Mexican Grill. The currently out-of-favor eatery that put fast casual on the map is hoping that adding chorizo as a protein option can help put an end to the most brutal slump in the restaurant industry.
Chipotle added chorizo to a handful of its locations yesterday. It will be available at all of its restaurants by the fall. The new Spanish sausage is a blend of pork and white-meat chicken. It is spiced up by being seasoned with paprika, toasted cumin, and chipotle peppers.
As diehard Chipotle buffs know, Chipotle doesn't mess with its offerings. This will be the chain's first new ingredient on its assembly linesince adding tofu-basedSofritas in 2013. However, the time is right to mix things up. Let's go over a few of the reasons why this should be a pretty big deal for Chipotle.
Image source: Chipotle.
1. Chorizo has been put to the test before
Chipotle added the new protein to is restaurants in Manhattan, Sacramento, San Diego, and Columbus, OH on Wednesday. Its outlet at Washington DC's Dulles airport and a single eatery in its home turf of Denver also started offering chorizo.
The gradual rollout may be by design, but it's not the first time that Chipotle customers have been able to spice things up with the savory sausage.It introduced chorizo during atrial run in Manhattanfive years ago, and last year it began testing the meat in Kansas City. It was also part of the short-lived breakfast egg burrito offeringsat Baltimore-Washington International and Dulles.
It was reportedly set to expand the Kansas City test last year, but then the E. coli and norovirus outbreaks happened. Chipotle was too busy trying to get to the root of its misfortune to begin hyping up chorizo. The time is apparently right to roll nationwide with a product that's been tested in at least three different markets over the past five years.
2. Comps need a boost
The food-borne illnesses have decimated the cash registers at Chipotle. Year-over-year comps have been in the negative double digits since November, plummeting 14.6% during last year's fourth quarter and 29.7% during the first three months of this year.
The comparisons should start to get easier once we work our way back to the fourth quarter, and that's where the fall rollout makes sense. If Chipotle's organic efforts aren't enough to show positive growth off of the prior year's holiday quarter then the novelty aspect of chorizo should do the trick.
If comps don't turn positive by the fourth quarter or at the very latest the first quarter of next year it would be time for Chipotle to panic.
3. Variety is the spice of life -- and loyalty programs
Chipotle is introducing Chiptopia tomorrow. Customers visiting the chain in July, August, and September will be given a card that can be used to win free food on subsequent visits.
The reward cycles require several repeat visits. You have to go four times in any given month to win a free entree -- and as many as 11 visits a month for three consecutive months to win the grand reward of a catered event for 20 people.
Chiptopia is going to spur an uptick in traffic, but it's also going to make a lot of diehard fans sick of its current offerings by the time the end of the third quarter rolls around. This is where chorizo comes in, wooing the overstuffed back through the chain's doors once those Chipotle cards expire.
It's a case of good timing with Chiptopia. It's a case of great timing with chorizo.
The article 3 Reasons Why Chorizo Will Spice Up Chipotle originally appeared on Fool.com.
Rick Munarriz has no position in any stocks mentioned. The Motley Fool owns shares of and recommends Chipotle Mexican Grill. Try any of our Foolish newsletter services free for 30 days. We Fools may not all hold the same opinions, but we all believe that considering a diverse range of insights makes us better investors. The Motley Fool has a disclosure policy.
Copyright 1995 - 2016 The Motley Fool, LLC. All rights reserved. The Motley Fool has a disclosure policy.