3 Reasons Why Chiptopia Might Not Work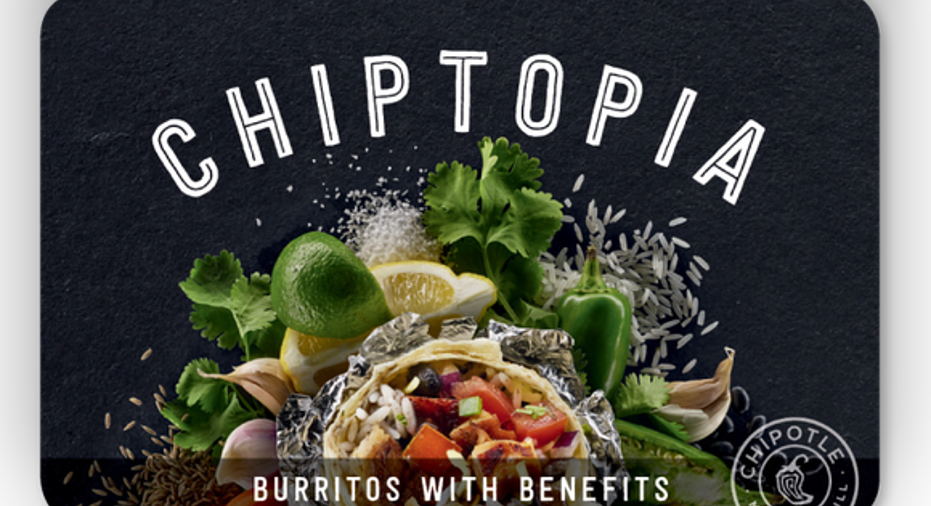 Image source: Chipotle.
Chipotle Mexican Grillhas been dishing out a lot of orders of chips and guac this weekend, but it's not necessarily getting paid for them. Chipotle rolled out Chiptopia on Friday, a summertime promotion where card-wielding customers can score free meals if they log enough paid visits.
It's an ambitious if not desperate plea to turn things around after what was likely its third consecutive quarter of double-digit declines in comps. It should drum up traffic, but there's more to success in fast casual than that. Let's go over a few of the ways that Chiptopia's promotional run through the next three months can sting the chain.
1. Slowing down the register
Speed is a hallmark of the Chipotle experience. Customers don't flinch when they see long lines at the burrito roller, even when unit levels peaked last summer. Chipotle would routinely brag about how many customers it could get through its assembly line during peak lunch hours, pointing out that its best units could push through in excess of 350 transactions an hour.
Chiptopia can slow things down for obvious reasons. Customers have to hand over their cards, and they are checked against potential freebies. There's also the free chips and guac that the chain is handing out to folks signing up for the card for the first time, taxing the "expediter" that lines up between the register and the prep team. There are a lot of new questions involved in the checkout process, clogging up its once industry-envying throughput.
There is also the incentive to split up orders. A pressure point here is that there's a maximum of one qualifying purchase per member a day. If my wife and I want to go to Chipotle, it doesn't make sense to put it on the same bill the way we have in the past. We're going to ask to be rung up as separate orders, doubling our freebies and initial chip and guac claims. Chipotle queues will get longer and slower during Chiptopia's run.
2. Margins on the margin
Chipotle has already seen margins crash since a couple of gastro malady outbreaks scared away customers late last year. It resulted in the chain posting its first quarterly deficit as a public company during the first quarter of this year.
Analysts see a sharp drop in profitability for the quarter that ended last week. Where do we go from here? Giving away food and possibly facing higher credit card processing fees on smaller transactions will weigh on the bottom line. There will be a spike in traffic during the third quarter, but it will come at the expense of margins. The fourth quarter will also be tricky. The Chiptopia program ends in September, but freebies can be claimed within 30 days of being earned. In other words, Chipotle will continue to give away food in October without the benefit of Chiptopia increasing sales to earn them.
3. Weaning is the hardest part
Chiptopia offers an incentive to stop by in July, August, and September. In the words of Green Day, wake me up when September ends. Diehard Chiptopia card flashers will probably be tired of cilantro rice by quarter's end.
McDonald's -- a fast food giant that Chipotle knows all too well because it was once its parent company -- knows all about the fickle nature of promotions. McDonald's experiences a spike in traffic during its annual Monopoly peel-off campaign. It then deals with aftermath. Instead of encouraging repeat visits, the end of a promotion often leads to repulsion and fatigue. McDonald's Monopoly and Chipotle's Chiptopia are different beasts, but the goal of jamming traffic into a tight window of time remains the same.
Chiptopia in October is going to be an interesting situation. Customers have seen freebies and BOGO deals morph into Chiptopia during the third quarter. Chipotle won't be able to rest on its laurels during the holiday quarter. It's going to need something new to appease customers that have been spoiled by markdowns and now reward cards. Getting folks back to paying retail will be no easy task.
The article 3 Reasons Why Chiptopia Might Not Work originally appeared on Fool.com.
Rick Munarriz has no position in any stocks mentioned. The Motley Fool owns shares of and recommends Chipotle Mexican Grill. Try any of our Foolish newsletter services free for 30 days. We Fools may not all hold the same opinions, but we all believe that considering a diverse range of insights makes us better investors. The Motley Fool has a disclosure policy.
Copyright 1995 - 2016 The Motley Fool, LLC. All rights reserved. The Motley Fool has a disclosure policy.