3 Reasons Why Chipotle's Steve Ells Is on the Hot Seat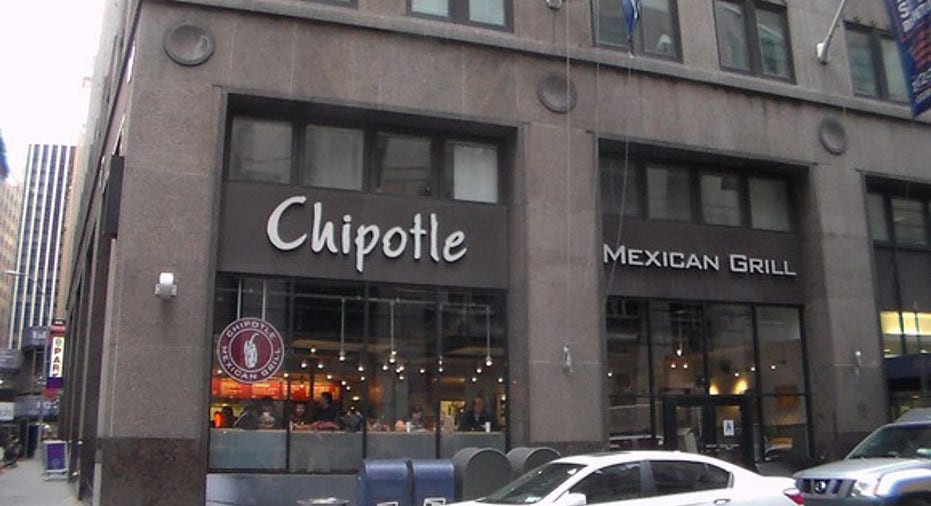 Image source: Chipotle.
You would think that activism would be something that's not frowned upon atChipotle Mexican Grill(NYSE: CMG), but the top brass at the company behind the "food with integrity" mantra may not like the revolution when it's their hides at stake. Some big investors are getting fed up with Chipotle, and not in the "My, that was a filling barbacoa burrito" kinda way.
Shares of Chipotle recently hit a three-year low, and that's smoking out hedge funds and other institutional investors that think some change in leadership would do the former fast-casual darling some good. Bill Ackman's Pershing Square took a 9.9% stake in Chipotle in September, and Reuters reported late last week that Ackman had signed a confidentiality agreement so the two sides can start talking. He may want a presence in the Chipotle boardroom, and he's not alone.
A week ago, there were reports that Amalgamated Bank and CtW Investment Group were calling for Steve Ells -- Chipotle's co-founder -- to lose his role as the board's chairman. The call here is to replace him with an independent director who won't be afraid to make the necessary changes to execute a turnaround. How did this happen? How did the personable and, until late last year, idolized Ells come under fire? Let's break it down.
1. Losing investors are angry investors
The stock hit its latest three-year low earlier this month, and everyone at the top has to feel nervous when that happens. Wall Street is a mean sports town. When your favorite team is losing, you're going to see the phone banks at local sports talk radio light up demanding change at the helm. Investors and analysts aren't any different.
Chipotle's stock has inched its way higher since bottoming out a week ago, but it has still shed half of its value since peaking last year. That's the kind of stock chart that gets activists activated.
2. The brutal comps slide
One would expect customers to stay away from a chain with several outbreaks of food-borne illnesses, but Chipotle has now rattled off four quarters of jaw-dropping double-digit declines in comps. It's bracing investors for a fifth decline in the current quarter. Even Jack in the Box (NASDAQ: JACK) -- which experienced a far more catastrophic E. coli in 1993 -- bounced back after just four quarters of negative comps. There were fatalities following the Jack in the Box incident, but diners came back a year later. We're not quite there with Chipotle.
Chipotle could've been a victim of its earlier success. After years of blowout comps, it was bound to feel human. However, even if we smoothen out the disparity by looking at the chain's performance over two years instead of just one, we still wind up with some scary math. As Nation's Restaurant News points out, Chipotle's two-year comps has fallen by 19.3% in each of this year's first three quarters. It should be only marginally better now. Chipotle's outlook is for negative comps in the low single digits after a 14.6% decline a year earlier. Comps should turn positive in 2017, but it has dug itself into a pretty big hole.
3. The rise and stall of Shophouse
Chipotle's been toying with new concepts, arming itself with sister concepts to carry the growth baton if we ever hit peak Chipotle. There's the Pizzeria Locale offering quick-baked pizzas. Last month, it opened its first Tasty Made burger shop. Then we get to Shophouse Kitchen.
Shophouse launched five years ago, and giving its assembly line prowess a southeast Asian spin seemed to be popular at first. Shophouse expanded to 15 locations, but Chipotle revealed in its latest call that it would be exploring strategic alternatives for the chain.
Nixing Chipotle's second-largest concept comes at a bad time. Unloading Shophouse may give it more time to focus on turning things around at its namesake chain, but it also shines a hot spotlight on yet another failure. It gives activists more ammo, and we know how those battles don't typically favor the folks on top.
10 stocks we like better than Chipotle Mexican Grill When investing geniuses David and Tom Gardner have a stock tip, it can pay to listen. After all, the newsletter they have run for over a decade, Motley Fool Stock Advisor, has tripled the market.*
David and Tom just revealed what they believe are the ten best stocks for investors to buy right now... and Chipotle Mexican Grill wasn't one of them! That's right -- they think these 10 stocks are even better buys.
Click here to learn about these picks!
*Stock Advisor returns as of November 7, 2016
Rick Munarriz has no position in any stocks mentioned. The Motley Fool owns shares of and recommends Chipotle Mexican Grill. Try any of our Foolish newsletter services free for 30 days. We Fools may not all hold the same opinions, but we all believe that considering a diverse range of insights makes us better investors. The Motley Fool has a disclosure policy.