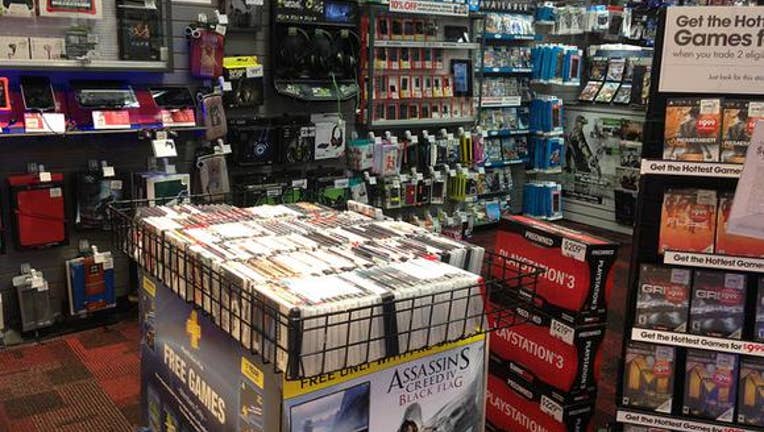 Monday was rough for GameStopinvestors, but it could've been brutal. Shares of the video game retailer opened 15% lower after posting uninspiring quarterly results. It went on to trade as much as 16% lower before making most of that back. It wound up closing out the trading day just 4% lower.
GameStop shares traded at its heaviest volume since last November, when the stock also took a hit after another disappointing fiscal third quarter report.
There are certainly plenty of dark clouds at GameStop these days, but let's not bail on the small-box retailer entirely. Let's take a closer look at some of things that bear watching at GameStop.
1. GameStop can't buy its way into earnings-per-share growth anymoreThe video game retailer is a gluttonous eater of its own stock. That's a good thing. Buybacks have resulted in the count of shares outstanding going from its peak of 164.7 million during the third quarter of fiscal year 2009 to just 106.1 million as of its latest quarter, according toS&PCapitalIQdata.
Shareholders have been the welcome beneficiaries of GameStop's voracious appetite since net income gets inflated on a per-share basis with the lower share count. We saw that again on Monday. Quarterly earnings declined by 11% since the prior year, but earnings per share slipped by just 5%.
The rub here is that analysts were expecting growth on a per-share basis. That's going to be harder to pull off if overall profitability posts another period of double-digit declines.
2. Success in pre-owned wares isn't enough anymoreNew software sales have been sluggish as diehard gamers switch to digital delivery and casual gamers settle for smartphone apps. New hardware sales are also feeling the pinch now that the PS4 and Microsoft's Xbox One have been on the market for two years.
This hasn't been a deal breaker in the past, because GameStop's still thriving with the higher-margin sale of pre-owned games and gear. That segment actually clocked in higher for the quarter -- up 0.6% since the prior year or up 4.9% on a more accurate currency-adjusted basis -- but it clearly wasn't enough to offset an overall decline in both sales and comps.
3. The digital revolution continues to leave the station without GameStopGameStop isn't stupid. It knows that digital delivery is the future, and it will be hard to bank on a store-based distribution model when software and console makers market directly to gamers.
It has tried to hold on to the past, replacing digital software bonus bundles with physical discs on new releases. It has also tried to matter in the future with a couple of digital-forward acquisitions. It hasn't been enough. It was able to grow its mobile revenue -- and the adjusted tally on digital receipts did edge higher -- but that also wasn't enough to push overall sales higher.
GameStop's challenges are actually reasons worth owningI went over three reasons to sell, but dig a little deeper and they're actually reasons to bet on the meandering retailer. The share buybacks only show the lucrative nature of the model. It doesn't cost much to run a small space in a suburban strip mall, and taking that money to lower its share count only makes GameStop more valuable on a per-share basis.
The juicy markups to be had in pre-owned merchandise may be a thing of the past once digital delivery becomes available -- at least on the software end -- but it's going to continue to be a cash cow for at least the next few years. Microsoft recently began making many of its earlier Xbox 360 titles compatible with Xbox One, something that will generate interest and value in older Microsoft releases.
Finally let's not forget that GameStop isn't asleep in digital. It's been diversifying, and that includes its acquisition of collectibles retailer ThinkGeek. There isn't a digital disruption taking place in the realm of sci-fi keepsakes.
It's hard to be excited about GameStop in the long-run, but its fat profitability will give it time to reinvent itself just as its fat dividend yield will give investors time to stick around.
The article 3 Reasons to Sell GameStop, 1 Reason to Buy originally appeared on Fool.com.
Rick Munarriz has no position in any stocks mentioned. The Motley Fool has no position in any of the stocks mentioned. Try any of our Foolish newsletter services free for 30 days. We Fools may not all hold the same opinions, but we all believe that considering a diverse range of insights makes us better investors. The Motley Fool has a disclosure policy.
Copyright 1995 - 2015 The Motley Fool, LLC. All rights reserved. The Motley Fool has a disclosure policy.