3 Reasons to Expect a Big Dividend Hike From Procter & Gamble Co. in April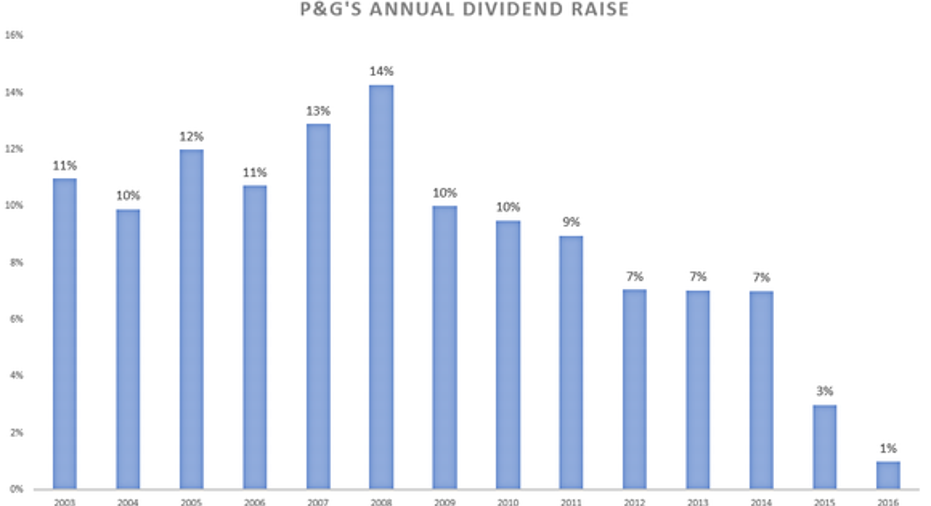 Procter & Gamble (NYSE: PG) has raised its dividend for 60 consecutive years in one of the stock market's longest such streaks. The owner of global consumer brands such as Pampers, Gillette, and Bounty also boasts one of the biggest payouts around, having delivered over $60 billion to investors since 2005.
Its latest dividend boost was shockingly small, though, stopping at less than 1%. Yet investors have good reasons to believe that this year's increase, likely to be announced in April, will be significantly bigger.
Data source: P&G financial filings.Chart by author.
Improving operating trends
P&G has been trying in vain to engineer a sales growth rebound since 2013. But with a brand-new portfolio in place, it's looking like one is already underway. Organic revenue improved at a surprisingly fast pace in each of the last two quarters, giving management the confidence to raise its outlook for the fiscal year that ends in August. P&G now sees organic sales rising by 2.5% at the midpoint of guidance, up from the 2% they initially projected and the 1% that the company achieved in 2016.
In another welcome contrast with competitors, P&G's growth is both accelerating and being driven by faster volume gains. Kimberly-Clark (NYSE: KMB), which challenges the Pampers brand, recently reported a slowdown in both volume and overall organic growth. That suggests P&G is inching closer to ending its market share slide and could soon begin posting the type of market-beating gains that have long made up the foundation of its business model. Heading into last year's dividend announcement, meanwhile, its growth was a much weaker 1% and was driven entirely by price increases.
Better profit position
P&G is also showing solid improvements on the bottom line. Huge cost cuts have already cleaved billions of dollars out of its expense structure, and management is on track to slice a further $10 billion from the business over the next few years.
At the same time, P&G is benefiting from the massive brand-shedding process that's aimed at raising overall profitability. In fact, there's solid evidence that the initiative will achieve the 1% boost to margins that CEO David Taylor and his executive team have targeted. Operating margin is up by 2.1 percentage points since 2013 to over 21% of sales, keeping it well ahead of Kimberly-Clark and its 18%.
Heading into next month's dividend announcement, earnings are up 10% so far in 2017 and are on track to rise by only slightly less than that for the full year.
Pressure from shareholders
With the stock dropping along with operating results recently, P&G has had to increasingly rely on sending cash directly to shareholders to boost their returns. Luckily, management has had plenty of ammunition around to fund that goal.
Thanks to help from cost cuts and the funds generated from selling off key parts of its portfolio, the company is on track to deliver $22 billion to investors this year alone. There's plenty of room in that capital-return plan to boost dividend payments over the stock repurchases that management has favored so heavily over the past few years. And a more aggressive dividend policy could be just the type of shareholder-friendly move that activist investor Nelson Peltz is pushing for with its large new position in P&G.
Put it all together and I'd be surprised if Procter & Gamble didn't raise its dividend at something closer to the 5% increase that Kimberly-Clark announced in January. It's about time that one of the market's longest-running payouts gets back to a solid pace of gains.
10 stocks we like better than Procter and GambleWhen investing geniuses David and Tom Gardner have a stock tip, it can pay to listen. After all, the newsletter they have run for over a decade, Motley Fool Stock Advisor, has tripled the market.*
David and Tom just revealed what they believe are the 10 best stocks for investors to buy right now... and Procter and Gamble wasn't one of them! That's right -- they think these 10 stocks are even better buys.
Click here to learn about these picks!
*Stock Advisor returns as of February 6, 2017
Demitrios Kalogeropoulos has no position in any stocks mentioned. The Motley Fool recommends Kimberly-Clark. The Motley Fool has a disclosure policy.