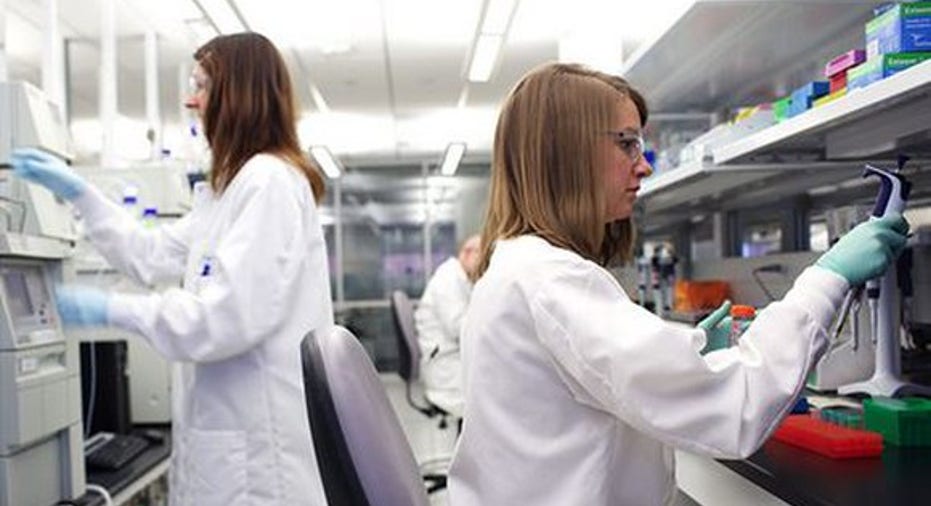 Image source: Getty Images.
Biotechnology stocks are regaining a bit of their luster lately; but that's done little to help boost shares in Biogen Inc. . In the wake of disappointing phase 2 results for the company's once-promising, next-generation MS drug, opicanumab, Biogen's shares remain weak. While opicanumab's failure is disappointing, here are three reasons why it may make sense to stick with Biogen's shares for the long haul.
Multiple Sclerosis powerhouse
One of the biggest arguments for giving up on Biogen's shares is that its dominance in multiple sclerosis treatment is coming to an end. Although Biogen's market share in the $19 billion market for MS therapies is 38%, its MS drug sales only inched up 2.4% in the past year in Q1.
That growth is pretty tepid, especially when you consider that competitors MS drugs are growing far more quickly. Last quarter, Novartis Gilenya sales jumped 12% to $698 million and Sanofi's Aubagio sales leaped 64% to $312 million, at current exchange rates.
With competitors growing quickly, there's a lot of pressure on Biogen's drug pipeline to kick-off new top-sellers in the indication. Unfortunately, earlier this month Biogen's top-prospect in its MS pipeline failed to deliver the goods in mid-stage studies.
Opicinumab enthusiasm had been running high ahead of the failure because if it had succeeded it would have been the first MS drug that could stop or potentially reverse the disease. it's failure, however, has created substantial doubt over whether or not Biogen will be able to use its muscle to fend off competitors.
While opicinumab's failure is discouraging, it wasn't the only MS drug that Biogen's got in the works. Last fall, Biogen licensed a drug from Mitsubishi Tanabe that has the same target as Novartis' Gilenya. This compound, MT-1303, is an SP1 modulator and according to management, it has the potential for best-in-class efficacy and safety.
If so, then MT-1303, which is entering phase 3 trials, could be Biogen's next multibillion blockbuster. Success in late stage trials could allow it to capture business back from Gilenya, especially since Gilenya can pose some safety concerns related to heart rate. MT-1303 could also insulate Biogen from other competitors, including Celgene Corp . Celgene spent $7.2 billion on acquiring Receptos to get its hands on ozanimod, a SP1-modulator that has posted very good efficacy and safety in mid stage trials. Phase 3 trial results for ozanimod are anticipated next year.
Image source: Biogen, Inc.
Big Moonshots remain
Last year, the company kicked-off a large, multi-year study of aducanumab, a therapy targeting Alzheimer's disease. Alzheimer's disease is notoriously tough-to-treat and the patient population is growing as baby boomers get older.
The number of American seniors with Alzheimer's disease is expected to climb 40% to 7.1 million by 2025 and the number of people suffering from the disease could triple by 2050, according to a report by the Alzheimer's Association.
Memory loss and the loss of daily functioning is thought to be caused by a build up of amyloid plaques in the brain. Aducanumab binds to amyloid to help reduce their ability to clump together as these plaques.
The company is also conducting mid-stage studies on BAN24, a next-generation antibody that similarly targets amyloid plaques.
While there's no telling whether or not the phase 3 study of aducanumab will pan out, there's a massive unmet need for new Alzheimer's therapies and that unmet need means these drug could someday be billion dollar blockbusters.
Bullet-proof balance sheet
The company's dominance in MS has allowed it to launch drugs targeting hemophilia that are racking up hundreds of millions in sales too. Those hemophilia drugs are expected to be spun-out of Biogen later this year in a move that should further improve upon Biogen's already rock-solid financial picture.
Exiting March, Biogen's cash and equivalents stockpile totaled $6.8 billion and with cost-cutting moves in place and Tecfidera sales having reached levels where additional sales are contributing nicely to the bottom line, additional earnings this year should further add to the company's financial firepower.
Given that Biogen's generating nearly $4 billion in operating cash flow, it's got a lot of flexibility that it can reinvest back into its R&D programs or that it can use to acquire promising next-generation therapies from upstarts.
Tying it together
Biogen's sales growth is slowing and investors shouldn't ignore the competitive threats in MS, but it may be wise to give management the benefit of the doubt that they can maintain their leadership in the indication. Drugs like MT-1303 could help insulate the company against competitors, as could new formulations of prior-generation therapies that work longer and reduce patient burden. For example, Biogen's Plegridy, a twice-monthly formulation of the once-weekly Avonex, is generating more than $100 million in sales per quarter. Also, the FDA recently approved Zinbryta,a once-monthly treatment that may win market share among patients whose disease is inadequately controlled by other therapies.
In addition to the company's ongoing potential in MS, the company could also end up with a big win in Alzheimer's disease. Further back in development is a treatment targeting Parkinson's disease too.
Overall, Biogen has plenty of financial wiggle room to allow it to create or acquire promising medicines that could spark sales in the future and if that's the case, then giving up on shares when they're only trading at 11.6 times next year's earnings estimates may not be the right move.
The article 3 Reasons To Buy Biogen originally appeared on Fool.com.
Todd Campbell has no position in any stocks mentioned.Todd owns E.B. Capital Markets, LLC. E.B. Capital's clients may have positions in the companies mentioned. Like this article? Follow him onTwitter where he goes by the handle@ebcapital to see more articles like this.The Motley Fool recommends Biogen. Try any of our Foolish newsletter services free for 30 days. We Fools may not all hold the same opinions, but we all believe that considering a diverse range of insights makes us better investors. The Motley Fool has a disclosure policy.
Copyright 1995 - 2016 The Motley Fool, LLC. All rights reserved. The Motley Fool has a disclosure policy.