3 Reasons TerraForm Power Inc Stock Could Rise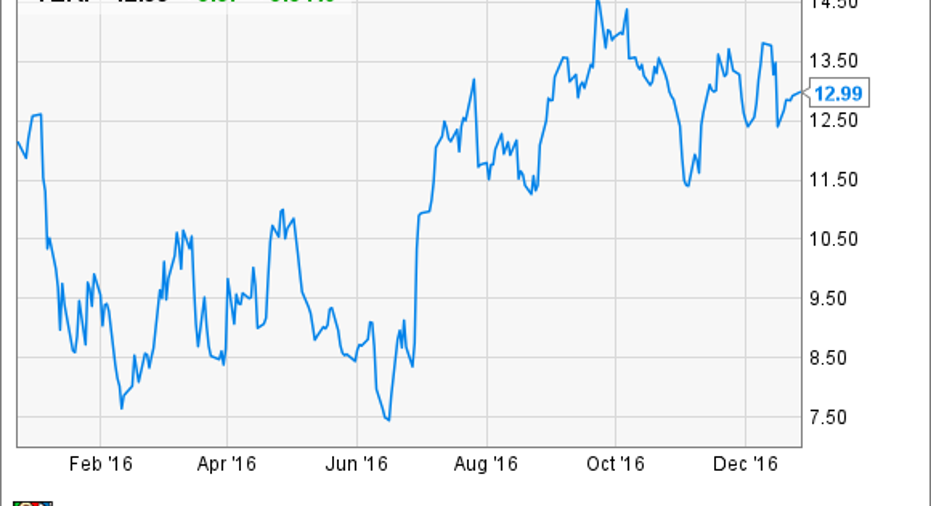 2016 was a wild ride for TerraForm Power Inc (NASDAQ: TERP) investors, but for those who got in at the right time, there was a lot of money to be made:
As we look forward to 2017, there are a few things that could help drive the stock higher. And while some of them may be a long shot, they're worth investors' consideration.
Image source: Getty Images.
A savior comes to the rescue
The simplest way TerraForm Power's stock could rise in 2017 is if an investor buys all, or most, of SunEdison's controlling stake in the company. It's the tie to SunEdison that's led to 2016's ups and downs, and breaking free would be a huge positive.
Investors like Blackstone, Appaloosa, and D.E. Shaw have all shown interest in buying some or all of the company, but creditors of SunEdison have blocked a sale thus far. That's because they're looking for a higher price than the $13 per share that the stock trades for today -- also a rumored buyout price -- but buyers won't likely pay much more because they want a discount to what they might pay for competing yieldcos on the open market. That's led to a standstill in negotiations.
It's also possible that SunEdison might just reorganize with the TerraForm Power assets -- an important base to build a business from -- which wouldn't help the stock much in the near term. But if SunEdison liquidates its shares in TerraForm Power and another owner comes in, it would likely be a boon for the shares.
The dividend is better than expected
Based on 2016 EBITDA guidance of $517 million to $532 million, interest expense of $281 million, and general and administrative expenses of $77 million, TerraForm Power could conceivably pay a dividend of $1.19 per share when the dividend is reinstated. That would be a dividend yield of 9.2%, higher than that of the major yieldcos on the market today, which pay dividend yields between 5% and 8%.
If that's indeed the level of the dividend, or if it's higher, TerraForm Power's stock could rise just to bring the dividend yield in line with competitors'. And the gain could be significant. At a $1.19 per-share dividend and a 7% dividend yield, the stock would trade for $17 per share, $4 higher than today.
Refinancing reduces risk
TerraForm Power's $4.1 billion in debt at the end of Q1 2016 is an extremely high load for a company with 3 GW of assets. And in a restructuring of the company, it might make sense to reduce debt and offer creditors shares of stock.
It could make a lot of sense for TerraForm Power and its creditors to consider some sort of restructuring. For example, converting $1 billion of debt to stock would increase shares outstanding by just over 50%, but it could help reduce net debt and lower borrowing costs.
Let's say, for example, that $4.1 billion of debt comes with a 7% interest rate -- the interest cost would be $287 million annually. If you converted $1 billion of debt to equity with an 8% dividend rate, and that led to a higher credit rating and an interest rate of 6% (100 basis points lower), the dividend and interest cost combined would fall to $266 million annually. So refinancing could be good for TerraForm Power and reduce risk for its creditors, which would make everyone happy.
10 stocks we like better than TerraForm Power When investing geniuses David and Tom Gardner have a stock tip, it can pay to listen. After all, the newsletter they have run for over a decade, Motley Fool Stock Advisor, has tripled the market.*
David and Tom just revealed what they believe are the 10 best stocks for investors to buy right now... and TerraForm Power wasn't one of them! That's right -- they think these 10 stocks are even better buys.
Click here to learn about these picks!
*Stock Advisor returns as of Nov. 7, 2016
Travis Hoium has no position in any stocks mentioned. The Motley Fool has no position in any of the stocks mentioned. Try any of our Foolish newsletter services free for 30 days. We Fools may not all hold the same opinions, but we all believe that considering a diverse range of insights makes us better investors. The Motley Fool has a disclosure policy.