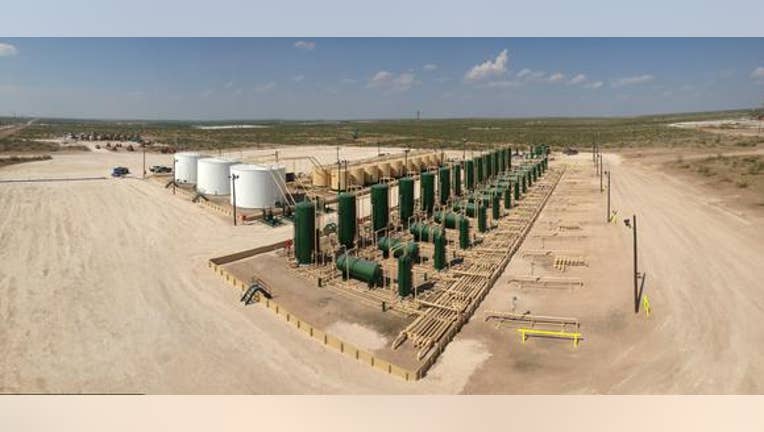 SOURCE: PIONEER NATURAL RESOURCES, SANDS WEEMS.
The downturn in the oil market has taken a toll on oil stocks, including Pioneer Natural Resources . While the company has performed as good as could be expected during the downturn, it still has seen its stock price slump. That said, there are three catalysts that could reverse the stock's recent slide and send it higher.
1. Oil prices improveIt probably goes without saying, but the steep drop in the price of oil is the primary weight on Pioneer Natural Resources' stock price over the past year:
While the company has actually outperformed the oil price, if oil rebounded it would lift all boats including Pioneer Natural Resources.
While it's anyone's guess when oil will rebound, there is a key trend on the horizon that could send oil higher: U.S. oil production has plateaued, and is starting to decline:
US Crude Oil Field Production data by YCharts
Further declines are clearly on tap given the steep drop in capex spending that's projected in 2016. In fact, outside of Pioneer Natural Resources and a small handful of others, most U.S. oil companies are projecting a steep drop in their production this year. For example, Bakken producers Whiting Petroleum and Continental Resources have basically thrown in the towel. With oil currently under $40 a barrel, Continental Resources cut its capex spending by 66% over what it spent last year, which is expected to result in its production dropping 18% from the fourth-quarter of last year to this year's fourth-quarter. Meanwhile, Whiting Petroleum slashed its capex budget by 80%, resulting in an expected 18.5% year-over-year decline in its average daily production. That's a big shift for companies that both delivered strong double digit production growth last year. More importantly, however, is the fact that these declines will really help the oversupplied oil market get back into balance, which is the key to improving the oil price.
2. It slams the brakes on growthAs mentioned, most of its peers are taking the ultra-conservative route in 2016, however, Pioneer Natural Resources is pursuing production growth, aiming to grow its output by more than 10%. While that's growth the company can technically afford because it has a lot of cash after selling its Eagle Ford midstream business as well as equity, it's not growth it can fund with its current cash flow.
In planning to outspend cash flow to grow production Pioneer is really going against the grain this year. Further, given that the oil market is still oversupplied, growth really isn't warranted right now. Because of that it would make much more sense for the company to cut its capex budget even further and just keep its production flat until market conditions improve. Such a move would preserve production growth for when it is needed and would be a clear sign to the market that Pioneer is putting its focus on returns and not growth for the sake of growth.
3. It decides to review strategic alternatives for its non-core assetsThe primary reason why Pioneer Natural Resources is growing in 2016 is because it has the cash to do so and that's partially because it sold some non-core assets in 2015. It still has a number of potential non-core assets that could still be monetized, including its Eagle Ford shale position.
While this might not be the best time to sell assets, it wouldn't hurt to at least take this time to review its strategic alternatives for these assets. In fact, Pioneer might discover that these assets are being undervalued by the market and that a sale would be its best option, because that could further bolster its balance sheet.
Investor takeawayAny rebound in Pioneer Natural Resources' stock price is really predicated on a rally in the price of oil. Outside of that, if the company were to really show investors it's focused on increasing shareholder value and not simply growing for the sake of growth that could also push its stock higher, even if oil doesn't budge.
The article 3 Reasons Pioneer Natural Resources' Stock Could Rise originally appeared on Fool.com.
Matt DiLallo has no position in any stocks mentioned. The Motley Fool has no position in any of the stocks mentioned. Try any of our Foolish newsletter services free for 30 days. We Fools may not all hold the same opinions, but we all believe that considering a diverse range of insights makes us better investors. The Motley Fool has a disclosure policy.
Copyright 1995 - 2016 The Motley Fool, LLC. All rights reserved. The Motley Fool has a disclosure policy.