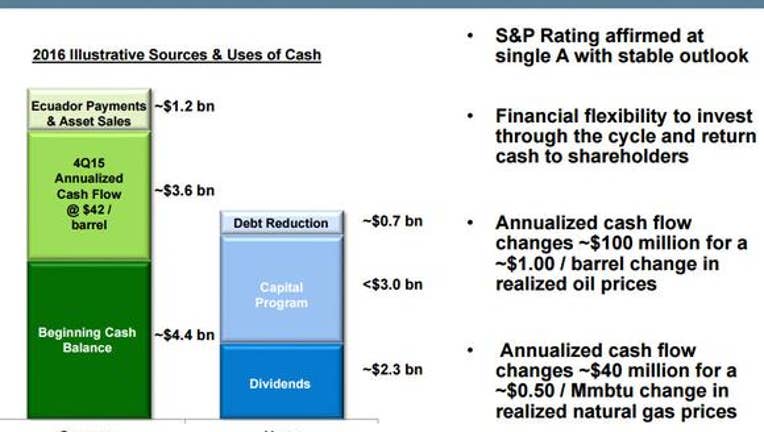 Occidental Petroleum is a bit of an outlier. Thanks to a cash-rich balance sheet and diversified sources of cash flow, it has vastly outperformed the drop in the oil price over the past year:
Because its stock isn't all that correlated to the price of oil, it's more likely to benefit from catalysts that are not driven by oil prices. Here are three that could send its stock higher:
1. It goes against the grain and raises its dividendIncome investors have been decimated by the oil market downturn. Oil companies that had a long history of paying a growing dividend slashed or suspended payouts amid slumping oil prices in order to protect their balance sheets. Occidental Petroleum, however, is one of the few that have maintained their payout, with its soon-to-be CEO Vicki Hollub saying that the company doesn't "see a threat to our dividend going through this cycle."
In fact, thanks to its large and growing cash position, the company is actually in the position to grow its dividend this year if it wanted to make a statement:
Data source: Occidental Petroleum investor presentation.
Such a statement is quite possible, and in a recent note on energy dividends, Barclays said that it considers Occidental to be the only oil company with the financial strength to increase its dividend this year. That move would more than likely send the stock higher because it would be a clear sign to income-seeking investors that Occidental Petroleum's dividend is the rock amid the storm.
2. It sells off more non-core assetsOne of the reasons that Occidental Petroleum has a lot of cash at its disposal right now is because it has been shedding non-core assets. Most recently, it sold its position in the Bakken shale, netting $600 million in cash. It's not done just yet with the company also seeking to exit non-core positions in the Middle East, which are noted on the map on the slide below:
Data source: Occidental Petroleum investor presentation.
According to a report late last year, Occidental Petroleum sought permission to sell its 29.69% stake in the Zubair oil field in Iraq to its state-run South Oil Company. Completing that sale at a fair price would further bolster the company's cash position as well as put it one step closer toward its goal of repositioning the company around its core assets. Furthermore, it would remove some of the geopolitical risk that is weighing on the company due to the instability of the Middle East.
3. It captures a breakthrough that dramatically increases its sub-$40 drilling inventoryOne of the core assets that Occidental Petroleum is building the company around is the Permian Basin. Its assets there consist of two techniques: enhanced oil recovery and horizontal drilling. The EOR business is focused on generating cash flow from legacy oil reservoirs, while horizontal drillingtargets growing production in shale plays. Shale drilling, however, has been under a lot of pressure during the downturn due to high costs, which has limited the number of wells that Occidental can profitably drill at a sub-$40 oil price:
Data source: Occidental Resources investor presentation.
As that slide shows, only 350, or 4%, of its 8,500 horizontal drilling locations are currently economic at a sub-$40 oil price. That's something the company needs to improve because peers like EOG Resources (NYSE: EOG) have a much larger inventory that can be drilled at low oil prices. EOG Resources has started to separate its drilling inventory into premium and non-premium, with its premium inventory being wellsthat are profitable at a sub-$40 oil price and currentlyconsist of 3,200 drilling locations, which represents more than 25% of its total drilling locations. A big driver behind EOG Resources' ability to capture so much premium drilling inventory is its focus on innovation, technology, and efficiency, which have vastly improved both its well costs and well productivity. Those are areas that Occidental Petroleum intends to focus on in 2016 in order to add to its own low-cost drilling inventory. If the company can make a breakthrough to dramatically increase its drilling inventory, it would not only improve returns in the short term but bolster its ability to create a lot of value from the region over the long term.
Investor takeawayWhile the rising tide of rising oil prices will lift all boats, including Occidental Petroleum's stock price, that's not the biggest catalyst because it hasn't been all that correlated to oil over the past year. Instead, increasing the dividend or selling non-core assets would clearly show to investors its financial strength amid the storm. Meanwhile, a breakthrough in boosting its low-cost drilling inventory would show them that the company can continue to thrive even if oil prices stay low for a while.
The article 3 Reasons Occidental Petroleum Corporation Stock Could Rise originally appeared on Fool.com.
Matt DiLallo has no position in any stocks mentioned. The Motley Fool owns shares of EOG Resources. Try any of our Foolish newsletter services free for 30 days. We Fools may not all hold the same opinions, but we all believe that considering a diverse range of insights makes us better investors. The Motley Fool has a disclosure policy.
Copyright 1995 - 2016 The Motley Fool, LLC. All rights reserved. The Motley Fool has a disclosure policy.