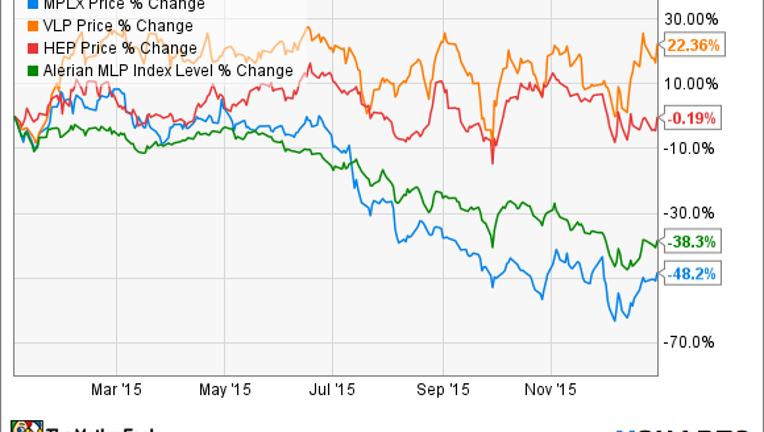 Source: MPLX.
Value investors know that the best time to find great long-term investment opportunities is during times of maximum market pessimism, and the worst oil crash in decades certainly qualifies as that. Even midstream MLPs, which pay generous yields because of highly predictable cash flows generated by long-term, fixed-fee, and even volume-ensured contracts, have been decimated.
One of my favorite deeply undervalued midstream MLPsis MPLX which has beenabsolutely crushed by the oil crash, far worsethan most midstream MLPs, including competitors Valero Energy Partners , and Holly Energy Partners . Let's examine three reasons Wall Street is dead wrong about this fast-growing, high-yielding pipeline stock, and why its mistake could lead to fantastic profits for your portfolio over the next few years.
Valuation is ridiculous
| MLP | Yield | 5 Year CAGR Payout Growth Forecast |
| --- | --- | --- |
| MPLX | 4.8% | 25% |
| Valero Energy Partners | 2.8% | 30.4% |
| Holly Energy Partners | 7.1% | 6.4% |
Sources: Yahoo! Finance, Fastgraphs, investor presentations.
MPLX offers not only a generous yield, but stupendous distribution growth potential as well.
More importantly, that growth potential is backed by one of the largest refiners in America -- its sponsor, general partner, and manager, Marathon Petroleum Corp. .
Marathon Petroleum is America's third largest independent refiner and much larger than Holly Energy Partners GPcounterpart HollyFrontier, which means it has far more midstream assets to drop down to its MLP to fuel its growth. While ValeroEnergy Corp. -- Valero Energy Partners' sponsor and GP -- is slightly larger than Marathon Petroleum,MPLX has additional massive growth opportunities thanks to its recent acquisition of MarkWest Energy Partners, which has a dominant position in the Utica and Marcellus shale formations.
However, a generous yield that outgrows the distributable cash flow that funds it can lead to unsustainable payouts. In addition, as seen with Kinder Morgan's recent 75% dividend cut, sometimes a pipeline operator has to make a hard choice between using cash flow to fund growth or give distributions to investors. MPLX is less likely to face that problem for a while.
Secure payout and strong balance sheet
| Company/MLP | YTDPayout Coverage Ratio | Debt/TTM EBITDA | Current (Liquidity)Ratio |
| --- | --- | --- | --- |
| MPLX | 1.37 | 3.1 | 1.3 |
| Valero Energy Partners | 1.96 | 1.0 | 7.2 |
| Holly Energy Partners | 1.15 | 4.1 | 1.4 |
Sources: Morningstar, company earnings releases.
MPLX has a high and fast-growing yield, but more importantly, it's also well covered by DCF, which greatly decreases the chances of a painful distribution cut.
Another important thing for midstream MLP investors to look at is the balance sheet of their current and potential investments. Kinder Morgan's dividend was sustainable, however, because of both the collapse of its share price and its enormous debt load -- which threatenedthe investment-grade credit rating that allowed it to access cheap debt -- its sources of funding for its $21.3 billion growth project backlog were cut off.
Thus, management had to choose between future growth and current income and wisely chose to redirect most of the distributable cash into funding growth projects. Once oil recovers, this decision will probably mean patient Kinder Morgan investors will be rewarded with larger dividends than before.
However, MPLX's debt load, relative to its size, is far smaller than Kinder's which means it is still able to access debt. In fact, MPLX is currently paying only 2.3% on its $754 million in total debt.
MPLX has $1.14 billion in total liquidity remaining, mainly from its untapped $1 billion revolving credit facility. In addition, MPLX has generated $84.3 million in excess DCF, which not only protects the current payout but also can be used to reduce the amount of debt needed to grow.
Finally, even though its unit price has been cut in half over the past year, MPLX's valuation is still high enough that it's cost of equity is 10.5%, giving it a weighted average cost of capital of 9.63%, far less than its returns on invested capital of 18.86%.This means MPLX can continue to access equity markets to fuel highly profitable and accretive drop down growth.
Having access to growth capital is necessary because MPLX's growth runway is truly mind-blowing.
Staggering growth potential
Source: MPLX investor presentation.
Thanks to its recently completed MarkWest acquisition, MPLX has a growth runway that's likely to result in decades of impressive distribution growth. In fact, its $27 billion-to-$33 billion growthbacklog is around 50% larger than Kinder Morgan's, and thanksto its far superior access to three sources of growth capital, MPLX should prove to be a long-term distribution growth powerhouse.
Bottom line MPLX's absurd valuation currently offers investors not only a safe and generous yield, but also has the potential to see strong dividend growth over the next several years.Thanks to its large and continued access to growth capital markets, I strongly believe that long-term investors who buy at today's prices will be richly rewarded with market-crushing total returns over the next decade or two.
The article 3 Reasons Now Is the Time to Invest in This Super-Fast-Growing Energy Stock originally appeared on Fool.com.
Adam Galas has no position in any stocks mentioned. The Motley Fool owns shares of and recommends Kinder Morgan. Try any of our Foolish newsletter services free for 30 days. We Fools may not all hold the same opinions, but we all believe that considering a diverse range of insights makes us better investors. The Motley Fool has a disclosure policy.
Copyright 1995 - 2016 The Motley Fool, LLC. All rights reserved. The Motley Fool has a disclosure policy.